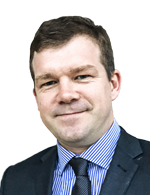 Ryan Dinse
Total 16 Posts
You might think I'm a bit a crazy to even suggest bitcoin as a potential 'haven' asset. Bitcoin is very risky and there's lot of uncertainty about its future.
Graphene has hardly made a dent into any of the many industries it was supposedly going to revolutionise. So why the hold up?
As per the cyclical nature of things, the crypto landscape has slowly begun to tip in a warmer direction. It's not spring yet, but there's a definite thaw taking place.
Why are the big fast food companies scared of Uber? Because Uber Eats Domino's! Uber Eats — the offshoot food delivery service from Uber — is eating up all the traditional food delivery companies' business.
While Buffett waits for a moat to be established before he invests, Peter Thiel invests based on the potential of a future moat.
For most people, money is just money. But I believe we're standing on a precipice for this current system of money.
I'd still return to China in a heartbeat. It's an awesome country. But its high-tech developments can quickly go from feeling impressive to intrusive.
Why is cannabis illegal? Thinking about this made me want to know more…And let me tell you, what I found truly shocked me…
Cryptocurrencies took the world by storm in 2017. But since early 2018, the price of most cryptocurrencies has been in a steep retreat. Including the crypto granddaddy — bitcoin.
Crypto investors flocked to Malta in droves last year for a massive blockchain summit, and it's fast becoming known as a global crypto hub.
Buffett remains an idol of mine and I'd give my right arm to be a tenth as good as he is at picking stocks. But that doesn't mean he's perfect.
Fintech is rapidly emerging as an industry to be reckoned with. And it's not just influencing the way we bank or pay for things.
Ryan Dinse here. We're getting closer to the big reveal of a new 'step-change' in genomics. It's a moon-shot project powered by blockchain that could send a clutch of unknown small and micro-sized biotechs hurtling into the stratosphere between now