Fact or Fake?
A voter uploads a video reporting fraud in today's election…
…Brazilian presidential candidate Fernando Haddad's book promotes incest…
…polling stations are working on a summer schedule, so any votes cast after 4 pm won't count towards the presidential election.
Yep, you guessed it. They are all fake news. That is, at least according to Brazilian newspaper Valor's section 'fato ou fake' (Portuguese for fact or fake), a tool they created to combat fake news.
Brazilians went to the polls yesterday to elect Jair Bolsonaro to the presidency.
And, it's a fact that fake news has been rife throughout the election, mainly distributed through WhatsApp.
As the Brazilian newspaper Folha de Sao Paulo reported on 18 October, companies are spending millions on buying text messaging packages to campaign in WhatsApp, something that is considered illegal according to Brazilian election laws.
Brazilians really like WhatsApp. In fact, that's the main app I use to talk with my friends over there. According to Pew Research, about 40% of the country uses WhatsApp, which is owned by Facebook [NASDAQ:FB].
WhatsApp has said it will be taking legal action against these companies. But, Facebook is fighting an uphill battle to try and contain the spread of fake news.
It is not the only struggle Facebook has had this year. It is also facing fines on the recent mass data breach, and of course, there is the Cambridge Analytica scandal.
It's no secret Facebook has fallen out of favour. The company is trading over 18% lower than at the beginning of this year.
And, Facebook isn't the only tech company disillusioning investors.
Google, Facebook and Amazon all fell last week as investors scratch their heads
Tech companies tanked last Friday after Alphabet [NASDAQ:GOOGL] and Amazon [NASDAQ:AMZN] disappointed investors.
Amazon lost 7.82%…Alphabet 1.80%, Netflix 4.17% and Facebook 3.70%.
Google is in the eye of the hurricane after it's come to light that it has been planning to go back into the Chinese market with a search app. The project, called Dragonfly, would censor any pages that discuss topics deemed controversial, like human rights. There are reports that the prototype would link searches to phone numbers.
And, the White House has their eye on them. As Bloomberg reported, US President Trump is considering signing an executive order to get antitrust agencies to open investigations on Google and Facebook.
It is not just data breaches, the public's opinion, politicians and fake news they are battling against.
Interest rates are also rising, which will make taking on debt to keep expanding more expensive.
Take Netflix, for example.
Investors were loving Netflix, Inc. [NASDAQ: NFLX] as it reported earnings on 16 October. [openx slug=inpost]
The excitement revolved around the fact that the company has hit revenue expectations at US$4 billion and has added 6.96 million subscribers. Netflix is expecting to add another 9.4 million in the fourth quarter.
The truth is that Netflix produces a lot of great content.
The problem is, they are spending a lot of money doing it.
Since 2016, their long-term debt has increased from US$2.37 billion to US$8.34 billion this year. With the company promising to keep delivering more great content, that debt will only increase.
They are also looking to raise another US$2 billion this year to produce more content and stifle the competition.
The other thing is, Netflix could start to lose subscribers.
What I mean is, there is no question that Netflix has changed the way we watch TV. Gone are the days when you had to wait till next week to get your next episode. Now people can binge watch a whole season on demand.
The thing is, once people start to realise how much time Netflix is sucking out of their lives, they could start quitting Netflix…much like you are seeing with Facebook.
The problem is that these companies have been pushing the stock market up all year…and now they could be pushing them down.
The S&P 500 has lost all of its gains of this year in October, as you can see below.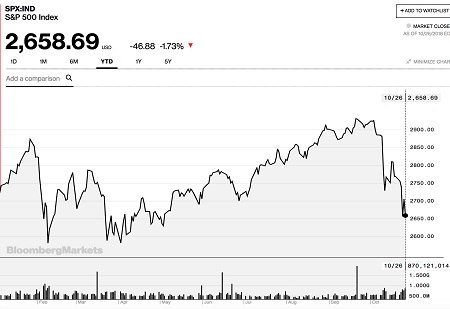 Source: Bloomberg
And NASDAQ is trading almost at the same level as at the beginning of the year.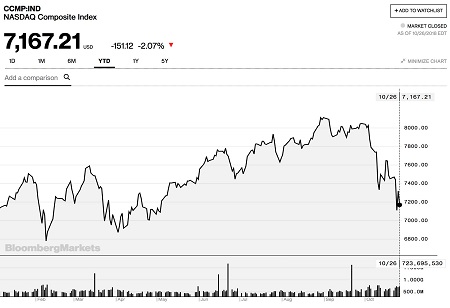 Source: Bloomberg
Tech has been driving gains. Investors have been buying them as a way to avoid risk.
But, now them falling could mean they could take the whole market down with them.
Can they keep growing at the rate they have been growing? Or have we maxed out our expectation on what these technology companies can deliver?
My point is, do you still buy their story?
Best,
Selva Freigedo