Selfless. Noble. Inspiring…
Chuck Feeney is the richest man you've never heard of. And here's what's remarkable about him: he's given away his entire $8 billion fortune in secret.
Today, at the age of 89, Feeney only has $2 million left.
He lives frugally in a rented apartment. He wears a cheap Casio watch. And he's never been happier.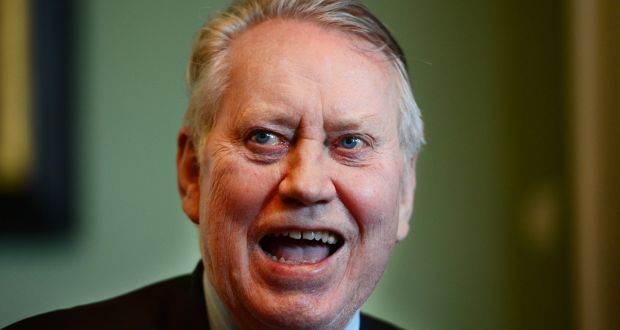 Source: The Irish Times
His friend Warren Buffett had this to say about Feeney:
'Chuck has set an example. It's a real honor to talk about a fellow who is my hero. He should be everybody's hero.'
Wow, talk about high praise!
So, what motivated Feeney to give away his wealth?
How did he get started on this extraordinary journey of philanthropy?
Humble beginnings
Chuck Feeney was born in New Jersey in 1931.
It was a tough time. The Great Depression was at its height, and the economic pain ran deep.
Feeney was Irish-American and raised in a strict blue-collar household without frills.
He attended a Catholic school. This environment had a profound impact on the young Feeney — and he began to develop an interest in charity and giving.
Feeney described his personal values like this:
'Money is more worthwhile to the people in need when things are tough rather than when things are good. If I have $10 in my pocket and I do something with it today, it's already producing $10 worth of good. 

'I had one idea that never changed in my mind — that you should use your wealth to help people. I try to live a normal life, the way I grew up. I set out to work hard, not to get rich.'
Sensing great opportunity
In 1950s, Feeney served in the US Air Force in Asia.
That's when he discovered that he had a knack for selling liquor to fellow military servicemen.
This planted an idea in Feeney's mind — 'duty-free shopping'. The ability to offer luxury products to global travellers, free of import taxes.
When he left the military, Feeney decided to put his idea into action.
He teamed up with a business partner and founded one of the world's most iconic brands: Duty Free Shoppers (DFS).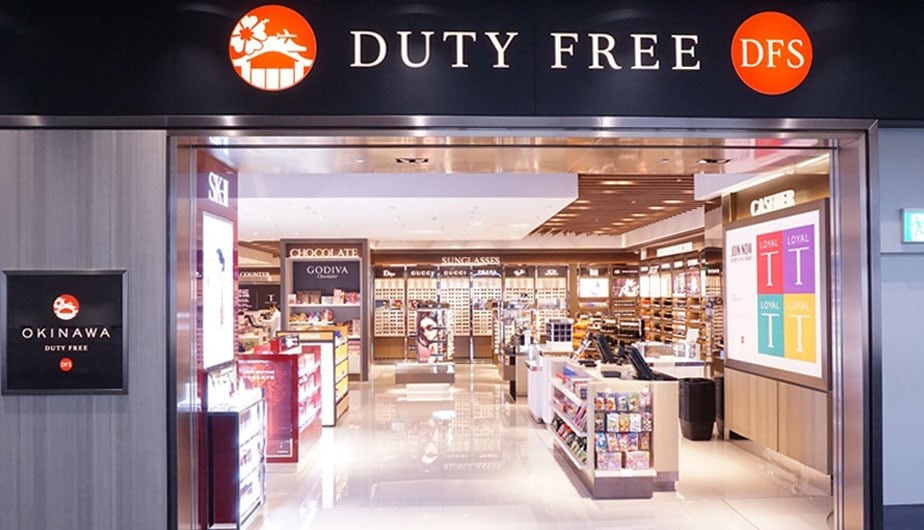 Source: DFS.com
You could say that Feeney's timing was perfect. He anticipated two major trends:
The rising affluence of military servicemen with money to spend.
The rising tide of international travellers in the post-World War II boom.
Like an expert chess player, Feeney made strategic moves. He opened DFS stores at airports in two key locations: Hong Kong and Hawaii.
Business skyrocketed. The concept was a runaway success. Soon enough, a string of other DFS stores mushroomed throughout the world.
Chuck Feeney became a millionaire, and then later, a billionaire.
Living a life of purpose
Throughout it all, Feeney kept a very low profile.
He had made his wealth selling luxury products — but in an ironic twist, he preferred to shun luxury.
He continued to live the simple life. Flying by economy. Not even owning a car or a house.
'I just felt I didn't see the need for blowing a horn. I did not want money to consume my life. If I can get a watch for $15 with a five-year battery that keeps perfect time, what am I doing messing around with a Rolex?'
Feeney had read Andrew Carnegie's The Gospel of Wealth, and he was inspired by the philosophy that 'the millionaire will be but a trustee for the poor.'
In this, Feeney saw a direct link between his own humble background and the struggles of the less-fortunate:
'I have always empathised with people who have it tough in life. And the world is full of people who don't get enough to eat.'
So Feeney decided to devote himself entirely to charity.
He created The Atlantic Philanthropies, a private foundation with extensive donor links in countries such as Ireland, South Africa, and Vietnam.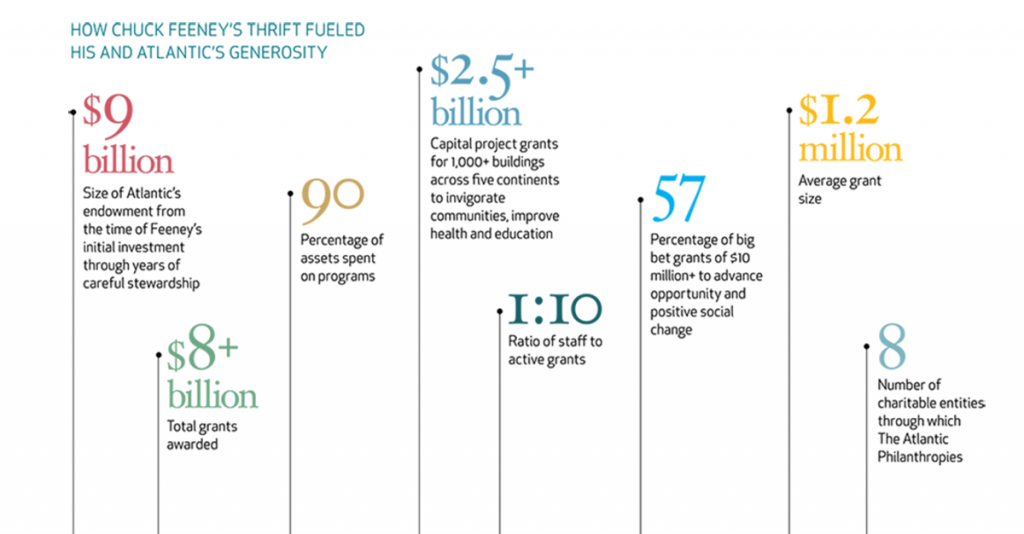 Source: The Atlantic Philanthropies, Facebook
With passionate zeal, Feeney gave away a colossal sum — $8 billion — between 1982 to 2020. Setting up schools, libraries, hospitals, sports facilities. Changing lives. Making a real difference.
And in September 2020, The Atlantic Philanthropies reached a milestone: it officially ran out of money.
In Feeney's eyes, this is a tremendous success. He had achieved his goal: giving away his entire fortune to charity.
As Chuck Feeney signed the legal documents to formally dissolve the foundation, he is delighted by what he has accomplished:
'Wealth brings responsibility. People must define themselves, or feel a responsibility to use some of their assets to improve the lives of their fellow humans, or else create intractable problems for future generations.'
Yes, indeed. Wise words from an extraordinary man. A man who's been courageous enough to do what most people can scarcely dream of.
As Warren Buffett said, Chuck Feeney certainly deserves to be everybody's hero.
Regards,
John Ling
Analyst, Wealth Morning
PS: Building wealth is not just about fulfilling material desires. It can be the gateway to creating a more positive future for your family, your community, and maybe even the world! We have some wealth-building ideas right now in our Vistafolio Wealth Management Service. There's never been a better time to get started on your future legacy.