The Lion King. Beauty and the Beast. Aladdin.
 I grew up with movies like these — along with healthy helpings of Mickey Mouse, Donald Duck, and Goofy.
They made me laugh. They made me cry. They made me cheer.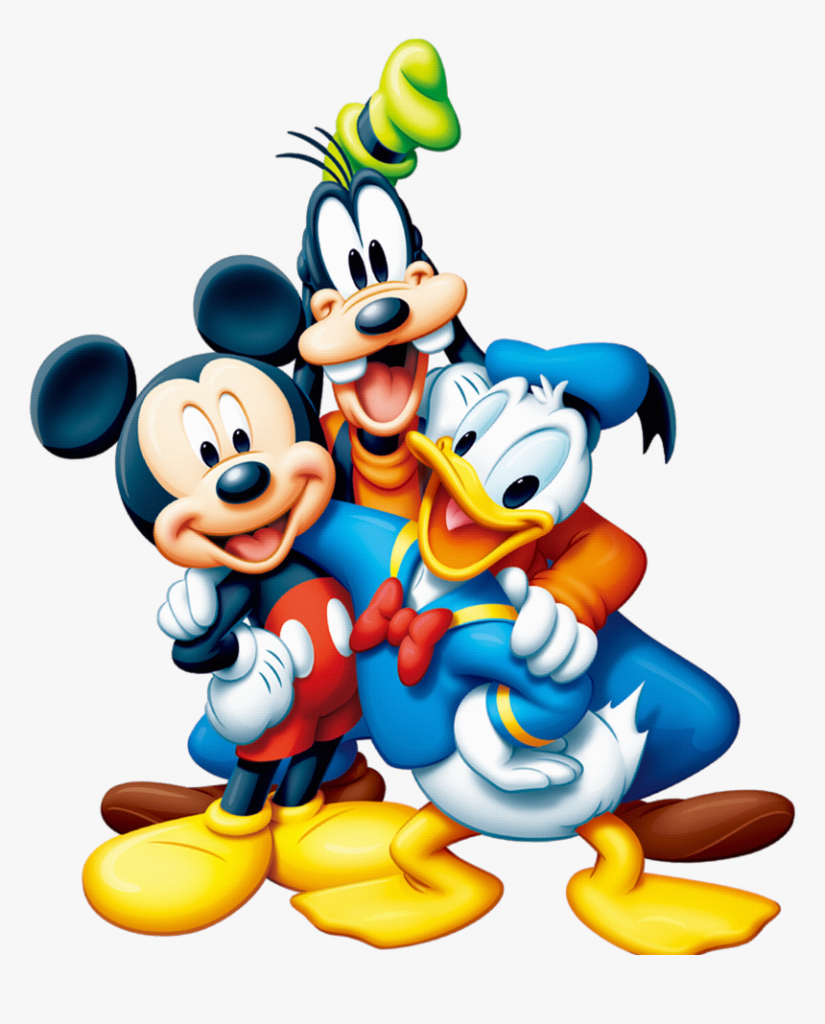 Source: PNGitem
These characters are iconic, and for good reason. For almost a century now, Walt Disney [NYSE:DIS] has shaped the popular imagination. Their products are evergreen and wholesome. They understand what resonates with parents and children.
Each time the company rolls out a movie or a television series, it's not a question of whether it'll be a success or not. Rather, it's simply a calculation of how big of a money-spinner it will become.
There are mountains of merchandise involved — toys, clothing, jewellery, décor. And don't forget the touristy attractions at Disneyland and Disney World — billed as the happiest places on earth.
When you sum it all up, Disney isn't just a monopoly. It's a hegemony. And for decades now, it felt like nothing could ever dim the company's mass appeal.
By and large, the stock market agreed. Here's what Disney's macro trend from 1980 to 2020 looks like on Google Finance: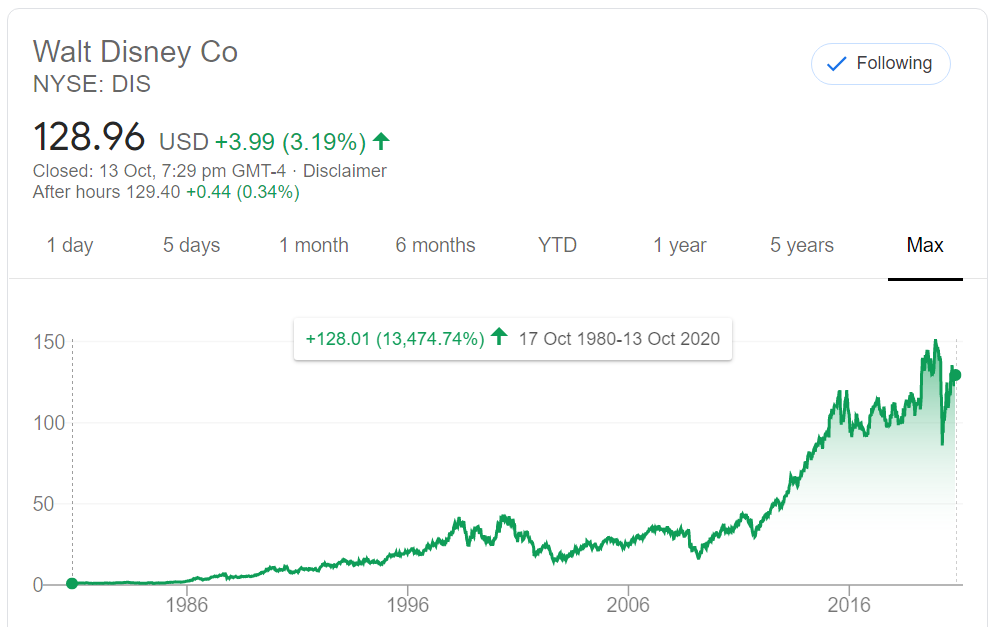 The company has enjoyed growth of over 13,000%. It's a pretty strong performance over the long run. You would expect no less from a brand that has achieved full-spectrum dominance.
But here at Wealth Morning, we are ever mindful of this truism: 'Past performance is no guarantee of future performance.'
The perfect storm
In 2020, a freak of nature emerged. Covid-19. Wham. Bam. This bug came out of nowhere and disrupted the world. Shutting down movie theatres. Stopping flights and holidays. And pushing Disney sharply into the red.
Just think about everything that's made Disney so successful up until now. Its diversified mass media. Its merchandising. Its tourist attractions. Then consider how this pandemic has caused its entire business model to choke up and grind to a halt.
It's been a disastrous quarter for Disney. The company suffered a shock loss of almost $5 billion. It was forced to lay off tens of thousands of employees. And suddenly the future doesn't look so rosy anymore.
For a brand so dependent on movie magic and theme parks, this unravelling has become the perfect storm. A jaw-clenching catastrophe.
Disney has gone from positive cash flow to negative. It is no longer profitable, and may not be for the foreseeable future. The company faces turbulence and anxiety.
But amidst the bad news, there remains one bright spot. Disney still has goodwill. Lots of it. Even the most cynical among us have happy memories of Disney, and consciously or not, we want our children to enjoy that same experience as well.
Disney remains the one and only House of Mouse. Which means, in a creative and cultural context, this company could be too big to fail. There's simply too much at stake.
But, realistically, what will it take for Disney to restart their business? What needs to change? What are the challenges ahead?
Digital disruption and transformation
Earlier, I talked about the 40-year macro trend for Disney. If you had invested in the company in 1980 and held on to your stock until 2020, you would have been sitting happy.
But that's a big hypothetical *if*. Because most people can't — or won't — hold a stock for that long. Call it caveman psychology, if you will. We're just not built to look beyond a few years.
So, it's the five-year micro trend for Disney that's more immediate and revealing for investors. Here's what that looks like on Google Finance: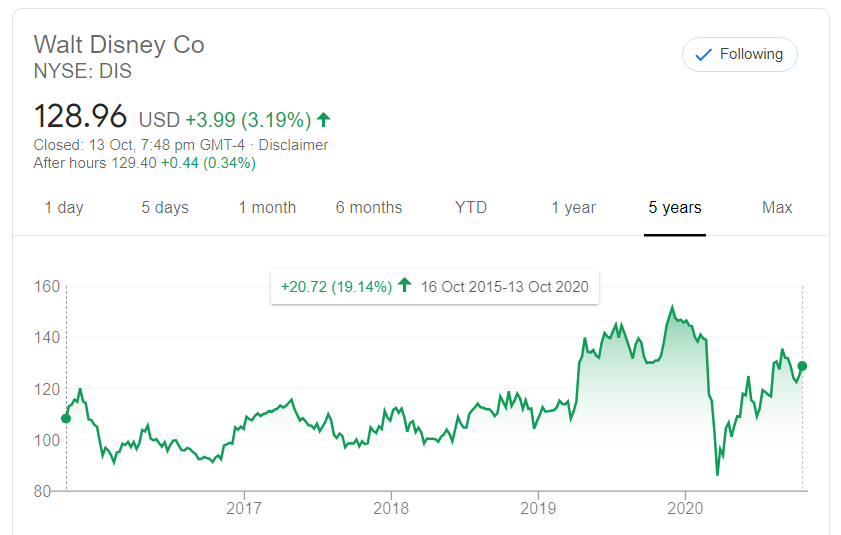 This five-year trend isn't nearly as impressive as the 40-year trend. In fact, it looks choppy and mixed, doesn't it? Stock growth of slightly over 19%? Well, jeez, that figure certainly doesn't do much to excite.
It's no wonder that investors have chosen to flock to something else. Something sexier. Something with more immediate gratification. Maybe…a tech unicorn?
Well, you get no prizes for guessing which tech unicorn I am talking about. It's Netflix [NASDAQ:NFLX]. And, for the sake of comparison, here's what the five-year trend for Netflix looks like on Google Finance: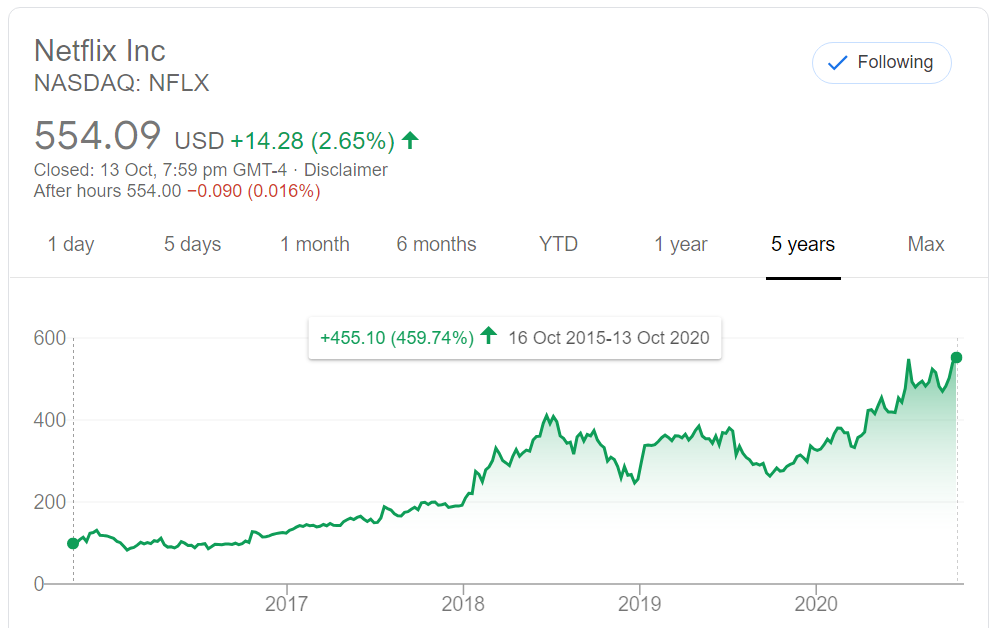 Stock growth of over 450%. Much more impressive. Much more attractive.
As I noted in my previous article on the Streaming Wars, the arrival of Netflix has served as both a revelation and a harbinger. The brand had humble beginnings as a DVD rental business — before making a decisive leap and transforming itself into a tech company focusing on streaming content. Without Hollywood quite noticing it, Netflix became a behemoth in its own right.
If the latest estimates are to believed, Netflix currently has a worldwide subscription base of almost 200 million customers. What's the secret of its success? Well, it's not just about the billions of dollars it has poured into original programming. It's also about the company's ability to figure out what people's viewing habits are, then delivering that content on demand, regardless of platform.
Source: Forbes
For the longest time, Disney could afford to ignore Netflix's rising success. Through strategic mergers and acquisitions, Disney focused on acquiring a formidable back catalogue — Star Wars, Marvel's Avengers, X-Men, and many more.
It was enough to be smug and self-assured. If people wanted to enjoy these creative properties, they would have to come to Disney. Well, where else could they go?
Then Covid-19 hit. And like a nuclear bomb blast, the entire entertainment landscape cratered.
In hindsight, we now understand this much: While Covid-19 has damaged Disney, it has actually propelled Netflix forward.
The reason for this is obvious. When people are under quarantine lockdown and can no longer visit theatres or theme parks, what do they do? Well, they have to stay at home and watch Netflix instead. Lots and lots of it.
In fact, Netflix has become one of the most valuable 'Stay at Home' stocks. A clear beneficiary of the pandemic. Bizarre but true.
The next evolutionary step
Finagle's law goes like this: 'Anything that can go wrong, will — at the worst possible moment.'
Disney has tasted this bitter pill — and it is now racing to reconfigure its business model. In an announcement on October 12, the company declared that it would do a corporate restructure. The goal? To adapt to the challenges of Covid-19 and focus on content delivery that's more flexible and immediate.
The Disney+, ESPN+, and Hulu streaming platforms will be central to their new strategy.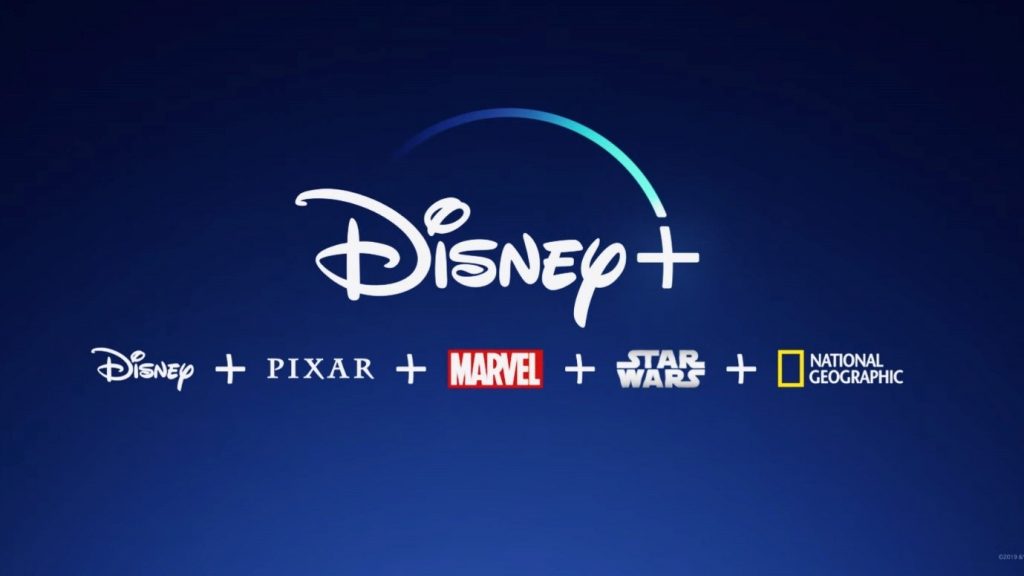 Source: TechRadar
Dan Loeb, the chief of Third Point hedge fund, has suggested that Disney should suspend its dividend payments and focus more on producing new content for its streaming services:
'With Disney's superior tentpole franchises and production capabilities, we believe that the company can exceed the subscriber base of the industry leader, Netflix, in just a few years. But time is of the essence and the company should consider significant additional investments in content both through production and acquisitions here and abroad.'
This could very well be a turning point for the company. And Mulan is the perfect case study of why Disney needs to evolve.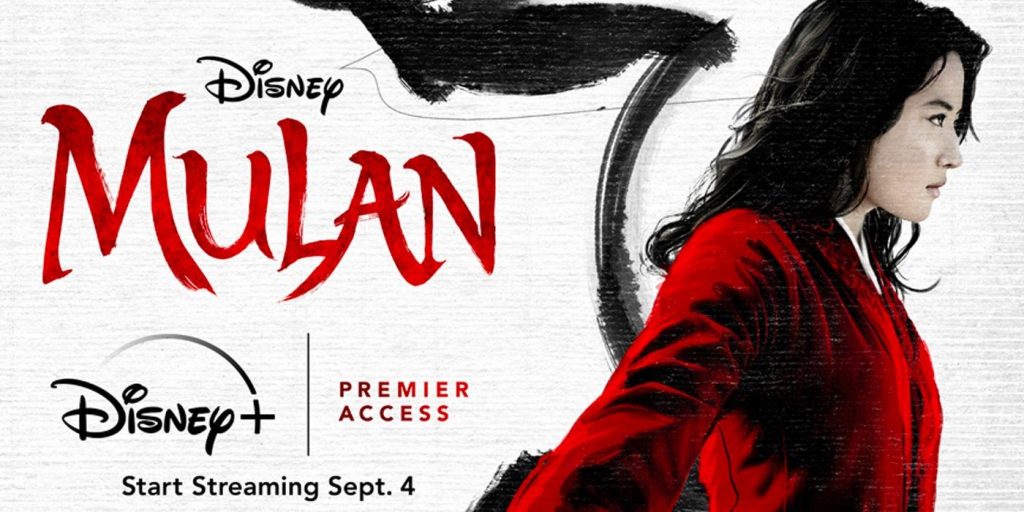 Source: Screen Rant
This highly anticipated movie was originally scheduled to be released in March 2020 — before being postponed multiple times. Disney clearly hoped that the Covid-19 pandemic would fade away and audiences would return to theatres.
When that didn't happen, Disney had its back pressed against the wall. It had to improvise. In a last-ditch effort, the company decided to premier Mulan in September through their Disney+ streaming platform.
It was a gamble — but at this point, Disney had nothing much to lose. So, ultimately, what was intended as a big-screen experience became a small-screen experience instead.
The results weren't great, but they weren't all that bad either. Despite this bumpy road, Mulan ended up making some money for Disney. About $35 million worth of net profits.
So, does this event foreshadow much more to come? Will theatrical releases for movies actually decrease in importance? Will streaming platforms gain a bigger foothold on the entertainment landscape?
The next few months will be critical. We will know soon enough whether we get a vaccine for Covid-19. Whether that vaccine is effective. Whether fear dissipates and confidence returns.
There are still uncertainties looming on the horizon. But it's clear that Disney has fire in its belly now, and it is rushing to catch up to Netflix.
Team Disney versus Team Netflix.
There can be no turning back; no surrender.
The next episode of the Streaming Wars has begun — and it's going to be electrifying to watch.
Regards,
John Ling
Analyst, Wealth Morning
Important disclosures
John Ling owns shares in Walt Disney Co [NYSE:DIS] and Netflix Inc [NASDAQ:NFLX] via portfolio manager Vistafolio.
(This article is commentary and the author's personal opinion only. It is general in nature and should not be construed as any financial or investment advice. To obtain guidance for your specific situation, please consult a licensed Financial Advice Provider.)