I've mentioned my use of the VIX Index before. The popular name for the Chicago Board Options Exchange's Volatility Index. A measure of the stock market's expectation of volatility based on S&P 500 index options.
Here is what the VIX has been doing over the past 15 years: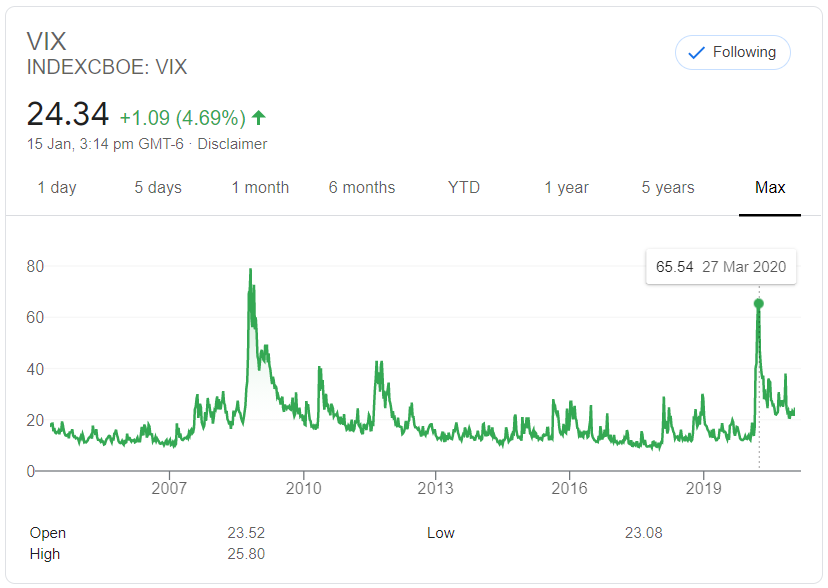 Source: Google Finance
We see the best spikes of volatility during the GFC in 2008-9. And coronavirus lockdowns in March 2020. Then it is mostly smooth, oscillating around the long-term average of 20.
Since the VIX is negatively correlated with the S&P500, history tends to tell us the spike points are the best times in which to buy your preferred market assets. You're likely to get the best deal then and make money.
What's important to note now is that the VIX is still slightly elevated. The market has much to worry over:
The dog-leg of coronavirus vaccination and recovery.
The narrow driving opportunity for Biden to calm US tensions and assert a plan.
Continued jitters over Chinese rivalry and annexation of Taiwan.
The nagging suspicion that asset prices are getting ahead of themselves.
Our investment strategy is to see spikes of temporary panic. And then form convictions, based on our research, on which businesses could provide us risk-managed growth and income.
When you buy a stock, you buy a business. If you're buying a business — investing your hard-earned savings into that business — you would go to your accountant. And you would ask them certain questions:
'Is this business worth buying?'
'Am I getting value for money at this price?'
'What is the upside?'
'What is the worst-case scenario?'
A good accountant would do analysis and talk to you about the real value of the assets you're buying. The risks around the earnings. And what you might be getting yourself into.
With Lifetime Wealth Investor, we're looking to get into good quality assets at moments of temporary discount.
In 2021, we see continued volatility and opportunity, with a tendency toward safe havens.
We have found a country that ticks all our boxes, offering you an investment location with great long-term value… Already a Member? Sign In Here