I'm sure investing in the retail industry is a topic that has been on many of your minds.
For starters, it's such a massive industry.
In 2018, the global retail market recorded US$24 trillion in sales.
Even if you could just take a percentage — as little as 0.0000001% of the retail sales per year — this could be sufficient to put you in the top 1% of annual salaries worldwide.
You may not be a retail store owner, or even in the retail industry. However, there is a simple way which you can get yourself involved and take a slice of this market while you sleep at night.
How can you get involved in the retail industry?
You will, without a doubt, be very familiar with the two largest retail companies in the world:
Amazon [NASDAQ:AMZN]
Walmart [NYSE:WMT]
As you can see from chart below, Amazon has a remarkable market capitalisation of US$1.66 trillion: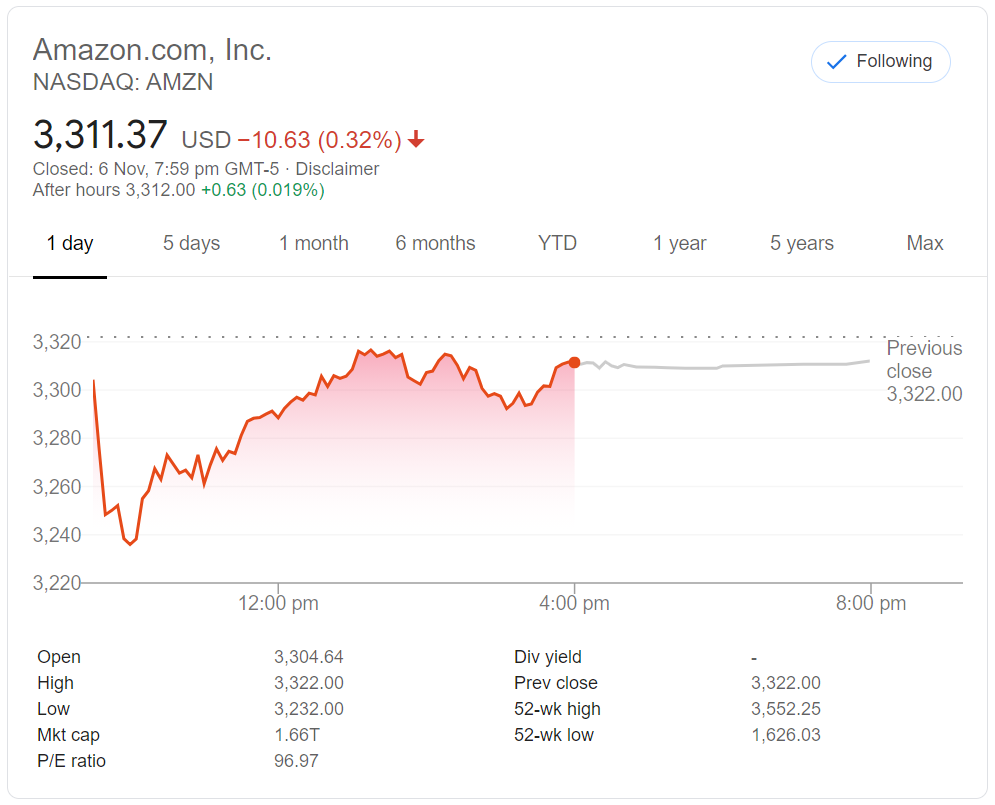 Source: Google Finance
Walmart, on the other hand, has a market capitalisation of US$413.08 billion: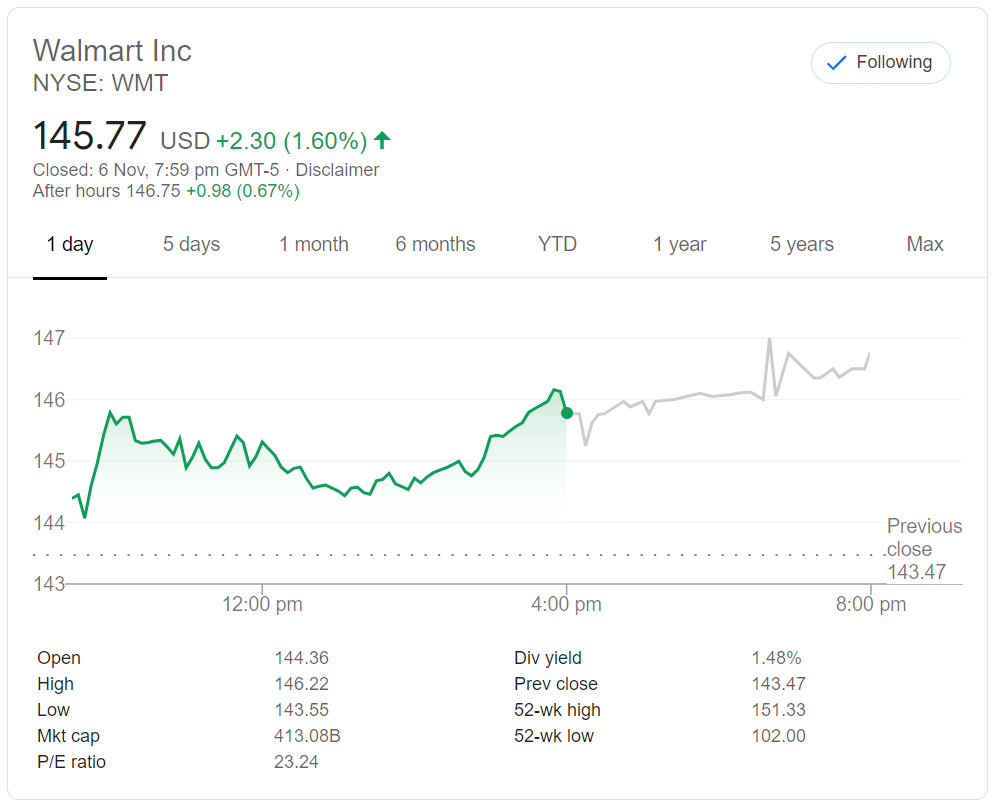 Source: Google Finance
Just think about: New Zealand itself has a GDP of around US$200 billion. This means that both Amazon and Walmart are worth more than a whole year of this country's entire economic production.
This really gives us an incentive to expand our reach when it comes to investing and look at opportunities all around the world — not just the opportunities that arise in our own backyard.
When I say this, I'm not just referring to be people in small isolated countries like New Zealand. I am also referring to people in countries like the United States, United Kingdom, and other well-established countries around the world.
So I'm going to share a global opportunity now that's been hiding under the radar.
Why this could be your perfect investment
Many of you around the world might not be familiar with the New Zealand-listed company Warehouse Group Ltd [NZX:WHS].
It has a market capitalisation of NZ$796.46 million, with a dividend yield of 7.00%, and has a P/E ratio of 18.65 at time of writing.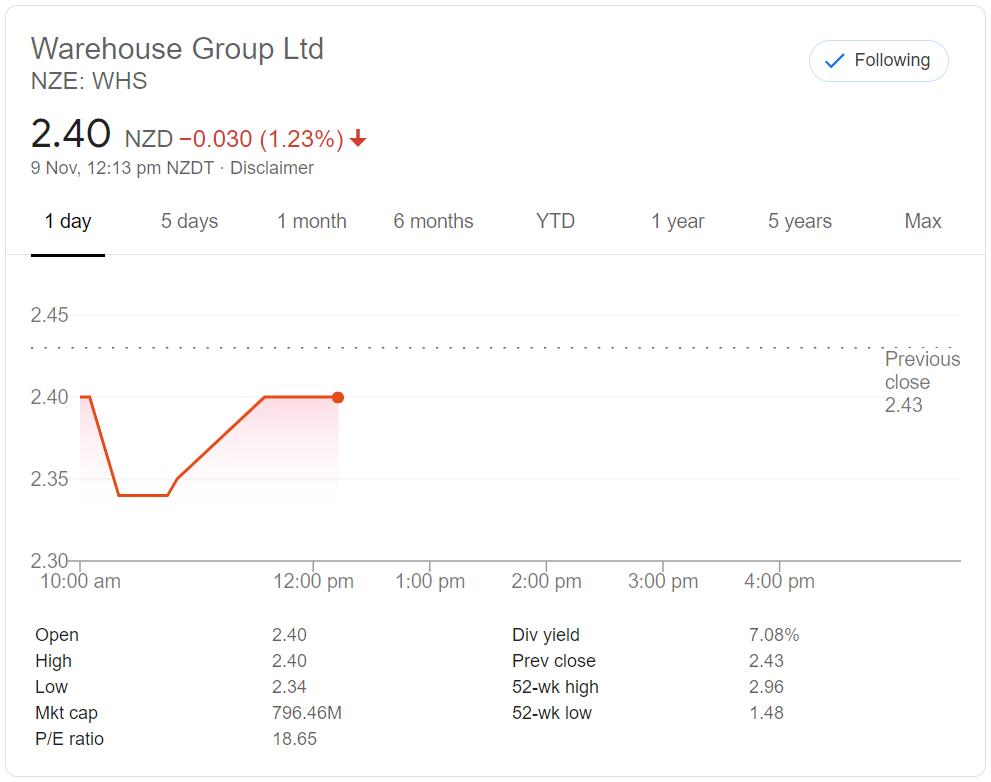 Source: Google Finance
The Warehouse is quite similar to Walmart in terms of its business model.
It sells the following:
Clothing and accessories.
Furniture and home decoration.
Electronics and gaming.
Sports and outdoor equipment.
You may be asking yourself: 'What stops Amazon and Walmart making themselves a presence in New Zealand? What stops them from taking over the retail market? What stops them eliminating competition like The Warehouse?'
Sure, that is always the possibility. But there are two things to keep in mind:
The Warehouse has brand loyalty and an established presence nationwide.
New Zealand itself has extensive anti-monopoly laws put in place to prevent this type of action from happening. You can read all about those by clicking here.
One anti-monopoly clause has stood out for me. It says that companies that have excessive market power like Amazon and Walmart can't undercut other companies in New Zealand.
For example, if Amazon and Walmart set themselves up in New Zealand, they wouldn't easily be able to make their prices significantly lower than The Warehouse. They can't do it with the intention to wipe The Warehouse and any other competition that stands in their way.
Innovation and change
At the time of writing, The Warehouse may continue to show potential in the New Zealand market.
Covid-19 originally hit them hard during the first half of this year, and they were considerably down in revenue. However, they have smartly adapted to this new environment. They have closed down underperforming physical stores and downsized their staff — switching their business model to put more focus into driving online sales.
This has paid off for The Warehouse. In their last financial report, their net profit from online sales were up considerably compared to the previous year.
The Warehouse seems to be innovative, and they are constantly adapting to fresh challenges. This makes their future much more prosperous.
Meanwhile, another Kiwi company that has also done well is called Trade Me. It used to be publicly traded on the New Zealand Stock Exchange before being acquired by British equity firm Apax Partners for NZ$2.5b. It's now delisted and being run privately.
Trade Me is an auction-based website, where you can purchase goods and services. Yes, it's similar to services offered by eBay [NASDAQ:EBAY] and Facebook [NASDAQ:FB].
Many people, including myself, thought Trade Me would be wiped out completely by these global giants. In particular, Facebook's new platform, Facebook Marketplace, represented stiff competition, allowing people to list and sell items with no fees of any kind.
However, Trade Me has proven itself to be surprisingly resilient and innovative. It has rolled out many new features to improve the customer experience, including Buy Now, Pay Later (BNPL). Because of this, Trade Me continues to command strong brand loyalty in New Zealand.
I find it very remarkable that both The Warehouse and Trade Me have been able to survive and thrive, even when going up against foreign competitors that are the biggest in the world.
This shows us that there are opportunities anywhere and everywhere. You just need to know where to look.
For more hidden opportunities arising in markets around the world, please sign up to our Lifetime Wealth Investor Premium Research today.
We will give you weekly insights on how you can capture value, grow your wealth, and generate passive income.
Regards,
Alistair Bilkey
Analyst, Wealth Morning
(Disclaimer: this material is provided for example purposes only. It should not be construed as investment advice. The opinions expressed are the personal views and experience of the author, and no recommendation is made.)
Important disclosures:
Alistair Bilkey owns shares in Warehouse Group Ltd [NZX:WHS].