It's the glorious moment we've all been waiting for.
Pfizer [NYSE:PFE] has announced vaccine success in its first interim Phase 3 study. This comes with a breathtaking twist —the upcoming product promises over 90% effectiveness in preventing Covid-19 infection. The Company's stock immediately surged +7.69%.
The wider reaction from punters on Wall Street was swift and decisive. The Dow Jones Industrial Average was up sharply at +2.95%.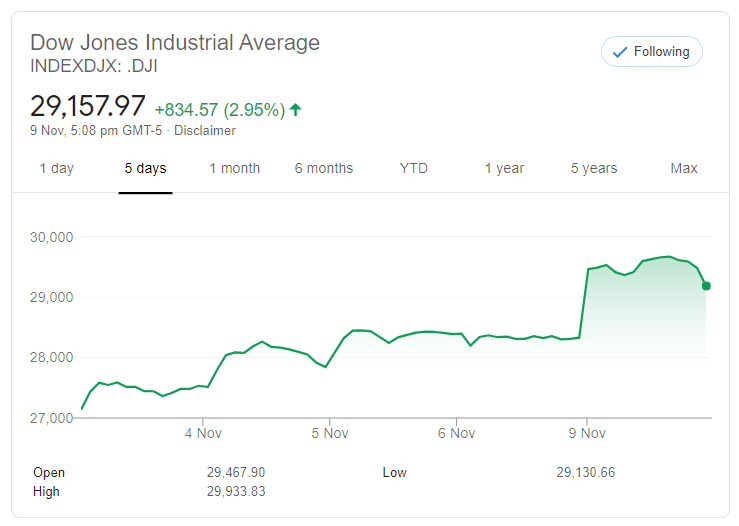 Source: Google News
A wide swathe of value stocks that have been beaten down by Covid this year has seen renewed interest, sparking a bull rush. Financials, travel, and tourism stocks led the way:
Bank of America [NYSE:BAC] and JPMorgan Chase [NYSE:JPM] rose by +14.19% and +13.54%.
Carnival Corp [NYSE:CCL] and Royal Caribbean Cruise [NYSE:NCLH] rose by +39.29% and +26.75%.
Delta Air Lines [NYSE: DAL] and American Airlines [NASDAQ:AAL] rose by +17.03% and +15.18%.
Meanwhile, on the other end of the spectrum, tech stocks that were hailed as 'stay-at-home' favourites during Covid took a hard knock and underperformed. The biggest losers during the day's trading session were:
Peloton [NASDAQ:PTON] was down -20.29%.
Zoom [NASDAQ:ZM] was down -17.37%.
Netflix [NASDAQ:NFLX] was down -8.59%.
What we're seeing now is a sharp swing away from tech stocks, as discerning investors appear to be gravitating toward value stocks. This burst of optimism foreshadows the reopening of Main Street businesses that could clearly benefit from the rollout of a Pfizer vaccine.
Regards,
John Ling
Analyst, Wealth Morning
PS: Right now, we have over 20 exclusive stocks waiting for you in our Lifetime Wealth Investor Premium Research. We have identified hidden opportunities for value, growth, and income that the mainstream media is still ignoring. There's never been a more urgent time for you to sign up and jump in. This could be a once-in-a-decade cycle, with the potential to make the biggest different to your wealth.

Already a Member? Sign In Here