Air New Zealand [NZX:AIR] [ASX:AIZ], the nation's flagship carrier, has a market cap of around $1.58b.
The current Covid risk event disproportionately hits travel and aviation businesses. This is evident with Air NZ, the share price now around half of its January value.
The drawdown since the pandemic largely appears to value the airline within the $1.30 to $1.40 range.
This follows the plunge in March when the $900m government loan facility and dividend cancellation was announced. And follows the upswing on the capital raise announced in April.
In early June, the Company made positive announcements to the market on an 800-day recovery plan. Although there was not any intended revision to earnings guidance, it appears some internal emails got released to media.
Pertinently, the material suggested that, by August 2022, Air NZ would be 'starting to earn healthy profits again even though we may be only 70 per cent of our pre-Covid-19 size.'
These announcements sparked a query from the NZX to ensure they were timely and accurate. As we are aware, the exchange did not censure the Company and no further action was taken. But certain analysts went on to warn the share price could be overvalued.
The share price blipped upward into the $1.90 range following the recovery plan news — before it proceeded to fall back toward $1.30 by the end of the month.
At the start of October, there was some more positive news, which saw a 7% upswing to around $1.56. When Australia announced Kiwis could travel to New South Wales and Northern Territory without having to quarantine on arrival. Furthering hopes of a trans-Tasman bubble.
Today, much of this upswing has been pretty well wiped out.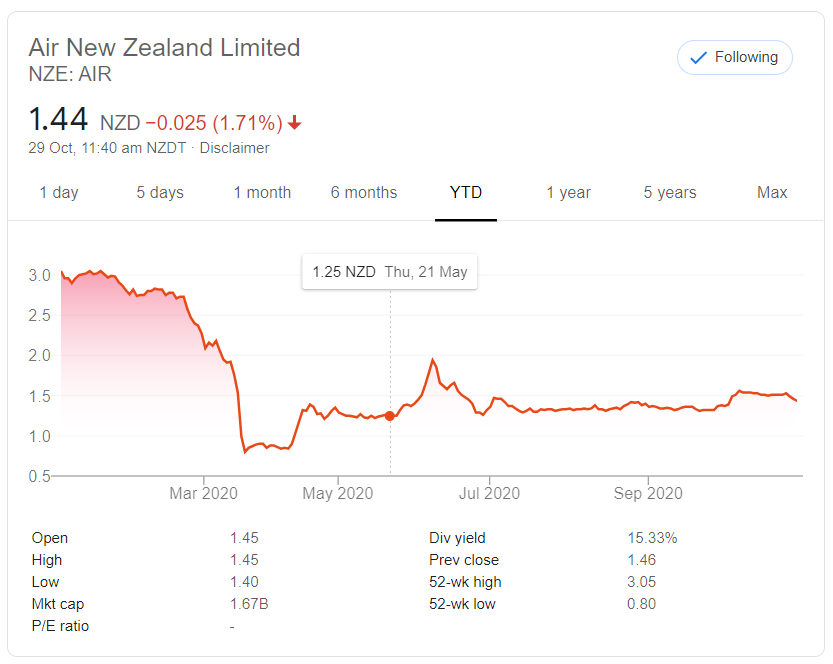 Source: Google Finance
Why has the [NZX:AIR] [ASX:AIZ] share price fallen?
There are no specific business events that we can see driving today's fall.
The airline has been caught in wider market sentiment. Coronavirus cases are spiking in Europe. Last night, France announced a second national lockdown. Both Germany and Italy have introduced new restrictions.
Prescient to the aviation sector, Boeing [NYSE:BA] warned of 30,000 job cuts after another quarter of heavy losses.
There remains volatility around the US election. Though we could see a relief rally next week.
Where could Air New Zealand go from here?
You can see the clear trend. Any breakout beyond the current range needs some good news. A full trans-Tasman bubble. A coronavirus vaccine soon available.
The vaccine could be the best news for the travel sector. And I'm not sure investors have entirely considered the probability that we may soon have one.
Pfizer's [NYSE:PFE] chief executive officer, Albert Bourla, said on a conference call discussing Q3 earnings:
'We have reached the last mile [on the vaccine]. Let's all have the patience required for something so important for public health and the global economy.'
Bourla believed Pfizer could file for an EUA (Emergency Use Authorization) in late November if the trial results are positive. This would make the vaccine available to the public before the end of the year. 
New Zealand has a deal with Pfizer and BioNTech for 1.5 million doses of a Covid-19 vaccine for 750,000 people.
Should vaccination work, international flying could resume sooner than expected.
Regards,
Simon Angelo
Editor, WealthMorning.com
PS: We have over 20 high-impact opportunities waiting for you in our Lifetime Wealth Investor Portfolio. If you're looking for post-Covid growth and income, you urgently need to get started now.

Already a Member? Sign In Here