Billions of dollars all around the world have been invested into start-ups.
Some of these companies have made headlines.
Meanwhile, others have peaked and fallen short.
Does bigger always mean better?
Today, I will look at two of the world's biggest funded start-ups and how long it took them to generate a profit.
The Juul Labs story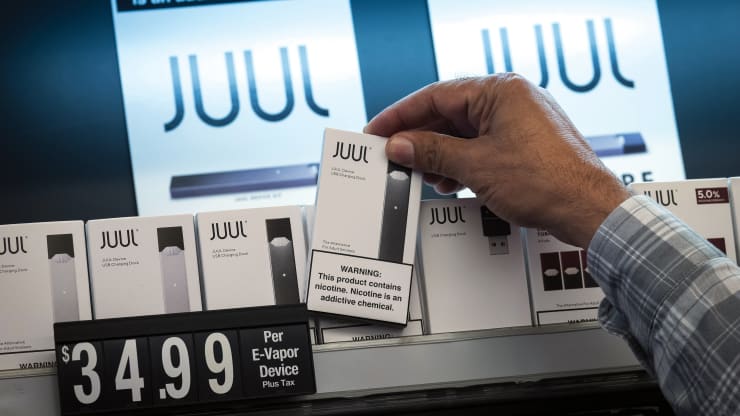 Source: CNBC
Juul Labs, Inc. was founded in 2015. It's an American e-cigarette company and has managed to secure $15.3 billion. They have developed a nicotine vaporiser, acting as an alternative to smoking.
Many countries around the world are putting high taxes on cigarettes, and consumers are starting to understand the health concerns of smoking. So they are looking for alternatives.
Investopedia has established that cigarette smoking has reached its lowest level recorded in the United States. This is happening because consumers are finding alternatives like e-cigarettes.
In 2017, Juul achieved a revenue of $200 million. In 2018, their revenue jumped to a whopping $1.3 billion (allowing them to make a $12.4 million net profit). This happened because of a high investment on ad campaigns and staff bonuses.
In June 2019, Juul came under fire when health concerns were reported. E-cigarettes were suspected of leading to lung illness and seizures.
As you can imagine, this backlash affected earnings. In October 2019, Altria — one of Juul's largest investors, with a 35% hold in the company — had to write off $4.5 billion in losses.
In January 2020, there was another blow for the industry. The Food and Drug Administration in America banned all flavored vape cartridges. Ad campaigns targeting minors was also restricted.
This greatly impacted Juul's consumer base.
Was the e-cigarette craze too good to be true? Did it burn out too soon? Juul continues to be resilient and push on despite these setbacks.
The ByteDance story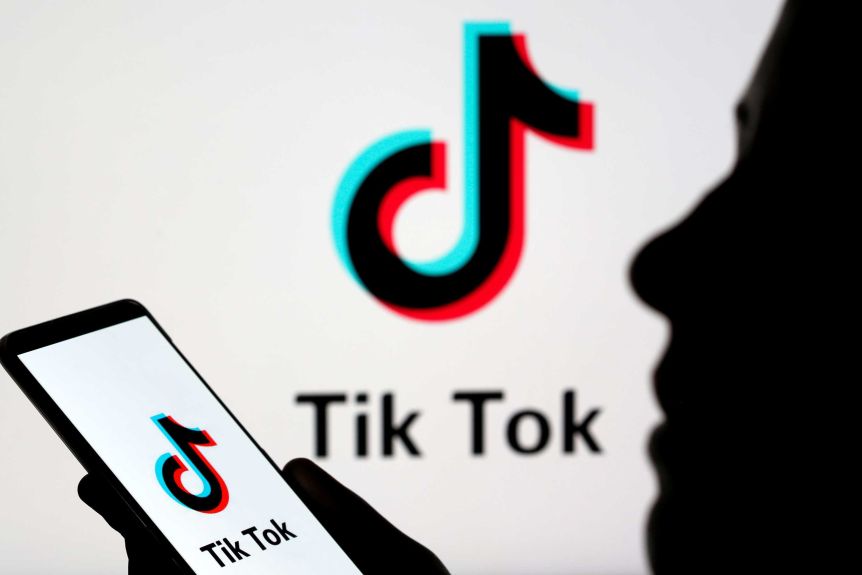 Source: ABC Australia
Meanwhile, on the other side of the world, there is another start-up company with a big profile and a completely different business model.
Founded in 2012, ByteDance Ltd. is a Chinese tech company owning several content platforms. It is based on tailoring custom newsfeeds for users based on their interests and browsing habits.
ByteDance had their first capital raise in 2012, securing $5 million. Since then, the company has successfully funded 9 rounds, raising a total of $7.4 billion by March 30, 2020.
Since 2017, ByteDance has acquired 5 organisations. This has led to substantial growth in the business.
In the first half of 2019, ByteDance made $7 billion. They mostly relied on ad campaigns on their platforms. However, they are now looking to diversify with new products to fortify their revenue stream.
Some say that ByteDance is the most valuable start-up in the world right now. Their platform TikTok is wildly popular, and they can dangle this as a carrot in front of potential investors.
At the moment, the company is yet to be traded on the stock market. However, there are rumours of it happening this year.
Are you looking to invest in an up-and-coming company like ByteDance or Juul Labs? Or are you waiting something more established with better fundamentals?
Whatever your preference, Wealth Morning can help you keep an eye out for fresh opportunities. They can send you up-to-date opportunities with their premium newsletter, Lifetime Wealth Investor.
How far have these biggest funded start-ups grown?
Juul Labs was founded by Adam Bowen and James Monsees. They were university students with an idea that could transform their lives forever.
Both were smokers, and they wanted to create something that would be less harmful than cigarettes. They needed an alternative — and this brainstorming created Juul.
In late 2019, Bowen and Monsees had an estimated net worth of $900 million each.
These are self-made men who had the courage to find investors. This propelled Juul into becoming one of the world's biggest funded start-ups.
The ByteDance story is a little different. It was founded by a single person, Zhang Yiming, a Chinese internet entrepreneur.
Its TikTok platform is now the third-most downloaded app in the world. It has become a global phenomenon.
ByteDance is now worth more than $75 billion, and Zhang himself has a net worth of $16.2 billion.
ByteDance has a reputation on being results-driven. This is seen by the amazing growth that the company has had in just 8 years.
It's clear that both Juul and ByteDance had founders who were proactive if securing funding. This allowed them to catapult forward in terms of revenue and growth. This ultimately made them some of the world's biggest-funded start-ups.
How do these start-up investors get found and approached?
As a start-up entrepreneur, building relationships is essential.
Those connections may lead you to a potential investor willing to take a leap of faith and put down money. It is all about an investor trusting that your company will become the next big thing.
The world's biggest funded start-ups get formed by focusing not on quantity, but quality. Quality investors are 'angel investors'. They may have held an executive position at some point in their career, and they bring with them a wealth of experience and contacts. They may invest between $150,000 to $2 million, and they can also offer advice and introductions in the industry.
If you would like understand how venture capitalism works, why not follow read this Forbes article on 10 venture capital investors? You might find a potential investor worth pitching your idea to.
Generally speaking, angel investors look at companies with strong team synergy. They are also looking for good market potential. Popular industries include the internet, healthcare, and telecommunications.
These investors may be looking to gain 10 times their initial investment in 5 years. They usually sell their stake and exit their investment when an IPO (initial price offering) takes place and the secondary market becomes active.
Click here to find out more about what kind of markets are out there. Remember: it is not just the stock market!
Why invest in these start-ups when they have no revenue growth?
Company owners need to sell an idea to the investors. Sometimes they do it with prototypes. Sometimes they do it with a pitch. It's all about the possibility generating a handsome profit in the future.
From the very beginning, it is not your average Joe investing in these companies. It tends to be very wealthy, accredited investors. They generally do not invest in just one start-up. They will diversify their risk exposure by investing in several start-ups.
Wealth Morning explains risk in their article, Living Dangerously: The Risks That Can Make or Break Your Wealth.
It's a worthwhile read if you want to understand the bigger picture that most investors live by.
Investors put their money in start-ups to travel to the unknown. Innovation is at the core of it. Yes, mistakes may be made. There might be little profit. Money may be lost. But without this embracing of risk, we can never move forward.
Start-ups are indeed high-risk. But when the risk is high, the potential for return may also be high. That leap of faith may eventually pay off.
Investing in start-ups is not for the faint-hearted. 90% of funded companies do not make it to the stock market. 9 out of 10 may fail.
Investors look at startups in a different way compared to other investments. They must believe that the company is solving a worthwhile problem. And if the company does provide a marketable solution, why not give it a go?
We have all seen massive changes in the world we live in today. These changes have been driven by technology and connectivity.
New start-ups create new opportunities making a better future for us all. Angel investors look beyond the greed, and they embrace innovation and change.
Famous people who have done very well by investing in start-ups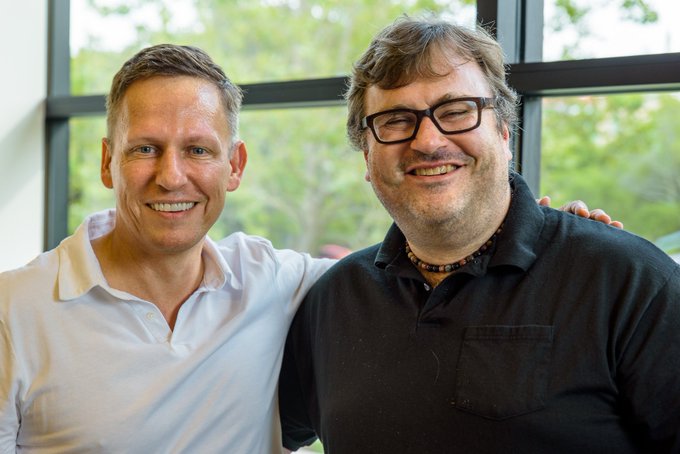 Source: Reid Hoffman Twitter
Peter Thiel and Reid Hoffman are well-known venture capitalists. They have provided private equity financing for emerging companies. They have an eye for capturing high growth potential in start-ups.
In 2004, Peter Thiel became an angel investor in Facebook. He provided $500,000 for a 10.2% stake. Fast-forward 8 years, and he sold most of his shares for a grand total of over $1 billion. That is a yearly return on investment of 158%. That was just the beginning.
Thiel went on to make early-stage investments in 27 start-ups. Some of the big names include Airbnb, LinkedIn, Spotify, and TransferWise.
The pay-off was huge. Thiel now has a net worth of $2.3 billion. He certainly took the right risks at the right time by understanding the market.
Reid Hoffman currently runs a $20 million discovery fund. Alongside Thiel, he too invested $500,000 in Facebook's first round of financing. Hoffman also has a stake in many other companies and has a net worth of $1.9 billion.
Taking the plunge with start-ups not helps the economy, but it also offers innovation and change.
What our world be today without angel investors? It would be a much poorer world indeed!
Regards,
Edune Rogers
Contributor, Wealth Morning