My son, nearly 12, wants to be a pilot. That's no surprise since we spent a good deal of his younger years on aeroplanes — long haul to various destinations from New Zealand and then short haul around Europe.
I reasoned this to be good choice. Aviation is a fast-growing industry.
So, when we returned to NZ to live, I bought him a birthday present. A scenic flight over Auckland Harbour in a much smaller plane. And that's when his career choice started to make me a little nervous.
It turned out that the Kiwi pilot put a lot of commercial hours in up in Papua New Guinea. He did the Auckland scenic work when he was back visiting NZ.
'Have you ever had to do an emergency landing?' I asked the pilot.
He paused a second. The little plane bumped in the wind as we made our way over the eastern bays.
'Sure,' he said. 'My engine caught fire and I had to put her down on a beach. Trouble with landing on sand is it stops you very fast and that can hurt.'
I wondered how many ribs he'd broken, or worse. Then I glanced at Anthony. He didn't seem at all worried.
When Boeing shares plummeted this week following the tragic crash in Ethiopia of a Boeing 737 Max 8 — the second crash of this model in five months — I wanted to know more.
Fear and investing
Experience has taught me that many fears are the result of misinformation or simply not knowing the truth. Overreaction is the default position.
The September 11 attacks were the last time the Boeing share price fell this heavily.
After those attacks, passenger miles on US airlines fell up to 20% while road use jumped. People feared flying and opted to drive. A German professor, specialising in risk, estimated that an additional 1,595 Americans died in car accidents the year after.
Should I buy Boeing [NYSE:BA]?
I've wanted to get into Boeing for a long time. I missed the chance when it was less than $150 a share in 2016 because I feared it was expensive or incidents could damage the company. Then Trump cut taxes, Boeing employed lots more staff, and the stock price rocketed to a high this year of over $440.
It's been a Wall Street darling. But for my portfolio — it's the one that got away.
The company's prospects remain strong. There is surging global demand for air travel. Boeing and Airbus virtually have the entire market between them. Airbus' sales were ahead of Boeing since 2014, but last year Boeing turned the tables. In 2018, Airbus sold 747 aircraft. Boeing sold 893. The company has 20 years' worth of orders to fill.
With the demise of the Airbus A380 and the upcoming Boeing 797, it seems Boeing could continue the sales lead. At least up until now…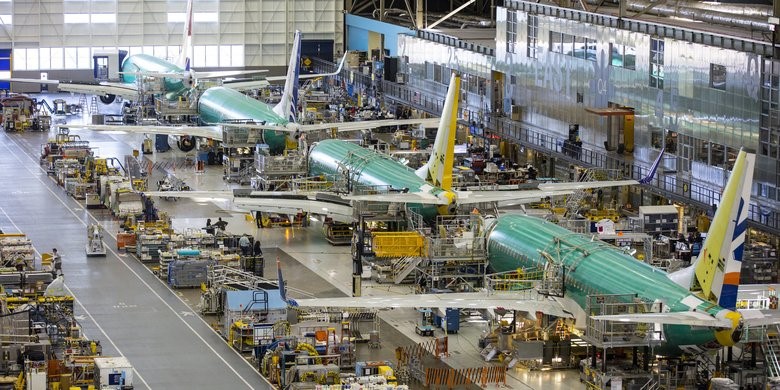 Boeing's factory in Renton, Washington, where 737s are made. Source: Seattle Times.
[openx slug=inpost]
Will the 737 crashes ground Boeing's future?
It was a shock to many investors when, this week, China's aviation regulator ordered the grounding of all 737 Max 8's. That was compounded when the EU, UK, Australia, and a raft of other countries followed suit and suspended operations of the aircraft.
The Federal Aviation Administration stated shortly after they will issue a global notice of 'continued airworthiness' on the 737 Max, but they wanted to see design changes by April.
We now have two fatal crashes of the same aircraft within five months. Both crashes happened shortly after take-off, on recently delivered aircraft.
The first crash was Indonesian Lion Air Flight 610. Lion Air itself has a notorious safety record. In November, a New York Times investigation painted a picture 'of a carrier so obsessed with growth that it has failed to build a proper safety culture.' Further reporting details Lion Air's political ties have allowed it to circumvent government safety recommendations.
Pilot error is the single biggest cause of aeroplane crashes.
In 2013, when a Lion Air flight landed in the ocean rather than Bali Airport, the official accident reports found the 24-year-old first officer lacked even 'basic principles of jet aircraft flying'.
What about Ethiopian Airlines?
Ethiopian has had a reasonable safety record and appears to be one of the better airlines in Africa. But this is not the airline's first fatal crash. In 2010, a Boeing 737-800 operated by the airline crashed into the Mediterranean Sea. Although the exact cause of that accident is inconclusive — and some experts suggest a technical failure may have caused an engine fire — investigators found the pilot failed to follow instructions from the control tower to correct his path and avoid a storm.
We are still waiting to hear the results of an investigation into fight ET 302 that crashed on 11 March. Early commentary suggests concerns over flight control and pilot training.
It's worth noting that Ethiopian Airlines doesn't appear to have much experience with Boeing 737 Max's. According to their website, they have only one of them in a fleet of 108 aircraft. They likely now have none, although 29 are on order.
Southwest Airlines operates 34 of the aircraft and has done so safely since October 2017. American Airlines operates 24 and has done so safely since November 2017. Air Canada's number and experience mirrors American and in a recent statement, they advised:
'These aircraft have performed excellently from a safety, reliability and customer satisfaction perspective.'
We don't yet know exactly why ET 302 came down. That in itself is a sad and shocking tragedy. But we will have to wait for more answers. On the numbers alone, it is hard to attribute the cause to an inherent manufacturing fault that should bring down Boeing's share price so sharply.
For now, there is a short-selling restriction on Boeing, meaning investors cannot bet on a continued share price fall. Where it will go after that depends on what more we can learn.
If there's one thing I've learnt from years of investing, it is this: the truth eventually comes out in the numbers.
Regards,
Simon Angelo
Analyst, Money Morning New Zealand
Important disclosures
Simon Angelo has a limit order on Boeing [NYSE:BA] via wealth manager Vistafolio.