Nassim Taleb is a ballsy guy.
You probably know him as an author. But way back when, he was trading the riskiest assets around: derivatives.
People like to say the derivatives market is a place to hedge your bets. But really, the market is chock full of speculators trying to make a quick buck.
And boy did Taleb make some bucks.
During his time as an options trader, Taleb liked to do things differently. Instead of buying options that had certain outcomes and selling those that had unlikely ones, he did the opposite.
He bought options that had a remote chance of paying off. And he sold options that had better than a 50% chance of paying off.
I'm simplifying his method, but you get the point.
For a long time, Taleb didn't make all that much money.
Buying the unlikely and selling the likely usually doesn't lead to riches.
But Taleb continued. He was waiting for a black swan to emerge: an unknown event that comes as a surprise. And in October 1987 when the stock market crashed, he got his black swan.
All the remote options he owned became extremely valuable overnight. Taleb said later he made 'tens of millions of dollars' on that one event in October.
It might be years, maybe even decades, before we see another black swan. That's what China's hoping for at least…
The clock is ticking on the trade war
Donald Trump has had enough.
He's had it with the media. He's had it with the political left.
He's also had it with China and their meetings that go nowhere.
There are two big issues, according to Trump. Theft of American technology and innovation and a huge trade imbalance.
During every meeting, China seems to side step the former.
It's why when Chinese officials asked Trump for another sit down, he simply told them no. From The Australian Financial Review (AFR):
'An offer by two Chinese vice-ministers to travel to Washington this week for another round of preparatory talks was rejected by the Trump administration because of a lack of progress on key issues.
Those key issues include forced tech transfers and more structural reforms to the Chinese economy. The AFR continues:
'Within hours, National Economic Council director Larry Kudlow took to CNBC, saying there was never a planned meeting, and that all sides were working towards a gathering of Vice Premier Liu He and US trade representative Robert Lighthizer at the end of the month.

'"We are in constant communication with the Chinese officials," Mr Kudlow said. "The story is unchanged. We are moving towards negotiations. These will be … the broadest and deepest scope of negotiations with China in history."'
What's got investors nervous is the time left on the trade truce clock. Trump and Xi Jinping agreed to hold off on any more tariffs until 1 March this year.
There's only six weeks left. Surely a deal both parties can agree on won't be inked in that time?
Some analysts are saying it's not realistic to expect a full deal by March 1. Instead there might be an agreement to continue negotiations under the truce.
So there's now a bit more uncertainty thrown into the markets.
What's puzzling though, is why China would not want to do a deal as soon as possible. Their economy is slowing. Trade tensions aren't helping.
It 'makes so much sense for China to finally do a Real Deal, and stop playing around!' Trump wrote on Twitter.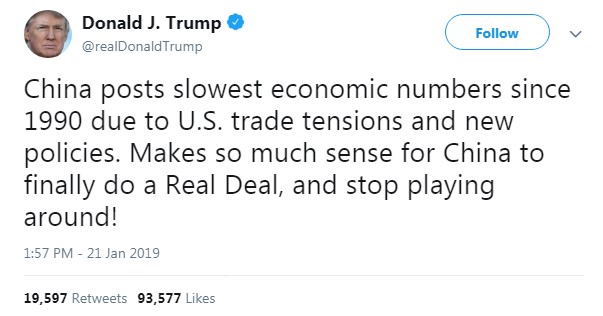 Source: Twitter
Maybe China is no longer thinking of growth at all costs. According to Xi's latest words, it seems he's more concerned with any black swan events on the horizon…
The only way Xi can save China's economy
The problems China will face will be profound and complicated — Xi's words not mine.
What Xi actually means is there will be difficult times ahead for his party. They were the ones who promised prosperity for all.
How does it look when they don't deliver? What will the people say when they're out of the job because manufacturers are shutting down?
Xi is also on high alert for any black swans that come his way, telling communist party officials:
'We have to be highly alert to "black swan" incidents and also guard against risk of "grey rhino".'
Just imagine what would happen if an October 1987 event struck China's economy. By definition it would be something the communists couldn't prepare for.
They'd have to do damage control on the fly and hope their popularity isn't affected.
The way I see it, the best way forward for China is to transition their economy.
They've got to wean themselves off export spoils. The government has to get workers out of the factories and into the service sector.
That way, China's growth will be internally led and less exposed to international demand. It won't be an easy transition. It will take time.
But the people of China will be better off for it.
They won't be locked into factory jobs or ones on the farm. They'll be free to move along the employment landscape, gaining new skills and knowledge to help their employers produce more.
And isn't this what China wants? A thriving society as prosperous as America?
Your service-minded friend,
Härje Ronngard