A few weeks ago, National Housing Spokesperson Chris Bishop outlined his housing policy on Q+A with Jack Tame.
If Bishop gets the chance to enact it, what could that mean for the property market, property prices, and for property investors?
First, the three-unit, three-storey, medium-density bipartisan deal is off. It's going to be left up to councils.
Keep in mind it was wildly unpopular. Christchurch City Council refused to even do it.
And fair enough too. Why should Wellington tell every other major city how to build houses?
The three-storey rows I've seen in Auckland are not the cobbled beauties of Florence, with bars and boutiques below. They look like medium-security prisons. Garages and turning areas for Suzuki Swifts only.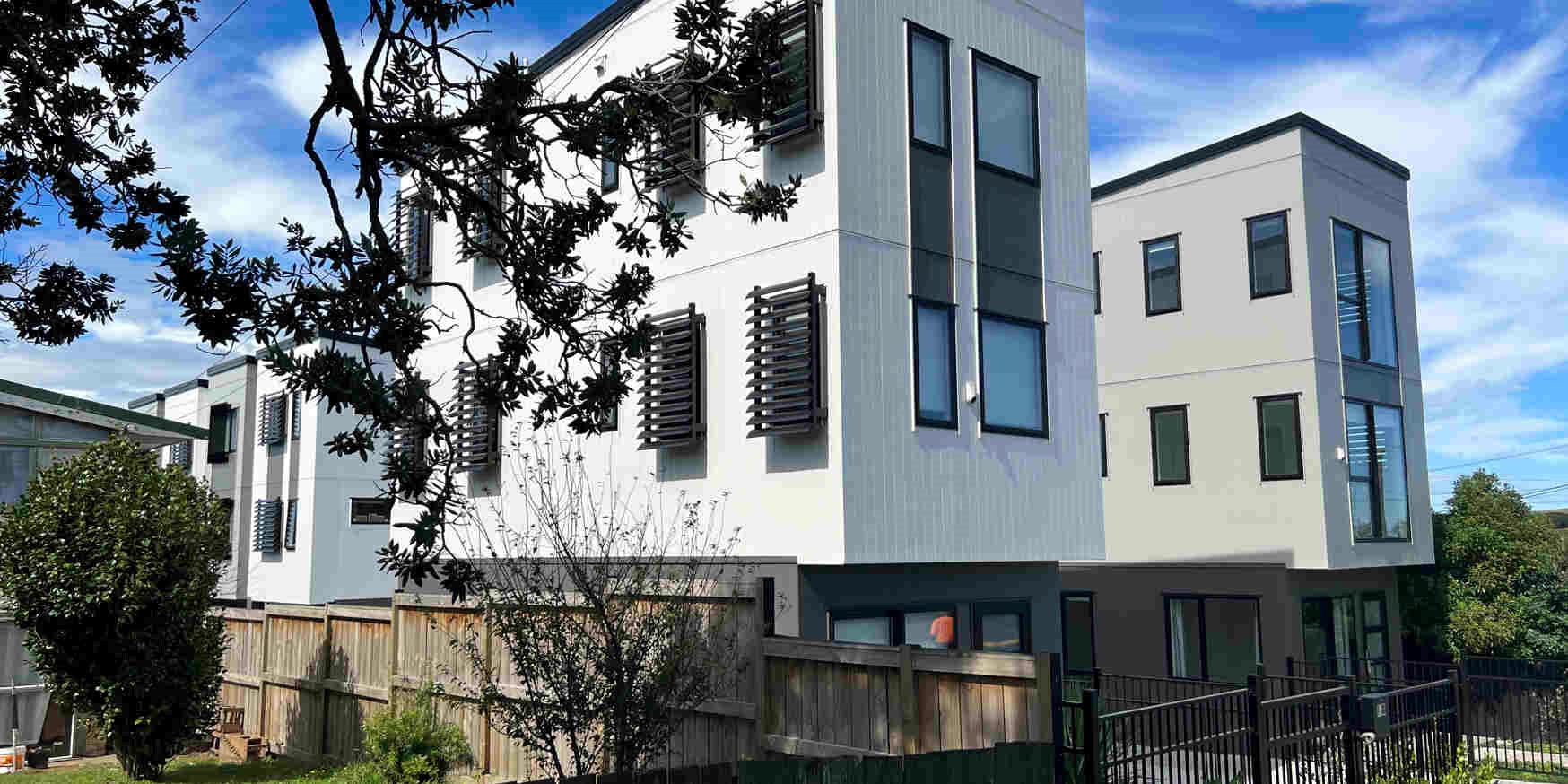 New density development in Auckland, with questionable aesthetic value and limited privacy.
Source: Ray White
Yet as I watched Bishop, I found myself saying, 'They've finally got it…'
What's the main thing that holds this country back? That is the root cause of poverty, endless pain, and suffering?
It is unaffordable housing.
But the bipartisan accord on density and the demonisation of landlords was a win-lose, possibly even lose-lose deal.
Just another swing of the axe in the dark generational battle between those who have and those who do not.
So, you have a house in a nice area?
'Well, we'll come for you with 32 Star Trek bunkers, overlooking every piece of your section on both sides, until you sell to the Borg.'
That was never the Kiwi lifestyle; the Quarter-Acre Pavlova Paradise.
I'm not saying you need a quarter-acre. The Victorian villas where I live in Devonport are typically on about half of that, and they nestle together beautifully and peaceably.
Heritage villas on small sites in Devonport maintain a good degree of privacy and some density.
Source: Author
So, back to Bishop.
He speaks with passion on the issue to Jack Tame.
'We have a 30-year problem with housing in this country,' Bishop says. 'The fifth biggest bank in this country is the Bank of Mum and Dad. Young Kiwis cannot get on the property ladder because they are completely priced out of the market.
'We have poverty in this country caused by housing. Inequality caused by housing. And nobody ever does anything about it.
'At the moment, there is no choice for people. Well, the only choice is to live in cold, mouldy, unaffordable homes. 10x the household income in Auckland. 25,000 families on the wait list. Children living in cars and tents right around the country. We'll end our housing shortage when we don't have people living in motels!'
Bishop compares Houston, Texas, where housing multiples are 3-4x household income as an example of affordability. Unfortunately, this has slipped recently, and those multiples look to be more like 5-6x. Still pretty much better than anywhere in New Zealand.
But have Bishop and his colleagues proposed a solution that is more win-win?
He says, 'We've got the political courage to get in there and smash these limits that are artificially holding back development.'
As with any market, price is a function of demand and supply. Housing demand is fairly inelastic, since housing is a necessity.
There are all sorts of factors that feed demand. For example:
Mortgage availability and rates — including the Bank of Mum and Dad.
Levels of net migration coming into New Zealand — which have been high lately.
Demographics — longer life spans see houses occupied longer.
Income levels — two working parents, less the impact of childcare costs.
Excepting immigration, the government has little control over many of the demand levers.
The simplest area it can influence is the supply lever. And that is to dramatically increase the supply of low-cost land.
Urban boundaries, according to National and the Infrastructure Commission, add over $600,000 to the cost of sections on Auckland's fringes, and around $250,000 in Wellington.
The new policy would require councils to 'zone land for 30 years' worth of housing demand immediately.
They will be able to opt out of the Medium Density Residential zone law. But if they don't zone for the 30 years of demand, the government will have the power to go in and rezone their cities to achieve that.
Impact on property prices
Here in Auckland, the Unitary Plan already zones for up to 900,000 new dwellings.
The ARUP Group has projected that Auckland's population will reach 2.4 million by 2050. It is currently about 1.7 million.
There already appears to be more than 30 years of demand already zoned for.
Yet part of that zoning seems to include around 140,000 dwellings in areas marked 'future urban' in Auckland's rural hinterland.
These areas are currently lifestyle blocks. Small, mostly non-productive pieces of land of around 2 to 10 acres.
What is pertinent is the immediacy of the wording in the new policy:
Councils will be required to zone land where houses can actually be built, rather than "future zoned" for possible zoning changes sometime in the future.

In the case of Auckland, this will mean areas currently designated as "Future Urban" on the edge of the city are likely to become available for housing immediately.
The prospect of around another 140,000 sections made available within the Auckland market will make a material difference to supply. On top of the increase to density in transport corridors also mentioned in the policy.
There are currently about 540,000 dwellings in Auckland. The immediate unlocking of massive new-build opportunity could materially lower home prices.
Of course, it will take time for existing block owners on Auckland's fringe to release their land into sections. But there is clearly profit incentive. And once one block becomes more densely settled, the countryside nature of the area is forever changed.
There are other specifics in the policy to discourage land bankers from awaiting 'drip-fed infrastructure'. It also seeks to levy the cost of running new roads on to developers in areas where land is 'unlocked'.
The emphasis on greenfield developments alongside density is new. And it does add a meaningful opportunity to pull hard on the supply lever.
This, alongside Building Act reform proposed by both National and ACT, could well lead to a building boom with scale and lower cost.
Opportunities for investors
New Zealand, over the past 30 years, has operated as a speculative Ponzi scheme for property. Much of the wealth generated in this country during that time has come from the escalation in property values.
That does not represent wealth achieved from innovation, productivity, hard work, new markets, or new technology. It is not wealth built through businesses or entrepreneurship.
Unlocking land to incentivise building and development over speculation can only be a good thing.
If the smashing of urban boundaries is carried out at the scale and depth proposed, it is very likely we will see a material rebalancing of housing cost.
Of course, the experience of many living in hinterland areas that have been recently developed raises other issues.
A friend living in the Kumeu-Waimauku area tells me the roads are now frequently at a standstill due to the scale of new building. Nor are there easy solutions to expand or run new roads. Auckland has a constrained geography.
More densely populated nations such as England have resolved this problem by building new towns with rail links into London. In the 1950s, new developments sprang up in areas like Milton Keynes, Crawley, and Warrington. Today, Milton Keynes alone is home to almost 300,000 people.
This development used a more direct strategy. According to The Guardian:
The government bought land at agricultural prices, awarded themselves planning permission, built a town, made a profit on it, and put the money into the same project all over again.
Today, with collapsing home ownership rates amongst the young, Rishi Sunak is being called on to build such new towns again.
Yet New Zealand home prices, on average, are still almost 60% higher than in the UK.
Opening up New Zealand's enormous land base and removing artificial zoning limits makes sense. It could be the start of more affordable housing. And a smarter focus on development over speculation.
For investors, there is a good chance that the capital growth we have seen over the past few decades will not continue at anything like levels before.
In this environment, my own investment preference is stocks and shares.
These are investments in productive businesses. Generally, they provide a higher degree of liquidity, and at least over the past few decades, have matched capital gains in property while often exceeding yields via dividends.
Of course, listed shares are often invested in property. Whether that be commercial or residential building and development. But that is done at scale. Something the Mum and Dad Landlord/Investor seldom achieves.
Ideally, if New Zealand housing policy can unlock opportunity and scale, we will see the emergence of more listed home builders and developers seeking investment on the NZX.
A housing policy with something new is commendable. But we're not going to know the real impact until we see it start.
Our Quantum Income Strategy
In my own investing, I favour the liquidity and freedom of shares. You can still invest in property via companies, receive yield via dividends, and get potential capital growth without the hassle.
Here at Wealth Morning, we offer Wholesale and Eligible clients a unique solution. It's called Wealth Morning Managed Accounts. This is more than just a business for us. We believe in our strategy and eat our own cooking.
Since 2014, a model portfolio following this strategy indicates what could be possible for share investors with patient and prudent capital: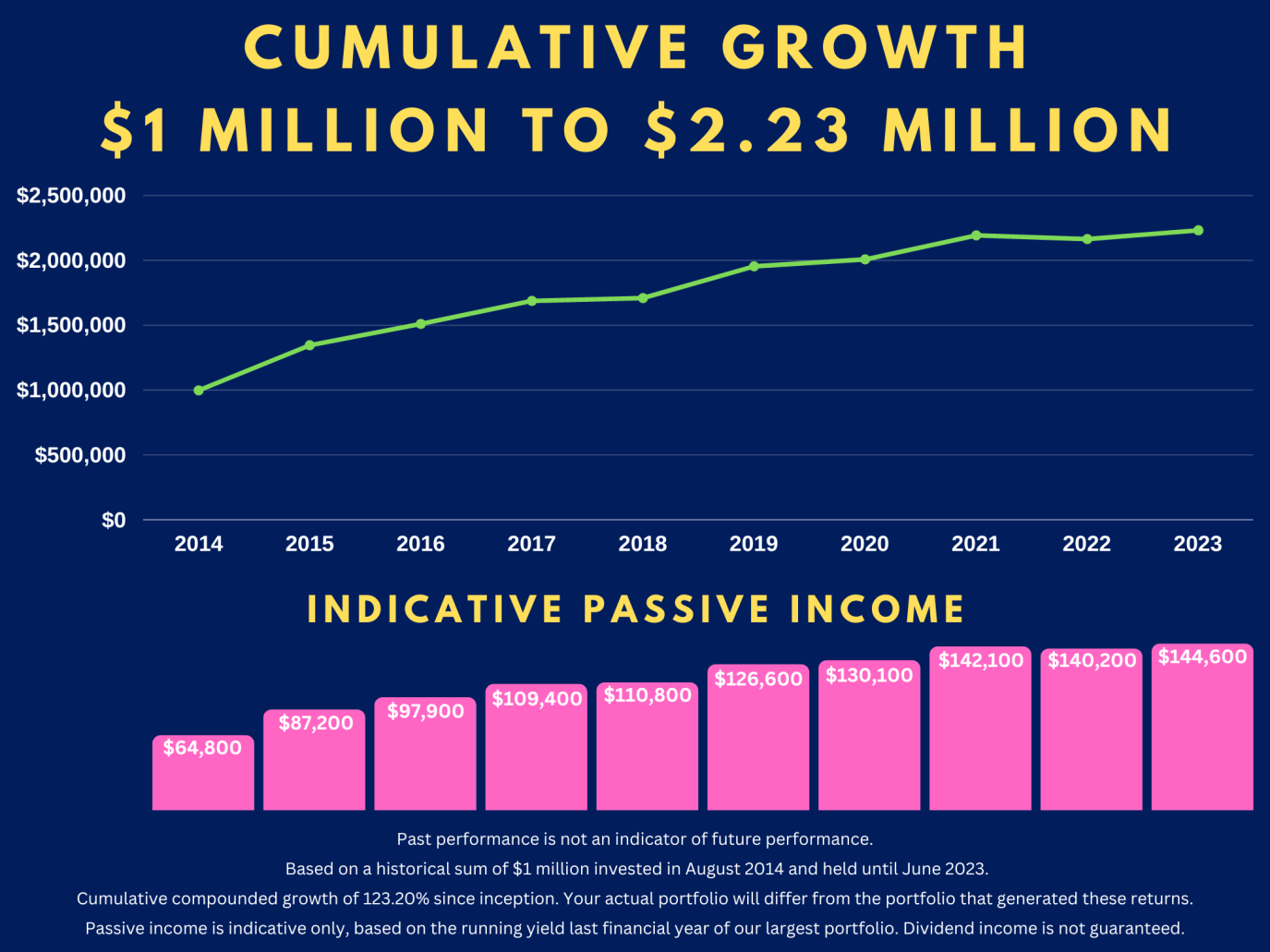 Regards,
Simon Angelo
Editor, Wealth Morning
(This article is the editorial content of this periodical. It is the author's personal opinion and commentary. It is general in nature and should not be construed as any promotion or as any financial or investment advice. Managed Account services are for Wholesale or Eligible investors as defined in the Financial Markets Conduct Act 2013. Please request a free consultation if you would like to discuss your eligibility.)