I meet a friend for cappuccinos from time to time.
He arrived at our usual café the other week. He set his phone and his keys down on the table.
I was interested to hear about his recent trip via San Francisco.
He looked at the keys and phone. 'Only got to remember those now. And my wallet. I used to have to take my gun wherever I went.'
I've only known him since he moved his family to Auckland. But I'm aware he had quite a different life working in law enforcement in South America. Dealing with drug busts, prostitution rings, and the different mafias that operate there.
Yes, a place where he was armed with a high-calibre pistol. And not a guy that is scared of much.
So I was shocked to hear that he felt unsafe in San Francisco.
'It was scary,' he said. 'You could smell the drugs. People were out of it. You felt like you could be robbed or attacked at any moment. Many stores had armed security at the door. I was scared for my wife and daughter.'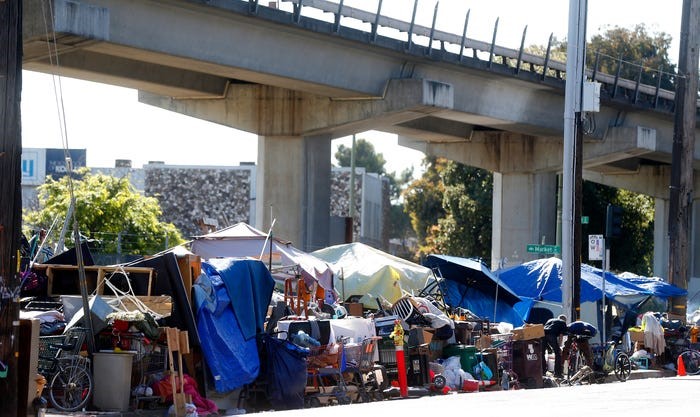 Homeless encampment, San Francisco. Source: Business Insider / Getty
When you look into it, San Francisco is the epicentre and the result of woke, left-wing, liberal policies in America.
For 20 years, progressive Democrats have dominated the government.
Zoning laws make housing among the most expensive in the country.
Students in public elementary schools have the unquestionable right to identify as other genders. Grade-school teachers must use the preferred pronouns of primary students.
Meanwhile, the California Department of Education adopted an ethnic-studies curriculum despite 100,000 objections.
Why so many objections? That was apparently due to its foundation in critical-race theory (CRT) that posits Western social institutions are inherently racist and used by whites to oppress others.
Unfortunately, these woke virtue-signalling fools in charge have done nothing for the state of a once-great city. Homelessness, drug abuse, crime, the cost of living and the city budget have all spiralled out of control.
Fortunately, America is a big place. And according to Ron DeSantis, the governor of Florida, thousands are moving to his state to escape the woke and the broke.
'We will never surrender to the woke mob,' DeSantis promises. 'Florida is where woke goes to die.'
In 2022, Florida gained 319,000 residents.
California lost 343,000.
There are likely other factors at play, such as California's higher taxes. But there's no question: Florida has become more attractive to many.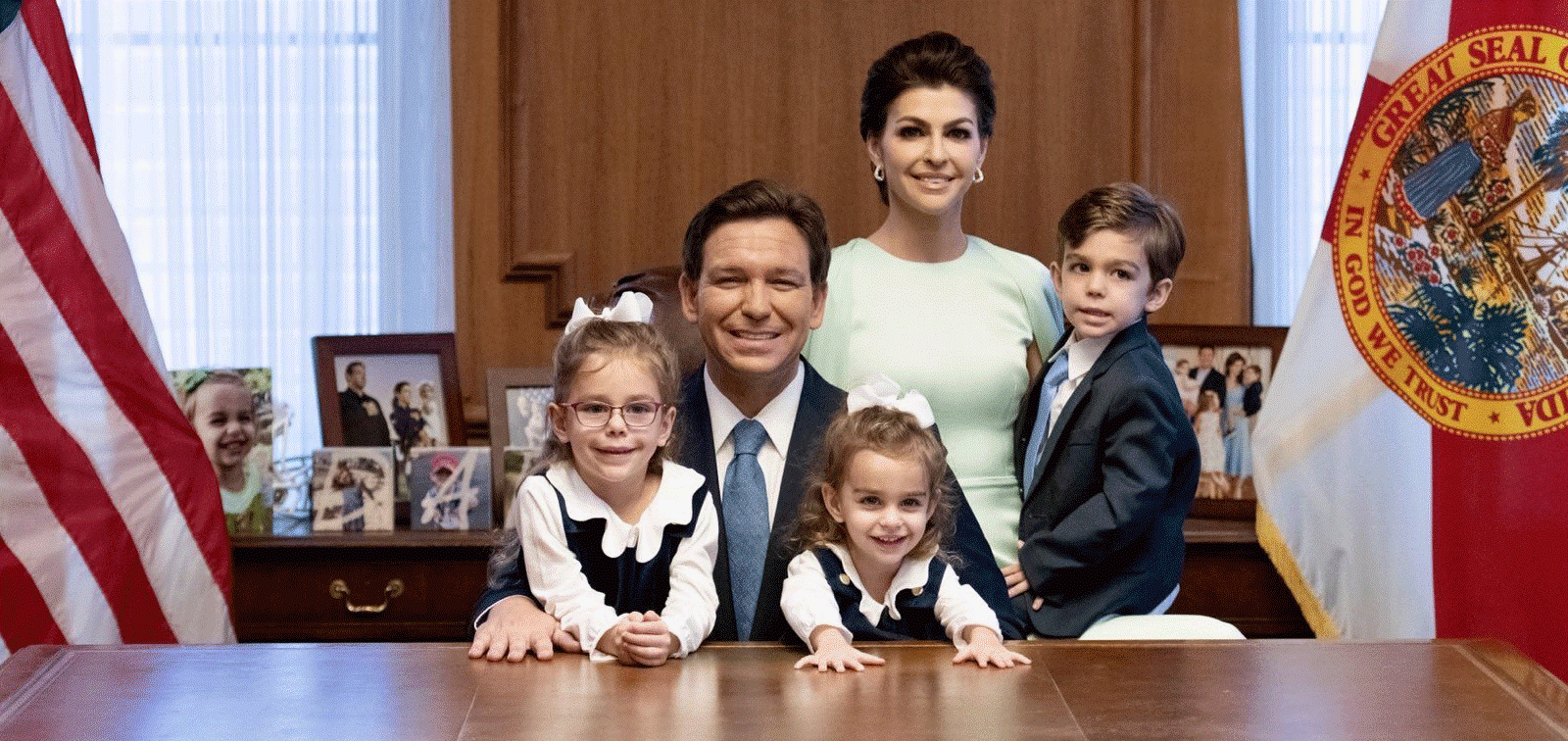 Ron DeSantis and family. Source: Official website
Ron DeSantis has a point.
Both are big sunshine states.
California is struggling. Florida is succeeding.
California is more liberal. Florida is more conservative.
Possibly young Floridians see a brighter future than young Californians.
Columbia University recently found that teens that identify as liberal are much more likely to have mental health issues than teens with more conservative views.
So, what exactly has DeSantis done to brighten Florida's star as a conservative refuge?
Here are just some of the actions he has taken:
Parental Rights in Education bill. Prohibits classroom instruction on sexual orientation or gender identity to kids. School districts are required to notify parents if there is a change regarding a child's mental emotional or physical health. The law was recently upgraded to outlaw gender change surgery and puberty blockers for minors, stop the use of non biological pronouns, and ban drag performances to kids — amongst other things in the 'Let Kids be Kids' update.
Prohibited woke ESG considerations from state investment decisions.
Led a ban of the teaching of CRT in public schools.
Signed the Fairness in Women's Sports Act. This bans transgender girls and women from participating in female sports competitions in middle school, high school, and college.
Signed an abortion bill into law. This bans abortions after six weeks, with exceptions to 15 weeks for rape and incest.
Recently proposed legislation to prohibit DEI (Diversity Equity and Inclusion), CRT, and other ideological indoctrination from state colleges and university campuses. Requires institutions to prioritise graduating students that lead to high-wage jobs.
In 2021, signed legislation to protect Florida jobs, as well as the rights of parents to make healthcare decisions for their children. Vaccine and mask mandates are banned across the state. He now seeks to make these freedom protections permanent.
Cut state spending while increasing revenue to see the largest budget surplus in Florida's history of almost $22 billion.
Yet his spending cuts have not affected policing. He opposed defunding the police. He introduced a $5,000 signing bonus for Florida police offices to attract out-of-state recruits.
In March 2023, he signed the Live Local Act, representing the largest investment for housing efforts in state history. 'The bill invests $711 million in multiple programs to expand the availability of housing, downpayment assistance, and focused support for military communities.'
Now, in the New Zealand context, some would find Ron DeSantis right-wing or ultra-conservative. He's the polar opposite of our left-wing leaders. Even many in our opposition. He's also very different from New Zealand politicians because he actually does things.
Perhaps that's why he was re-elected in a landslide victory in 2022 with a 19.4% margin, the highest in 40 years. The sort of margin that is unheard of in modern politics.
Many are now pinning their hopes on him as the next US president.
I'm not in agreement with all DeSantis stands for. But there is one thing for certain: because he is courageous and resolute in what he stands for, he is gaining the faith of the electorate.
He is also standing up for the future prosperity of his state, while his rivals in California appear to be heading for a near $23 billion deficit.
What we have lost in New Zealand is the faith of the electorate. It's hard to find anyone brave to vote for. It's hard to find major points of difference. It's hard to find someone who will solve the housing crisis and stand up for those starting out.
Could Auckland be the next San Franshitsco?
At times, parts of the central city resemble that.
There are heartbreaking problems of homelessness, crime, and poverty.
We need sustainable policies that are focused on the prosperity of families.
We need a tax system that incentivises work and risk-taking, with a tax-free threshold.  $15,000 would be about right. That's all some businesses may make in their first year.
We need to eliminate the housing crisis by breaking up council-land monopolies and incentivising building — not landlording over existing housing. And that means incentivising build-to-rent and affordable housing.
While there are few brave voices in New Zealand politics, there are options for investors.
In particular, the ability to build passive income and financial freedom through robust, quality, dividend-paying companies around the world.
That sort of financial freedom gives you options. And it gives you mobility. If you want to leave a woke state for a saner one, you'll have some options.
That's something we're focused on with our Quantum Income Strategy that we apply to our Wholesale Managed Accounts.
Please note: our free consultation period on these Managed Accounts expires today.
If you qualify as a Wholesale or Eligible Investor, we can help you set up and manage a global brokerage account.
For our target client, we are focused on securing strong dividend income of $60,000 or more per year (depending on capital and market conditions).
Our Quantum Income Strategy is focused on delivering you prosperity for today. For tomorrow. For always.
Because this is what gives you financial freedom.
🎯 Apply for your consultation before this offer expires at 5pm today.
Regards,
Simon Angelo
Editor, Wealth Morning
This article is general in nature and should not be construed as any financial or investment advice. Wealth Morning Managed Accounts are only available to Eligible Investors and Wholesale Investors (not to Retail Investors) as defined in the Financial Markets Conduct Act (2013).