At just 42, Rishi Sunak is one of the youngest British prime ministers. And he's also one of the wealthiest.
Before entering politics, he had a successful career in finance. Starting out as an analyst in investment banking before becoming a hedge-fund partner.
This investment career clearly left him with something many politicians lack: a personal financial freedom portfolio.
This gives him an advantage. He can concentrate on being the best leader he can and sticking to his principles, without worrying about mortgages or job security.
Now, this portfolio appears to be global stocks in a US-based investment fund. It is under 'blind management'. Meaning a manager now looks after it without him making any investment decisions. That, of course, is vital to avoid conflict of interest when you're a member of parliament.
Is this fund linked to Theleme Partners, where Sunak was a founding a partner?
We don't know — but Theleme appears highly profitable.
In 2020, it invested in Covid vaccine-maker Moderna [NASDAQ:MRNA]. Last financial year, Theleme made £109 million — a £65 million increase from the previous year.
Following political pressure and questions over his tax affairs, Rishi Sunak recently released a personal tax summary for the past three financial years: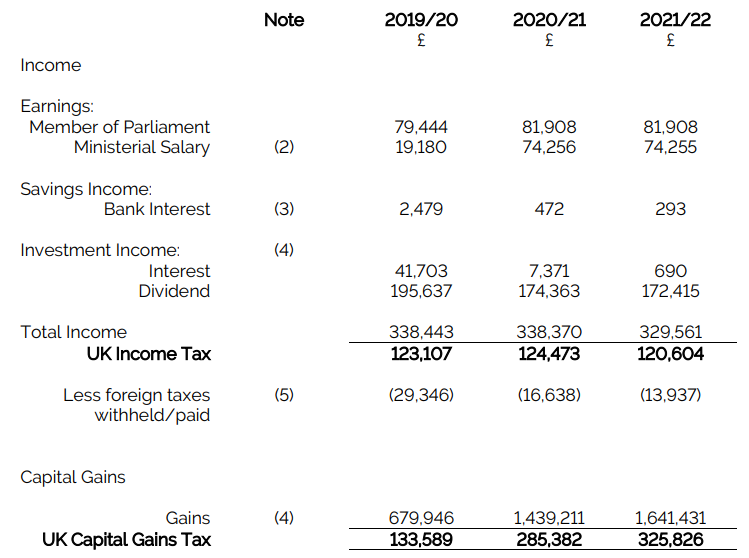 Source: Evelyn Partners / UK Government
His total MP and ministerial salaries of around $306,000 are dwarfed by his dividend income of almost $340,000. And the capital gains on his portfolio of over $3.2 million for the 2022 financial year.
This indicates the power of investing in stocks that offer growth and income potential.
Since many of the assets appear to be in the US markets, there is probably less focus on dividends and more on growth potential. This has been very positive over the past three years.
Given the generally lower yield on US equities and the capital growth focus here, it would seem that Sunak may have a portfolio of over $10 million.
Yet, for regular investors with much less, it demonstrates some useful insights:
By building a robust portfolio over time, it is possible for your dividend income — your passive income — to exceed your wages or salary. That is the case for me and many of the Wholesale Investors we work with.
If you are willing to forego some income yield and focus on capital gain, that could generate even larger returns. Though it will add risk, and unlike dividends, these gains are not cash flow.
A portfolio that generates most of your income also gives freedom. You are not dependent on a job or the vagaries of politics. You can live for and by your own principles. Which, paradoxically, could allow you to do an even better job at your chosen profession if you so choose.
Sunak's portfolio made most of its capital gain between 2020 and 2021. This likely suggests there was skilful deployment during the pandemic discount. But there was also some uplift in 2022, suggesting it had gone quite defensive against a wider market fall.
It does need to be said that Sunak's level of wealth may enable him to take more risk than the average investor. Shares and other financial instruments can go up and down. Capital is not guaranteed, nor are dividend payments.
There are only broad details in this published tax summary. Even though Sunak is no longer able to directly manage his portfolio, it appears to be delivering very well under its fund manager.
And that is the key to good investing. Building a portfolio to take advantage of and ride through market cycles.
Special offer for eligible readers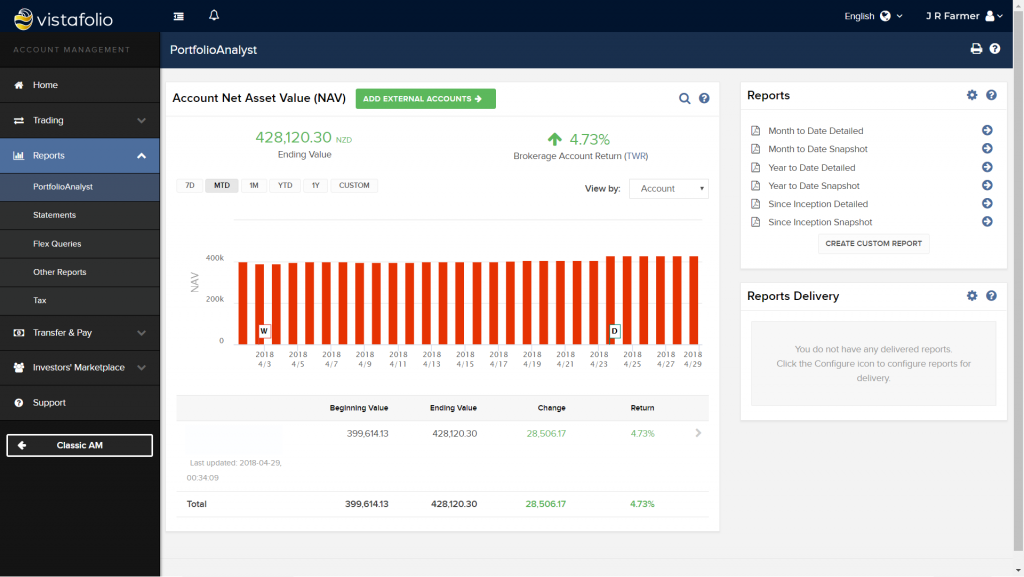 Here at Wealth Morning, we have a dedicated portfolio-building service for Wholesale and Eligible Investors.
It is called Vistafolio. A Managed Account Solution where you can have a robust portfolio in global equities built under your own name and control, managed by expert investment managers.
We seek dividends and capital gain from value opportunities. Our aim is to build lasting financial freedom.
Until 6 April, 2023, we are offering free consultations to our readers on this service.
We will review whether you may be eligible. And, if so, explain how it may work for you.
To request your free consultation today, please click here.
Regards,
Simon Angelo
Editor, Wealth Morning
(This article is general in nature and should not be construed as any financial or investment advice. Vistafolio services are for Wholesale or Eligible investors as defined in the Financial Markets Conduct Act 2013.)