Does a recession scare you?
Does the very word itself give you sweaty palms and a migraine headache?
Well, you're not alone.
In Malaysia, where I was raised, a recession is something that everyone is afraid of. Of course, job layoffs are to be expected. Belt-tightening becomes the norm. Everyone has to spend less and save more.
But there's a deeper fear that goes beyond all that.
A more existential fear.
One that throbs under the surface.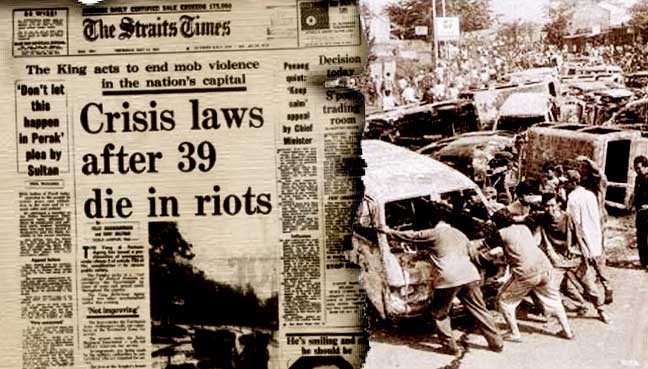 Source: The Rakyat Post
You see, race relations in Malaysia have always been shaky. And for those of us who grew up in the aftermath of May 13, 1969 — a day of infamy when the nation convulsed from bloody racial riots — we always live in fear:
If the economic pie shrinks, could such social upheaval happen again?
Could an ultranationalist fever seize the public mood?
Could the machetes be sharpened and unleashed?
It's all within the realm of possibility.
Malaysians of immigrant Chinese background have historically been called the Jews of the Orient. They represent a minority that's particularly vulnerable to being targeted during times of distress.
The logic goes like this: if the economy is facing headwinds, well, it must be the fault of the pendatang. They are secretly hoarding money. They control the financial system. They form a hidden cabal of businessmen. So let's go out and slaughter some pendatang.
Primal? Yes.
Irrational? Absolutely.
But such is the power of the subconscious to shape and distort reality.
The situation down under
Fortunately, here in New Zealand, people do not worry about genocide. They do not worry about race riots. And I'm thankful for this.
Indeed, for all its faults, New Zealand does get more things right than wrong. The country remains relatively harmonious.
Still, it's impossible to deny that the economic clouds are darkening as we speak:
The New Zealand Institute of Economic Research reveals that business confidence was 'shattered' in the December 2022 quarter, hitting an all-time low.
73% of companies are anticipating a deterioration in the economy.
This is an emotional blow — which means companies may be reluctant to expand over the coming year.
So, what's the single-biggest factor driving this?
Well, rising interest rates.
Back in August 2021, the official cash rate sat at a cosy 0.25%. Since then, it has rocketed up. Today, in March 2023, it sits at 4.75%.
This is an extraordinary jump in a short space of time, propelled by the Reserve Bank's war on inflation.
For most Kiwis, this means that the cost of their mortgage has effectively doubled. This causes stress. Anxiety. Aggravation. Especially as it comes at a time when households are already feeling squeezed by rising food and fuel prices.
Is this the perfect storm?
Perhaps.
Of course, you could argue that the easy debt has been too easy for too long. And the unwinding of loose monetary policy is necessary. This isn't about punishment. This is about normalisation.
Just take a look at what the 25-year cycle of interest rates have looked like for New Zealand: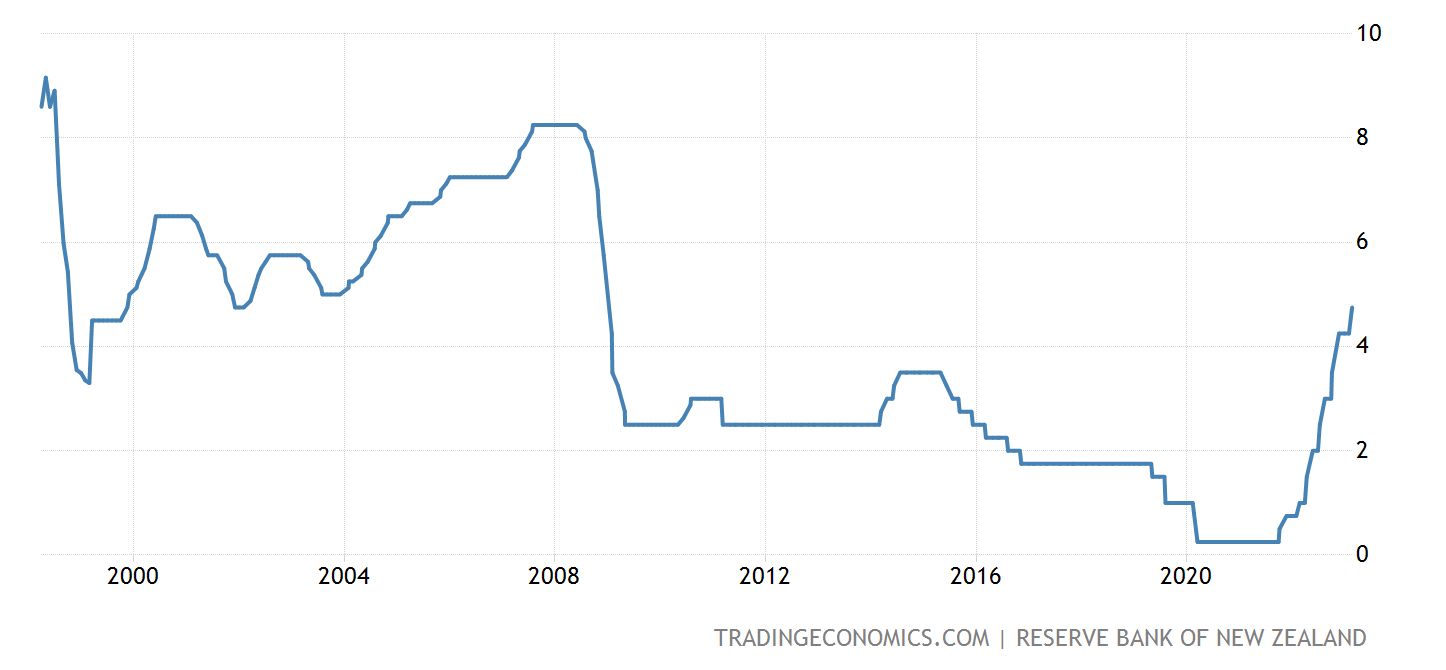 Source: Trading Economics
What goes down must go up again.
You can't defy nature forever.
Still, in a country that's heavily invested in property, this hammer blow feels especially severe. The collective mood has soured. Such angst is striking, given that Kiwis are usually a jovial and positive people.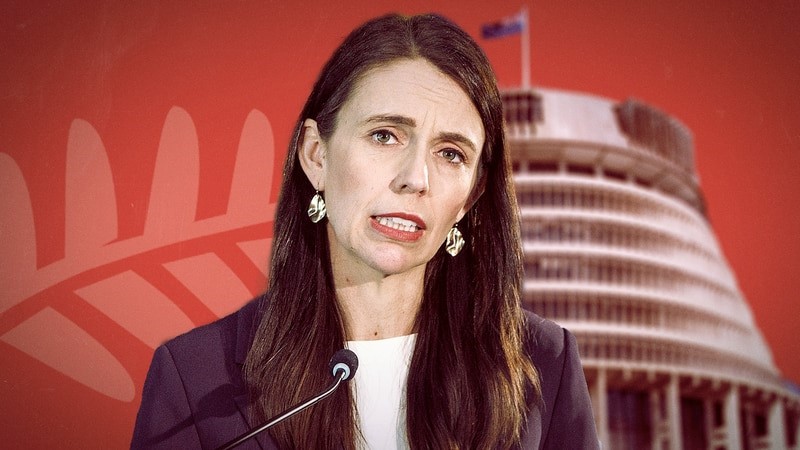 Source: 1News
Interestingly enough, I have observed that this has had a direct impact on the political fortunes of Jacinda Ardern:
On October 17, 2020, when Ardern led the Labour Party to an overwhelming victory at the general elections, the official cash rate was 0.25%. Borrowing was cheap. House prices were soaring.
On January 19, 2023, when Ardern announced her resignation as prime minister, the official cash rate was 4.25%. Borrowing became expensive. House prices plunged.
Now, people often speculate that Ardern enjoyed overwhelming public support at the polls because her supporters thought she had saved them from Covid.
By the same token, people often speculate that Jacinda Ardern suffered a sharp deterioration in popularity because her critics perceived her as becoming more socialist and authoritarian.
I believe both viewpoints are incorrect.
Psychologists call this 'misattribution'. This happens when people misinterpret their own emotions. Then they subconsciously project it on to a visible public figure.
So, here's my contrarian explanation:
When people gave Ardern a second term in office, it actually had nothing to do with Covid. It happened simply because Kiwis were grateful for rock-bottom interest rates and soaring house prices. They were thankful to Ardern for making it happen. Psychologically, this is known as 'collateral benefit'.
Likewise, when people rebelled against Ardern, it actually had nothing to do with socialism. It happened simply because Kiwis were angered by surging interest rates and falling house prices. They resented Ardern for making it happen. Psychologically, this is known as 'collateral damage'.
The great American filmmaker, Michael Mann, once explained that there are two levels to every storyline.
What's it about — and what's it really about.
The conscious and the subconscious.
The tip of the iceberg versus what's underneath.
Now, in a country with an almost Freudian obsession with housing, property is often treated as the be-all and end-all of our existence.
Therefore…
Politicians enjoy 'collateral benefit' when housing is up.
Politicians suffer 'collateral damage' when housing is down.
So, forget Three Waters. Forget co-governance. Forget democracy.
It's not intellectualism that drives the emotional trigger points of most Kiwis. It's something more prehistoric. Something more primordial.
Remember this old cliché?
'My house is my castle.'
Indeed, Ardern's supporters and critics may not realise it, but they aren't immune to being driven by baser instincts.
When you have a competition between the reptile brain and the mammal brain, it's usually the reptile brain that wins out.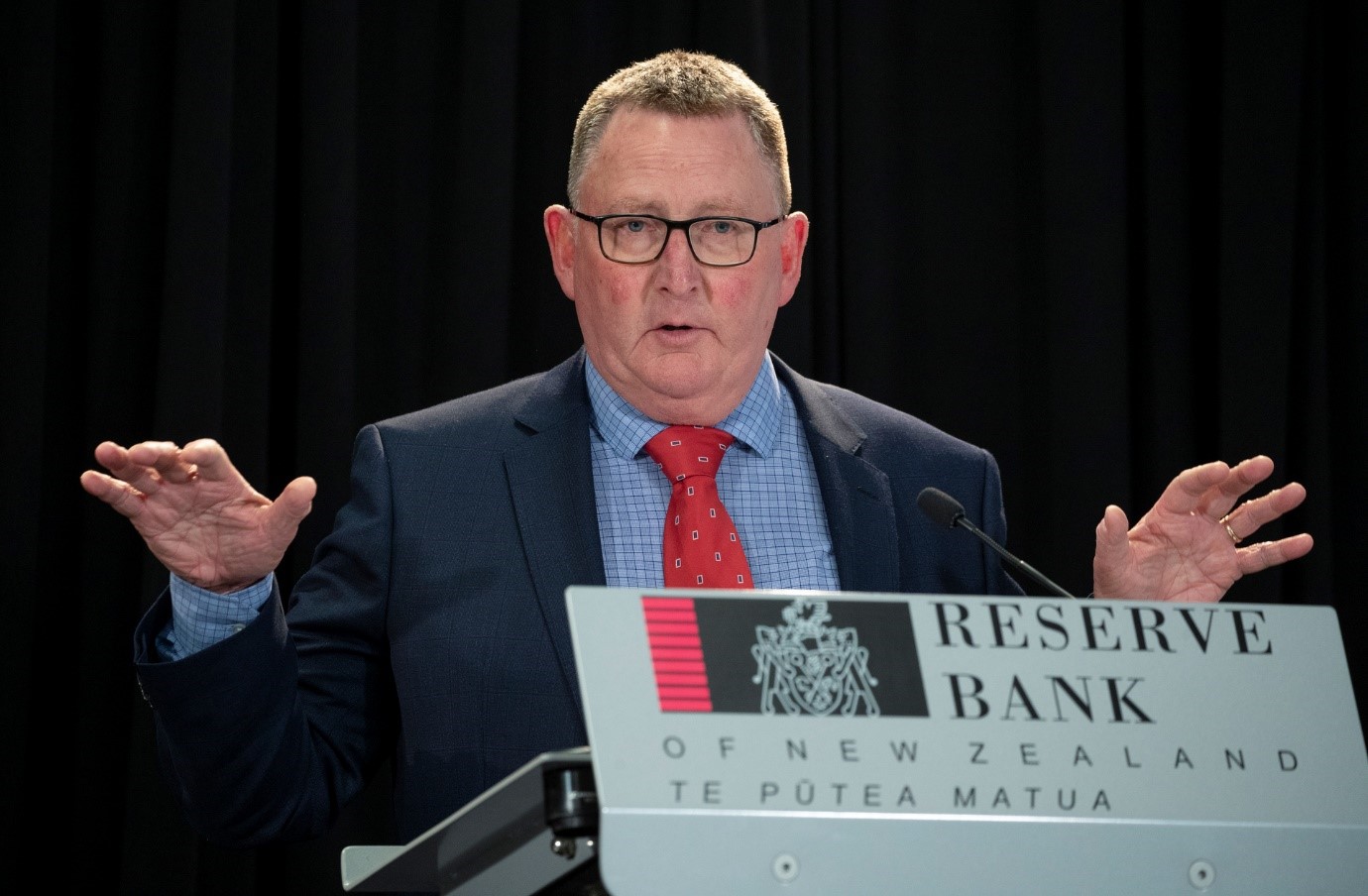 Source: NZ Herald
But, of course, when you stop and engage your mammal brain for a moment, there's a logical fallacy hiding in plain sight.
It's actually Adrian Orr, not Jacinda Ardern, who's the person most responsible for loosening and tightening monetary policy. It's his podium of truth that matters the most.
But as an unelected bureaucrat at the Reserve Bank, Orr lacks a public profile. He's mostly invisible. Hidden away in the background. Like boring wallpaper.
Which means people don't readily connect the dots. Which means people tend not to blame him. They are too busy fixating on Ardern for their troubles.
Strange? Why, yes.
Irrational? Absolutely.
But such is the power of the subconscious to shape and distort reality.
The way forward?
Yes, rising interest rates usually do precede a recession.
Here's what the historical data from the United States looks like: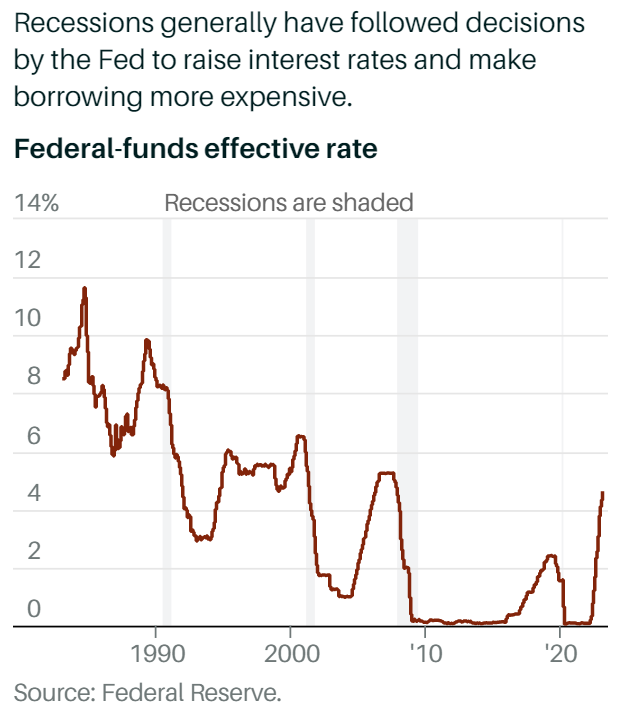 Source: Barron's
But — yes, there's a but — if you choose to look beyond a recession, the odds of an economic expansion are actually pretty good.
Once interest rates peak and decline, the next cycle can begin in earnest.
Historically, every bust is followed by a boom: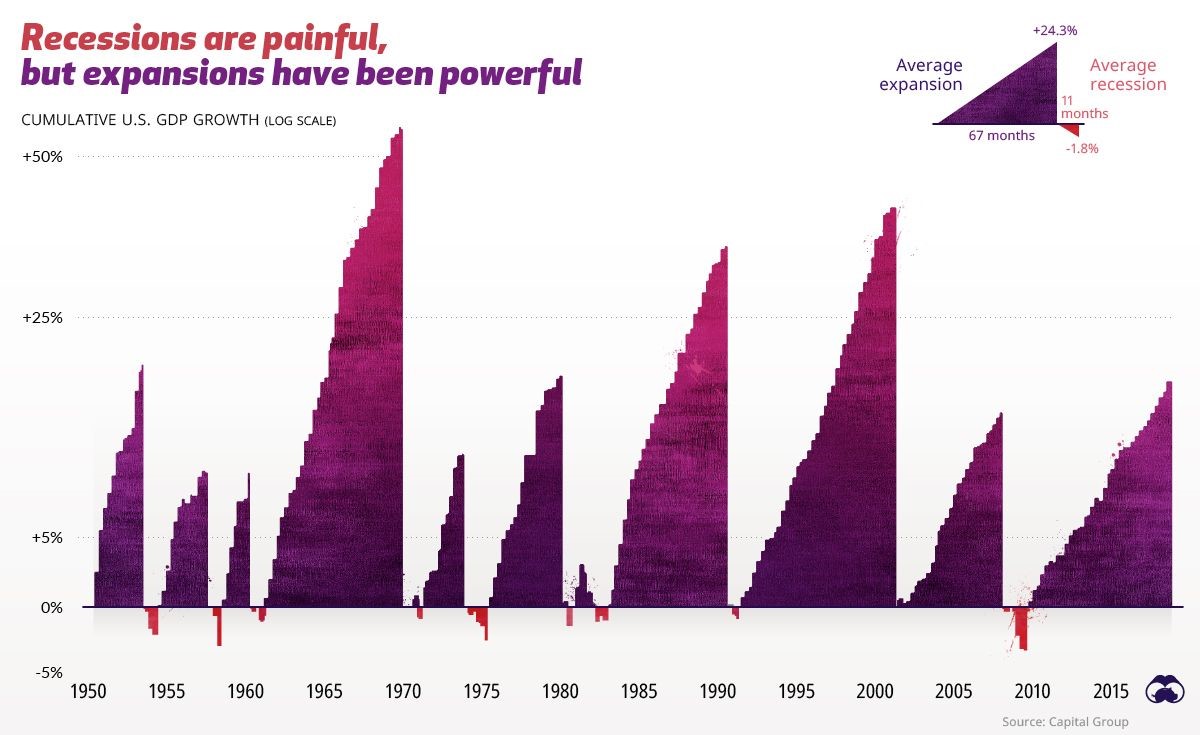 Source: Visual Capitalist
In the words of value investor Shelby Cullon Davis: 'You make most of your money in a bear market. You just don't realise it at the time.'
Ultimately, it's all about positioning. Anticipation. Execution.
So, right now, here's what you need to think about:
Are you keeping your reptile brain in check?
Are you engaging your mammal brain?
Are you looking beyond the current recession?
Are you preparing for the next economic expansion?
Are you maximising collateral benefit and minimising collateral damage?
Fortunately, knowledge is power. And you can make smarter decisions now by understanding where our economy is going.
We can help you here.
On Wednesday, March 22, from 7:00pm to 9:00pm, we are partnering with Unify NZ to host a public talk by acclaimed Kiwi-German economist Dr Oliver Hartwich.
Dr Hartwich will cover the following important topics:
Housing and cost-of-living crisis.
Local government accountability and transparency.
Monetary policy and NZ's national debt.
Practical regional and local solutions.
Following his approximately 60-minute presentation, there will be a robust Q&A for approximately 45 minutes.
We look forward to seeing you there!
---
New Zealand's Failing Economy
With Dr Oliver Hartwich


Exclusive Live Event: 1 Night Only
(Proudly Supported by Wealth Morning, Presented by Unify NZ)
Warkworth Town Hall, 2 Alnwick Street, Warkworth, Auckland 0910
Wednesday, March 22, 2023
7:00 PM – 9:00 PM NZDT
---
Regards,
John Ling
Analyst, Wealth Morning
(This article is general in nature and should not be construed as any financial or investment advice. To obtain guidance for your specific situation, please seek independent financial advice.)