Islamist campaigner. Establishment insider. Prisoner of conscience.
And now…officially sworn in as Malaysia's 10th prime minister, amidst turbulent circumstances.
So, who is Anwar Ibrahim, really?
Well, he is a chameleon who has worn many hats. And his political journey has been both unlikely and electrifying.
To understand Anwar, you'd have to start at the beginning:
In his youth in the 1970s, Anwar was a passionate Islamist. Under the banner of religion, he led student protests in Malaysia's rural heartland against poverty. He was considered so radical that the authorities used the country's internal security laws to imprison him for 20 months without trial.
But Anwar's talent and charisma would prove impossible to extinguish. Upon his release, he entered mainstream politics in the 1980s. He joined UMNO, the right-wing Malay-Muslim party that ruled the country. He became the protégé of Mahathir Mohamad.
Mahathir was the Malaysian prime minister who had a reputation for being an authoritarian strongman. He feuded with the West over thorny issues like globalisation and free trade. Former Australian prime minister Paul Keating once crossed swords with Mahathir, calling him 'recalcitrant'.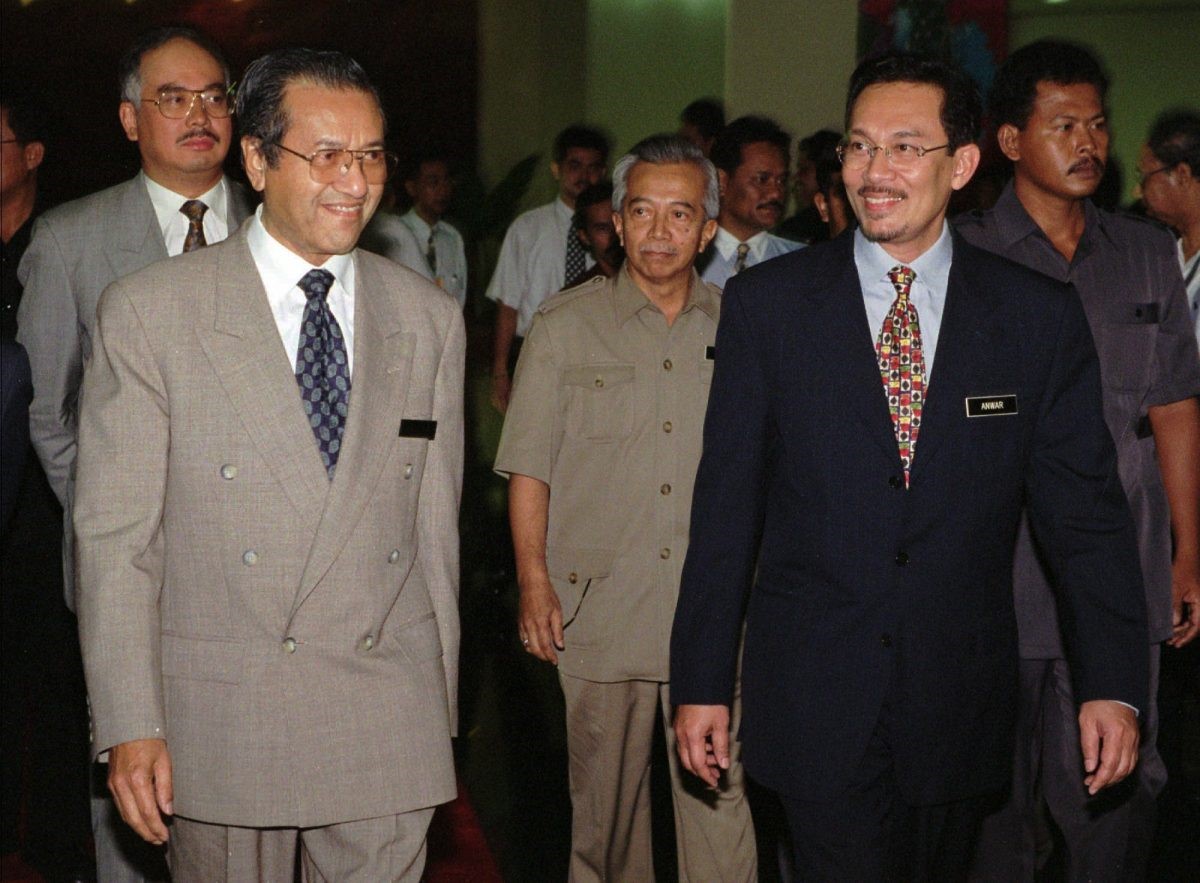 Mahathir and Anwar in happier times. Source: News Decoder
But while Western leaders may have had a testy relationship with Mahathir, but they enjoyed warmer ties with Anwar:
Anwar came across as more cosmopolitan, more liberal, more globalist. Unlike Mahathir, who favoured protectionism for the Malaysian economy, Anwar seemed more willing to open up and engage with the world at large.
Western interest in Anwar only increased when he was appointed minister of finance in 1991, then elevated to the role of deputy prime minister in 1993.
At that point, Anwar's destiny felt like a foregone conclusion: he was Mahathir's heir apparent. And the West couldn't be more pleased. This was a man they could comfortably do business with.
Unfortunately, disaster soon struck. Malaysia, then-known as a Tiger Cub Economy, was hit by the 1997 Asian financial crisis. There was a panic run on regional currencies. The Malaysian ringgit, in particular, lost 50% of its value within six months:
At the time, Anwar was serving as acting prime minister while Mahathir was on a holiday. Anwar took swift and decisive action to respond to the crisis. He cut government spending on infrastructure mega-projects — most of which existed under the patronage of Mahathir.
Anwar was firm. In his words: 'There is no question of any bailout. The banks will be allowed to protect themselves and the government will not interfere.'
This was Anwar's attempt to introduce Western-style free-market enterprise and dismantle Malaysia's crony-based business interests. The IMF and the World Bank praised Anwar for his efforts, and Newsweek named him 'Asian of the Year'.
Anwar's policies set him on a collision course with Mahathir. Mahathir saw all this as a left-wing coup backed by Western globalists — and he moved quickly to squash it:
Anwar's fall from grace was immediate. He was sacked from the government, and he was put on trial for homosexuality, which is a crime in conservative Malaysia.
This stirred a firestorm of controversy. Anwar's supporters took to the streets in anger, calling for reformasi — reform.
The Western world joined in the chorus of condemnation. In particular, the Clinton administration placed diplomatic pressure on Malaysia to release Anwar. In a memorable showdown, former vice president Al Gore clashed with Mahathir publicly during the APEC summit in Kuala Lumpur in 1998.
Source: Time
Anwar would spend the next 24 years in political limbo, fighting against the establishment he had once been a part of:
Anwar served two separate prison sentences — one commencing in 1999 for five years in 1999, and another commencing in 2015 for three years.
But even from behind a prison cell, Anwar's star power remained undimmed. Against the odds, he managed to organise an opposition movement called Pakatan Harapan (Alliance of Hope) to go up against the UMNO-led Barisan Nasional (National Front) government.
A turning point would come during the 2018 general elections. Najib Razak — the serving prime minister who was another protégé of Mahathir's — was embroiled in the 1MDB scandal. Najib was accused of embezzling US$4.5 billion of the country's sovereign wealth funds:
Public anger was mounting. The wind of change was blowing. And in a strange twist of fate, Anwar would end up teaming up with his former nemesis, Mahathir. Their goal? To unseat Najib.
Anwar — still behind bars — agreed that if that Pakatan achieved victory in the polls, Mahathir would serve as the prime minister before handing power over to Anwar when he was pardoned and freed from prison.
In a historic first, Pakatan succeeded in toppling Barisan. This was no easy feat. Barisan's brand of right-wing politics had dominated Malaysia for over 60 years. Now, with Pakatan ascending with a new vision of left-wing politics, many hoped that a more optimistic era was due for Malaysia.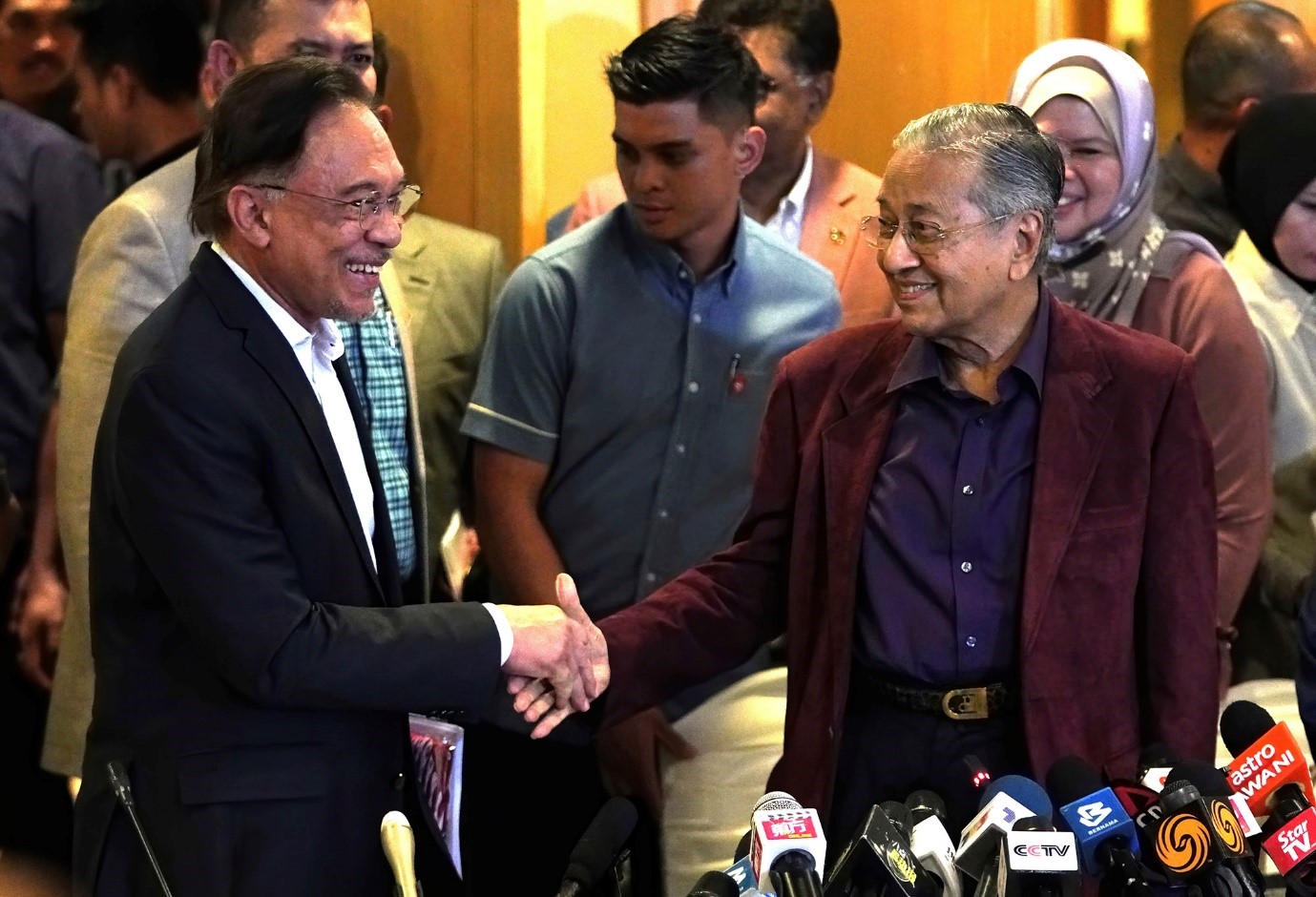 A prisoner reunites with his jailer and offers forgiveness. Source: Bloomberg
Unfortunately, this marriage of convenience between Anwar and Mahathir did not last very long. Mahathir more than lived up to his reputation as being 'recalcitrant', refusing to hand over the prime ministership to Anwar, even after his release from prison:
This sparked off fierce infighting between different factions — some supporting Anwar, some supporting Mahathir. And the new Pakatan government splintered and collapsed after only 22 months.
Amidst the chaos, Barisan made a stunning comeback, regaining control of the country's political scene.
Nonetheless, the Covid pandemic would prove to be a game changer. Rising inflation has led to a cost-of-living crisis, even as the nation's currency fell to its lowest point in two decades. This has turned many Malaysians against Barisan's rule once more. This sentiment had far-reaching consequences during the 2022 general elections:
Pakatan rode the wave of public anger, becoming the coalition with the largest number of seats in parliament at 82. Unfortunately, this falls well short of the simple majority of 112 required to govern.
This led to several days of wrangling as the nation contended with a hung parliament. Ultimately, it was only with the intervention of Malaysia's king that Anwar was given the directive to form a unity government.
On November 24, 2022, Anwar was sworn in as Malaysia's 10th prime minister.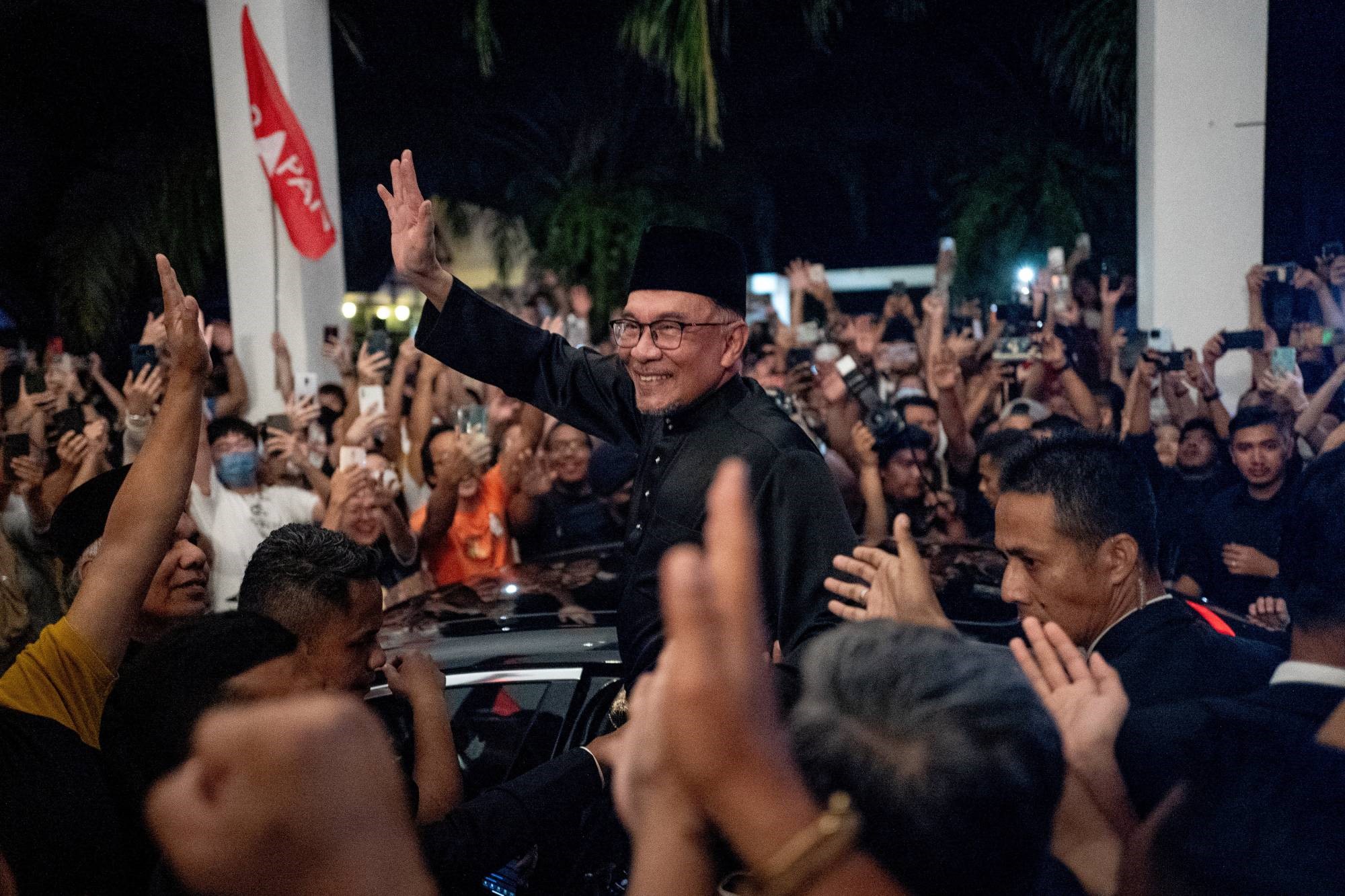 After 24 years, the world's longest prime-minister-in-waiting finally achieves his dream. Source: The Japan Times
From radical to technocrat. From prisoner to prime minister. It's been a long and hard road for Anwar to the top job. At the age of 75, his fairy-tale triumph is remarkable. But he faces enormous challenges as he seeks to govern amidst turbulent circumstances:
The nation remains divided over issues of race and religion. Malaysia has traditionally been a conservative country where the Malay-Muslim majority has been given more rights and privileges than the non-Malay minority. Given this, it's unclear whether Anwar's push for liberal reforms will gain traction in the long-term.
In a strange twist, Anwar's unity government will also include his former enemies in Barisan. It's a partnership between left and right — a fragile tightrope which Anwar has to walk precariously.
Perhaps the most concerning issue is the rise of Islamic fundamentalism. PAS, a far-right Islamist party, will settle into an opposition role — having more than doubled their parliamentary seats from 18 to 43. Their unusually strong performance in the polls has stunned everyone. The mission of PAS has always been to transform Malaysia from a secular state to a theocratic one. Is this an omen of things to come?
For now, Anwar has chosen a centrist approach. He promises that Islam and Malay rights will be protected, but no Malaysians of other ethnicities or religions will be marginalised during his administration.
For a man who used to be considered radical, this is a timid but necessary compromise. He now has to navigate a fragmented maze of ultranationalists, socialists, and Islamists. The 'Balkanisation' of the Malaysian political landscape only increases its unpredictability.
Exactly where Anwar goes from here is anyone's guess.
Will the Malaysian tiger economy roar back once more? Or are its best years already behind it as it continues to wrestle with issues of race and religion?
Only time will tell.
Our opportunity for you
Here at Wealth Plan, we are helping our Eligible and Wholesale Clients regain control of their destiny by building a roadmap to financial freedom.
When faced with political turbulence, we're mindful that it's never been more important to seek out developed markets. Markets that offer stability. Markets that offer transparency.
This is why we believe that Singapore offers a better alternative to Malaysia. We also have our eye on investment targets in Australasia, Europe, and North America. We are especially keen on resilient sectors like infrastructure, energy, and commodities.
It's about protecting your wealth. Growing your wealth. Gaining passive income.
So, are you looking for guidance? For direction?
Come talk to us. We're now offering an initial free consult for Eligible and Wholesale Clients. We'd love to hear more about your financial goals and dreams.
🌎 Click here to register your interest today.
Regards,
John Ling
Analyst, Wealth Morning
(This article is commentary and the author's personal opinion only. It is general in nature and should not be construed as any financial or investment advice. To obtain guidance for your specific situation, please consult a licensed Financial Advice Provider.)