Founded in 1986, Tassal Group [ASX:TGR] is the largest producer of Tasmanian-grown Atlantic salmon in the world.
It supplies salmon to domestic and international markets from the cool waters around Tasmania.
In recent times, it has also expanded into prawn farming and other seafood businesses.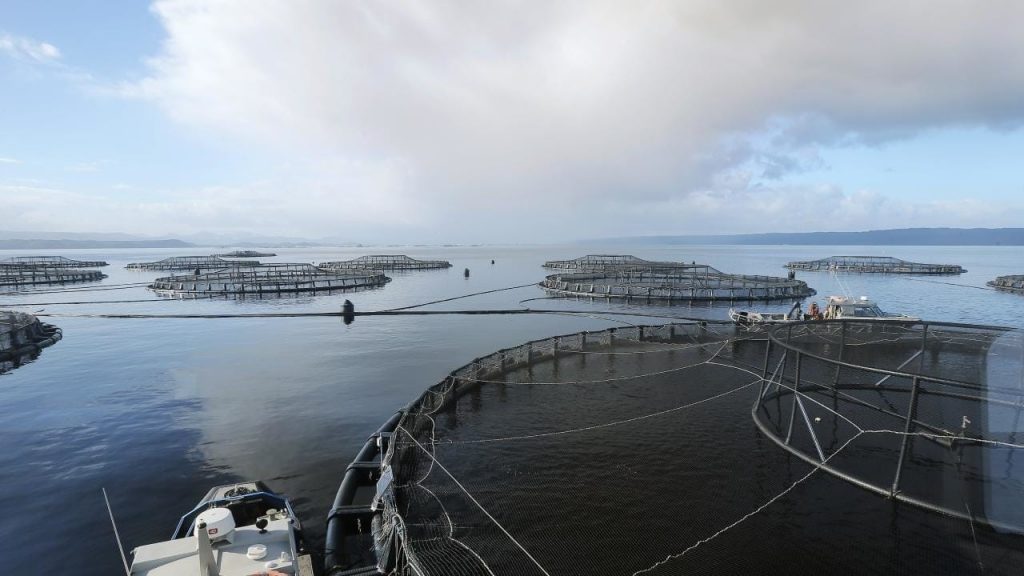 Tassal salmon pens, Macquarie Harbour, Tasmania. Source: NT News.

I first covered the potential of this business for our premium news subscribers back in 2019.
What interested me in Tassal back then?
It was (and still is) well-placed to capture the growing trend toward healthy eating as more and more people switch from red meat to fish. Worldwide demand for salmon is increasing. And, at times, demand outstrips supply.
Aquaculture — the cultivation of fish and other seafood — is one of the world's fastest-growing food sectors.
By investing in a defensive area like food supply, you may be able to sidestep other market threats and movements. When technology or mining stocks suffer, the appetite for salmon may be unaffected.
But such businesses come with their own inherent risks.
In Australia, the company depends on Woolworths and Coles for distribution. These retail giants have significant bargaining power — which can impact price and margins.
And there's the nature of salmon farming itself.
Tassal's revenue depends on the size and quality of the harvest. Which in turn depends on weather, sea temperature, and other conditions outside of the Company's control.
Global warming may also be a threat to salmon farming in Australasia.
Yet the outstanding feature of Tassal as a stock has been steadily increasing earnings at a reasonable price.
Despite Covid-19, despite an Australia-China trade spat, despite seafood seasonality and disease outbreaks — Tassal has steadily grown its revenue.
The 5-year revenue growth rate has been a solid 6.5%.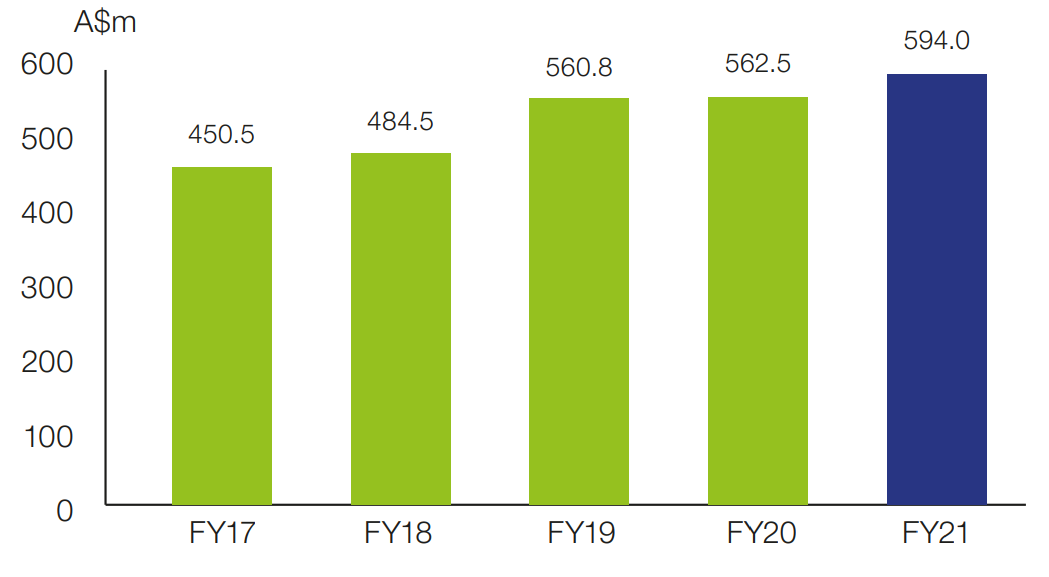 Revenue track record. Source: Annual Report 2021
The stock was previously trading at very reasonable metrics by P/E, P/B (price to book), and dividend yield.
Today the market has received a 'wake-up call' on the Company's potential true value.
Why has the Tassal share price risen?
Tassal confirmed it has received a second takeover bid from a Canadian aquaculture business, Cooke Inc.
Consideration of $4.85 per share has been offered, representing a step up from previous proposals for $4.67 and $4.80 per share.
Tassal maintains that this 'does not reflect the fundamental value of its business'.
The Company has opted not to engage with Cooke on the proposal. It has advised shareholders that the business is positioned for further growth. And will continue to deliver on its strategic objectives.
Where could Tassal go from here?
It would appear Tassal was an underpriced stock.
The market, for much of the past year, may have undervalued its prospects.
When I first analysed Tassal back in 2019, it had a P/E of around 13, a dividend yield of 4.2%, reasonable debt, and good margins. Revenue showed continuous growth.
With today's jump, that sort of value is no longer on the table. But Tassal may still have a positive story ahead of it given the global demand outlook for seafood.
The point is that the market, every day, does undervalue great companies. In this fearsome climate, some may have been oversold.
There is often opportunity abounding for those willing to back their convictions and views. And accept the risks.
For more free updates like this and our free guide to opportunities during inflation, please join our regular news service at Daily Wealth.
Regards,
Simon Angelo
Editor, Wealth Morning
Important disclosures
Simon Angelo owns shares in Tassal Group [ASX:TGR] via portfolio manager Vistafolio.  
(This article is general in nature and should not be construed as any financial or investment advice. To obtain guidance for your specific situation, please seek independent financial advice.)