It's a heartbreaking story.
In just a matter of days, a man in Singapore lost the equivalent of US$29,000.
This was a third of his life's savings.
To make matters worse, it wasn't money he could afford to lose. Why? Well, with the local economy facing headwinds, he had just been laid off from his job at a consumer health company.
So now he found himself in a very tight spot, with a greatly diminished financial cushion. This left him feeling distraught.
Reportedly, the man lost so much money because he had invested in the Terra blockchain platform. This is made up of a relatively new cryptocurrency known as Luna, which is closely tied to a sister coin known as TerraUSD.
He admits that he was out of his depth, and he didn't really know what he was doing:
'A few friends told me that it will re-peg (to the US dollar) and Luna will stabilise, so I just held (on to it).

'Initially, there was a lot of confusion. I was not aware, unlike now, of why the market was reacting that way and why TerraUSD had de-pegged (from the US dollar) and Luna was spiralling. There was some blind hope that it would re-peg, so I just kept holding and not selling.'
Too volatile to invest in?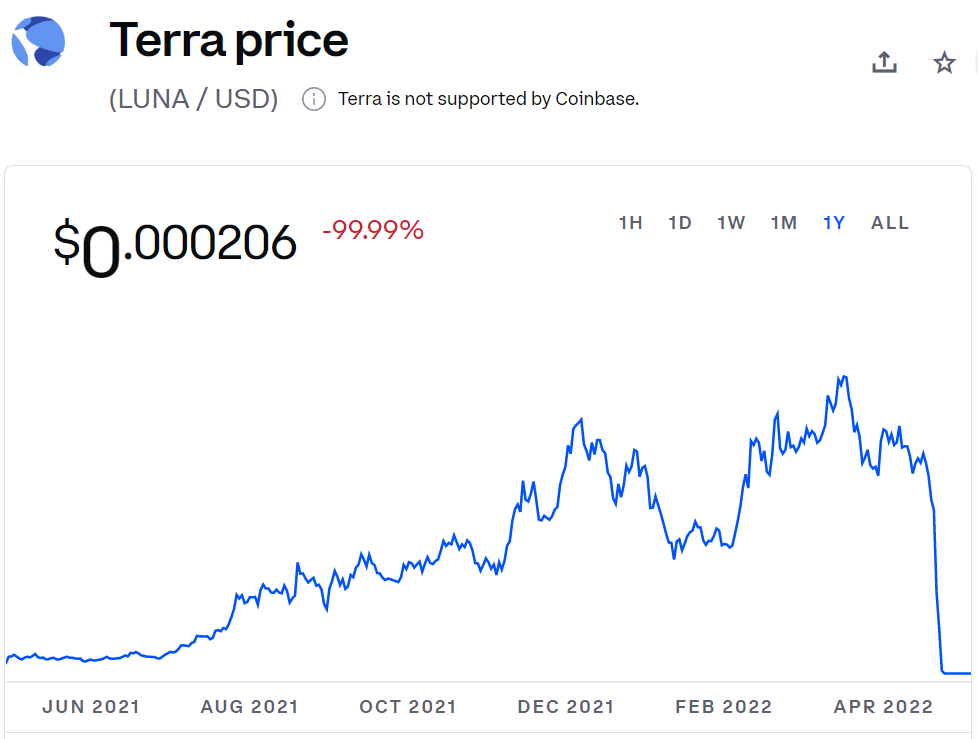 Source: Coinbase
At its peak, the price for Luna rose as high as US$119 per token.
However, by May 23, the price has collapsed to as low as $0.00020. Mere fractions of a cent.
That's certainly a lot of decimal points. But — good grief — this is close as you can get to a 100% loss.
This stunning reversal of fortune has sent shockwaves all around the globe.
A factory worker in Chicago was also caught up in the crypto death spiral:
'Now I'm behind on all my bills, and I've lost $40,000, which was everything I had in my savings.

'I was actually thinking that I would be able to make enough money to pay my home off, but instead, I've lost everything.'
Absolutely shocking.
It's no wonder that Al Jazeera is calling this a 'wealth-destroying event'.
Of course, the mainstream media, both on the left and the right, are prone to exaggerations from time to time. But in this instance, it would seem that they are right on the money.
Roughly $400 billion in losses have been clocked up so far. And there are suggestions that there could be even more pain to come.
The irony here is that TerraUSD was originally designed to be an 'algorithmic stablecoin'. A cryptocurrency that's pegged 1:1 to the value of the US dollar. This, in turn, acts as support for its sister coin, Luna.
The idea is to promote predictability. Certainty. And, yes, stability.
But, with alarming speed, the dream has come undone now.
When TerraUSD nosedived, so did Luna. The losses are staggering.
It remains a matter of controversy why this has happened. Some crypto supporters claim that it's a plot by the 'globalist banking elite' to destroy the wealth of ordinary people. Indeed, these rumours have been so strong that financial firms like Citadel Securities and BlackRock have been forced to respond by issuing official denials.
But look past the conspiracy theories. A more rational explanation is this: the Terra blockchain project simply lacked credibility. And when the going got tough, it just folded. Like a house of cards.
In the aftermath of this meltdown, government regulators in both the United States and Europe are looking into introducing more rules for risky digital assets.
In particular, US Treasury Secretary Janet Yellen was sounding hawkish:
'We really need a regulatory framework to guard against the risks.

'Really, we need a comprehensive framework so that there are no gaps in the regulation.'
It's a libertarian's worst nightmare, isn't it? Government intrusion into what should be personal choice.
But when personal choice ends up being 'wealth-destroying', well, people are often left with very few avenues for compensation after the fact.
Ultimately, crypto investors may find themselves caught between the devil and the deep blue sea as tighter regulatory controls become inevitable in the future.
The bottom line
So…are you thinking of dabbling in crypto?
Well, if you are, don't forget this ancient Latin phrase. Caveat emptor. Let the buyer beware.
It's the Wild West out there, and cryptocurrency remains highly risky and highly volatile.  
Here at Wealth Morning, we're focused on assets that are 'wealth-creating' as opposed to 'wealth-destroying'. We believe that companies with business models based on property, infrastructure, and energy may be more stable in the long run. And we report on those in our Quantum Wealth Report.
Regards,
John Ling
Analyst, Wealth Morning
(This article is general in nature and should not be construed as any financial or investment advice. To obtain guidance for your specific situation, please seek independent financial advice.)