Vistafolio is Wealth Morning's Managed Account solution for Eligible and Wholesale Investors. Once a month, we update account holders on the strategy and performance. Please find our latest update as follows:
It's been another volatile month, but I would wager some fund managers' knuckles are far whiter than ours. Our defensive, value-focused strategy is holding up well.
Markets are a powder keg of inflation concern, Ukrainian war woes, and a rush to put cash into protective and productive assets.
Warren Buffett, sitting on billions, seems to be back on a buying spree.
He recently took about 11% in one of our favoured companies — joining many of our clients, albeit with much smaller stakes.
Value is still available for those willing to do their research.
Overall, for the month of April 2022, we are up 1.51% across the composite portfolio (total aggregate return across all portfolios following the strategy).
Please see our performance chart for more details.
---

---
As we completed our financial year in April, this also gave us pause to review our performance against our benchmark to the end of 2021.
The benchmark for our model portfolio is the MSCI EAFE Index — which follows our weighting toward European and Australasian opportunities.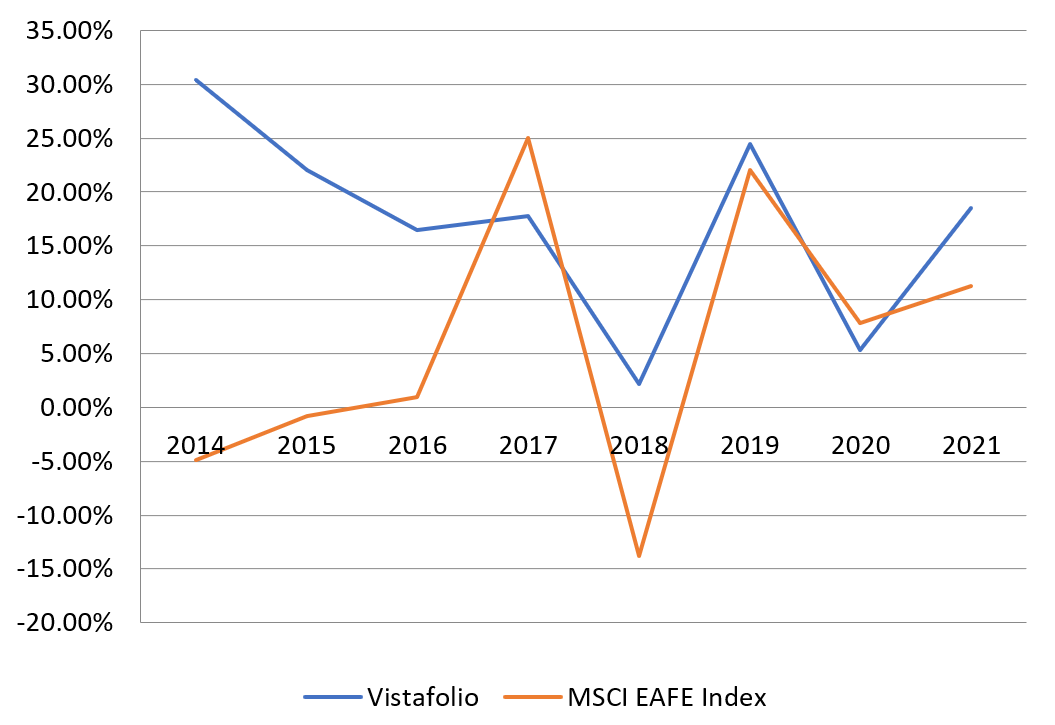 Here's how we've done since 2014 against this index: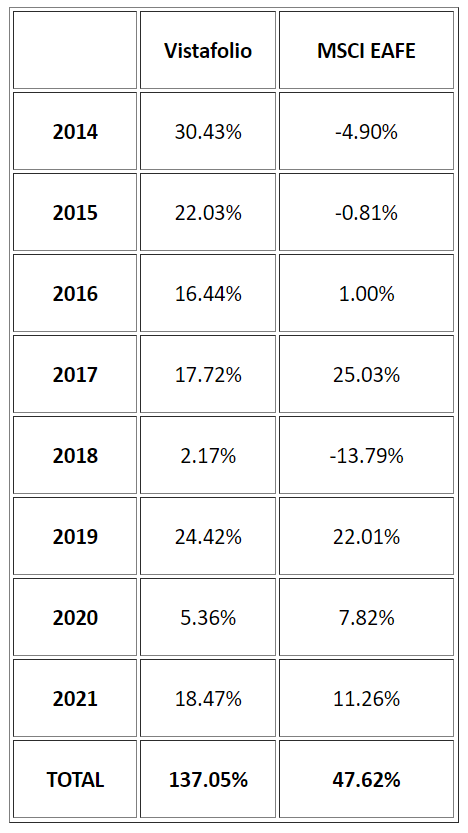 Had you been following the Vistafolio model portfolio — as opposed to an index fund tracking this MSCI Index — you could have been around 90% better off over the period. Just over 11% a year on an average-annualised basis.
Alpha is the return an investor can achieve over and above the market return.
A little alpha is always a pleasing result. And, perhaps here, testament to some quality research and strategic thought.
It's not going to be an easy market this year.
But this is just the sort of market that creates opportunity.
Regards,
Simon Angelo
Editor, Wealth Morning 
Past performance is not an indicator for future performance. Your actual portfolio will differ from the composite portfolio mentioned. The information contained in this document does not constitute an offer to sell or a solicitation to buy an investment, nor should it be construed as investment advice. Vistafolio investment services are available to Eligible Investors and Wholesale Investors (not to Retail Investors) as defined in the Financial Markets Conduct Act (2013).