I owned a marketing communications business for years.
We concentrated on health and financial services.
On my office wall, I had this picture, framed: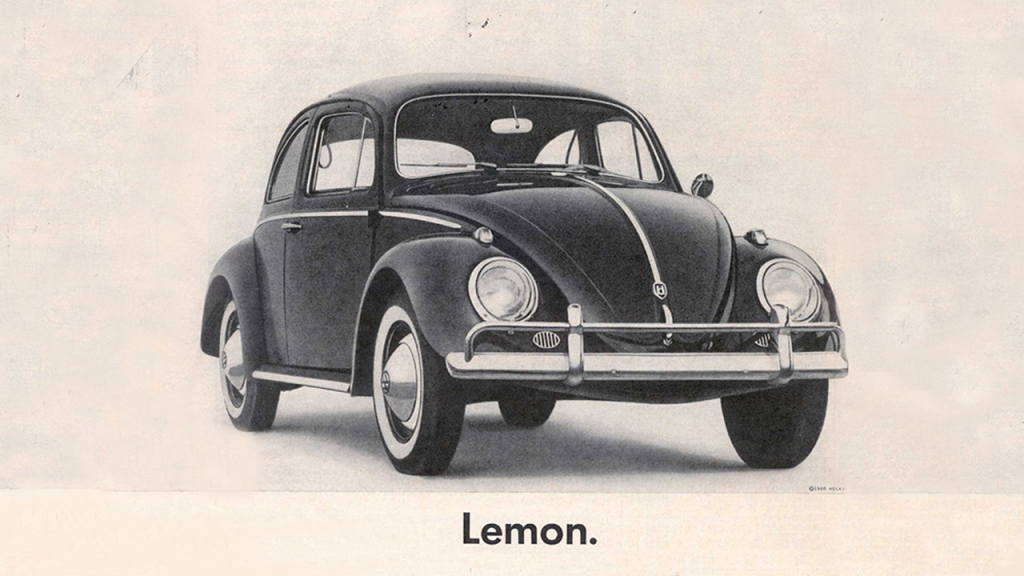 Source: Adweek
It's one of the cleverest ads ever made.
Beneath the Beetle, it says, 'This Volkswagen missed the boat.'
There's a spiel on quality control. The benefits to the buyer. And after why this little car was the lemon, it ends with: 'We pick the lemons, you get the plums.'
The print reminds me of the importance of clear, simple communication. And the beauty of a little creativity.
A lifelong investor in the financial markets, including some years in the hedge fund industry in Europe, the idea of a 'lemon' has taken new meaning.
The investment lemons that became plums
I've found a few 'lemons' over the years. Investment opportunities that look, frankly, like they've had their day.
One compelling example of these was New Zealand-listed media company NZME [NZX:NZM].
Just two years ago, it was possible to pick up this share for 25c.
At the time, the Commerce Commission was refusing their bid to buy media rival Stuff.
The business was carrying quite a bit of debt. And its print portfolio continued to bleed.
The conventional wisdom was that traditional media was over.
Why would anyone pay to read it when they had a world of news at their fingertips via the world wide web? And surely advertisers would defer as well since pay-per-click options allowed them to better target?
I recall playing golf with an accountant friend.
'I don't see a future for this company,' he said.
He then beat me resoundingly over 18 holes. And I went home to seriously consider selling a meaningful number of shares.
But there were a few things in the back of my mind that stopped me:
NZME probably had more moat than investors gave it credit — in particular the lion's share of popular radio stations in a country on the move. One that loves radio.
Newstalk ZB — the top radio station in the nation with consistent ratings growth.
The New Zealand Herald — the country's only true 'national newspaper'. And showing potential for growth in digital 'premium' subscriptions.
Other investors like Spheria and Auscap were seeing potential beyond the market. Increasing their stakes.
Back then, a very cheap price by measures such as P/E, P/B, and forward cash flow was evident.
Government support for journalism and Covid wage subsidies was coming on stream.
The fact that selling my holding would simply crystallise the deep losses.
I had actually been buying NZME shares for some time. Believing that my analysis revealed value and potential beyond the 'lemon' the market saw.
In fact, if you search 'NZME' on the Wealth Morning site, you'll see I've been banging on over the value this Company could present for some time.
In hindsight, I wished I had bought a lot more.
Here's how NZME has done since: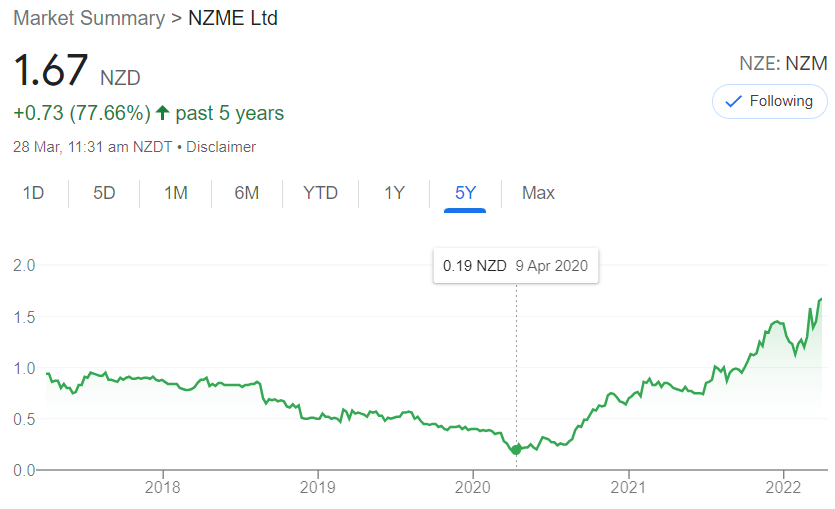 Source: Google Finance
The Company managed to clear its debt. Increase its income. Resurrect its dividend (projected to be around 6.5% p.a.). Sell distractions like GrabOne. Focus on core competencies such as growing digital revenue.
And it recently announced that it had entered into a letter of intent with Google to supply news content.
This amounts to earnings for the FY22 year likely being better than previously expected.
Well, a few years ago, many investors saw NZME as a lemon. It was trading below 25c. The earnings were cheap. And even though they were declining, they will still substantial. It was a lemon waiting to be picked.
Now it seems to be a plum.
Investing just two years ago would have given a return of 660% — plus the regular 6.5% dividend you'd now be in line for.
The good news is, as I write, my colleague John Ling and I are looking for more lemons. That are really plums. Once the market realises their potential.
We're looking to get in first. To identify opportunities beyond the radar.
Do you fancy fruit-picking with us?
You can check out the latest opportunities we're reporting on in our premium news subscription —  Quantum Wealth Report.
Regards,
Simon Angelo
Editor, Wealth Morning
Important disclosures
Simon Angelo owns shares in NZME [NZX:NZM] via portfolio manager Vistafolio.   
(This article is general in nature and should not be construed as any financial or investment advice. To obtain guidance for your specific situation, please seek independent financial advice.)