The year is just getting started.
But the best movie I've seen thus far has to be House of Gucci.
It is a tale of a remarkable global export business. And, more sadly, a story of greed, destruction, and the parasites that attempt to leech off it.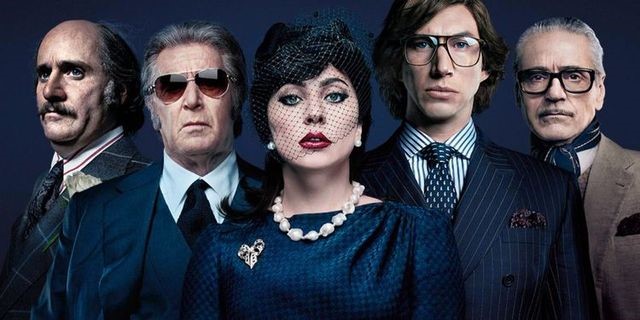 The Gucci 'Family'. Source: Esquire
These days, no members of the Gucci family have any meaningful stake left in the business.
Gucci is owned by Kering SA [EPA:KER].
Kering has had a remarkable run since acquiring Gucci in 1999. The share price is up over 3,000% since then.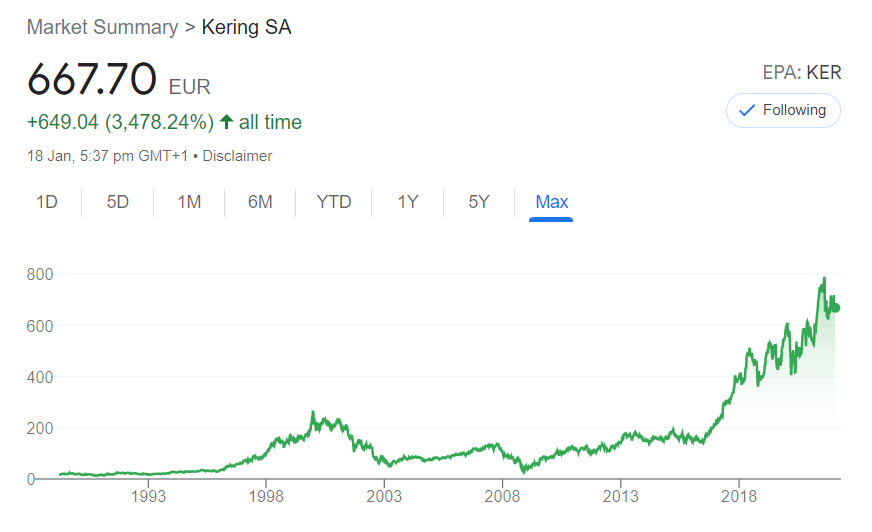 Source: Google Finance
Kering is a French-based multinational owning other luxury brands, such as Alexander McQueen and Yves Saint Laurent.
Its major owner is the Pinault Family, via their Artemis holding company.
The Pinaults made their money in timber trading, of all things.
Gucci was one of their first fashion acquisitions.
A successful business
Gucci was founded in 1921 by Guccio Gucci in Florence, Tuscany.
While working as a bellhop at the London Savoy, Guccio learned a lot from handling luggage of the hotel's wealthy clientele.
He set about creating the finest leather goods from Tuscan cow hide.
His eldest son, Aldo, began working in the business from the age of 20.
The 'GG' brand garnered fame after its bamboo handbag was featured on Ingrid Bergman's arm in Rossellini's 1954 film Journey to Italy.
Guccio's younger son, Rodolfo, also involved himself in the business, designing the famous Flora scarf worn by Grace Kelly.
The problems started with the next generation.
Aldo's son, Paolo, secretly launched his own business under the Gucci name, leading to a family feud.
Poalo dobbed in his own father for tax evasion in America.
Rodolfo's son, Maurizio Gucci, became the controlling family shareholder in Gucci and took charge of the business. But he seemed to lack the skills required and had a penchant for luxurious living.
In the early 1990s, Gucci's finances were in the red, and he was blamed for extravagant spending at the Florence and Milan headquarters.
The film shows him getting round in a glorious Lamborghini Countach.
Another interpretation of the film is that the brains of Gucci's initial success under Maurizio came down to his working-class wife, Patrizia Reggiani.
Later slighted and cast side by Maurizio, she was convicted in 1998 of arranging his killing.
Patrizia, popularly known as 'The Black Widow', was released from jail five years ago after serving 18 years in prison.
Based on an interview with The Guardian in 2016, she returned to civilian life, staying with her elderly mother in an upscale townhouse in Milan.
Her daughters live in Switzerland and reportedly have cut her off, including contact with her grandchildren.
Lessons from House of Gucci
The film paints a sad story. A business with beautiful products and enormous success that was ultimately lost by the family that created it.
All due to parasitic grandchildren who appeared — at least in the film — incapable of managing their own personal lives. Let alone a global brand.
A few things stand out for me.
The children had every comfort and luxury thanks to their family wealth. Comfort and luxury do not sharpen business skills. They blunt them.
The children were also entitled.
Paolo believed he was entitled to work in the business, even though his designs seemed inappropriate
Maurizio believed he was entitled to control and run the business as he wished, even though he seemed to lack the real-world management skills needed
Patrizia probably did have the street smarts and aggression to drive Gucci forward, but she was ultimately blindsided and took devastating revenge, for which she has paid a heavy price
So, in any business — particularly family businesses — you need to look at the skill mix of those running it. Their temperament. Their hunger. And beware of any sense of entitlement or torpor.
Markets are always changing. You're only as good as your last handbag, your last meal served, your last article produced, or investment made.
A company's fortunes are measured every single week.
Listing on the stock exchange
One factor that could have helped Gucci much sooner would have been an IPO.
The grandchildren could have enjoyed a liquidity event and retained shares, while being moved out of the active management of the business.
Founding or inheriting a business is very different to managing a complex operation.
Which is why, in the investments we make, we also consider the record of the people at the top.
Do they have integrity? What have they achieved before? What vision do they have and how are they leading business strategy to drive this forward?
Amongst our portfolio companies, we have some remarkable leaders. Driving listed companies forward and generating income and growth for shareholders.
You can learn more about those companies in our Quantum Wealth Report.
Meanwhile, the startling tale of House of Gucci remains with me.
An Italian family business no longer in the family.
Perhaps I shall need a little memento to remember their lessons.
A $625 GG Marmont leather wallet, anyone?
Regards,
Simon Angelo
Editor, Wealth Morning