Pioneers. Adventurers. Risk-takers…
When you look back on human history, you'll find it filled with incredible people. People who discovered new lands, invented new technology, set new records. Their achievements quite literally changed the world.
But go past the legends. Dig a little deeper into the lives of these remarkable individuals. You'll also find something often overlooked: side stories.
Yes, side stories that are little-known — but are important nonetheless.
Stumbling on a new continent by accident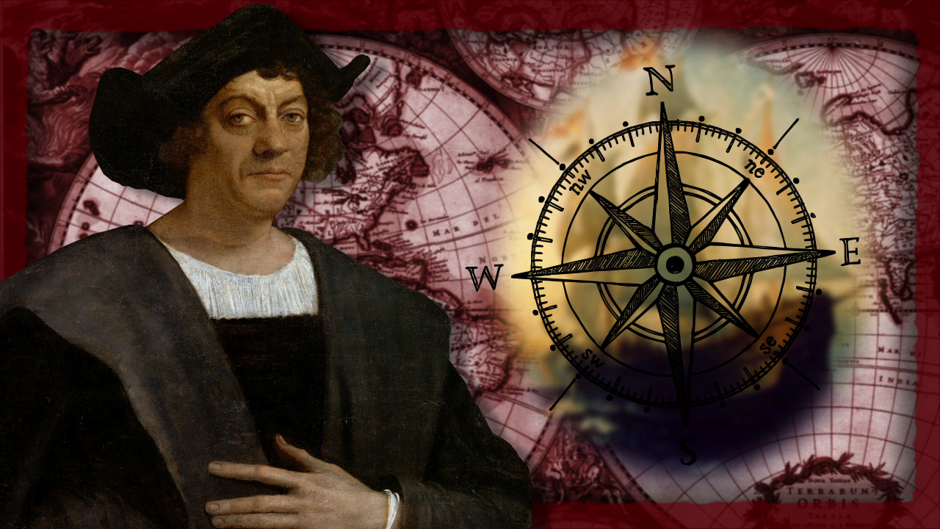 Columbus started off with the wrong business plan. Source: PBS
Chances are, you already know that Christopher Columbus was the person who introduced Europeans to the American continent. He paved the way for migration to the countries we now know as the United States, Canada, Mexico, Brazil, and many more.
But here's an interesting fact: when Columbus left Europe to venture into unknown waters, he wasn't actually looking for the New World at all. He actually had a much plan: he only wanted to track down a new shipping route to Asia. That was about as big as his ambitions got.
Well, obviously, Columbus failed at that. He sailed wildly off-course. He got himself lost. In fact, he was so lost that when he finally came across land, he thought it was the Far East.
Of course, as we now know, what Columbus had stumbled upon was a much bigger prize. A milestone for the ages.
Enduring pain to reach the peak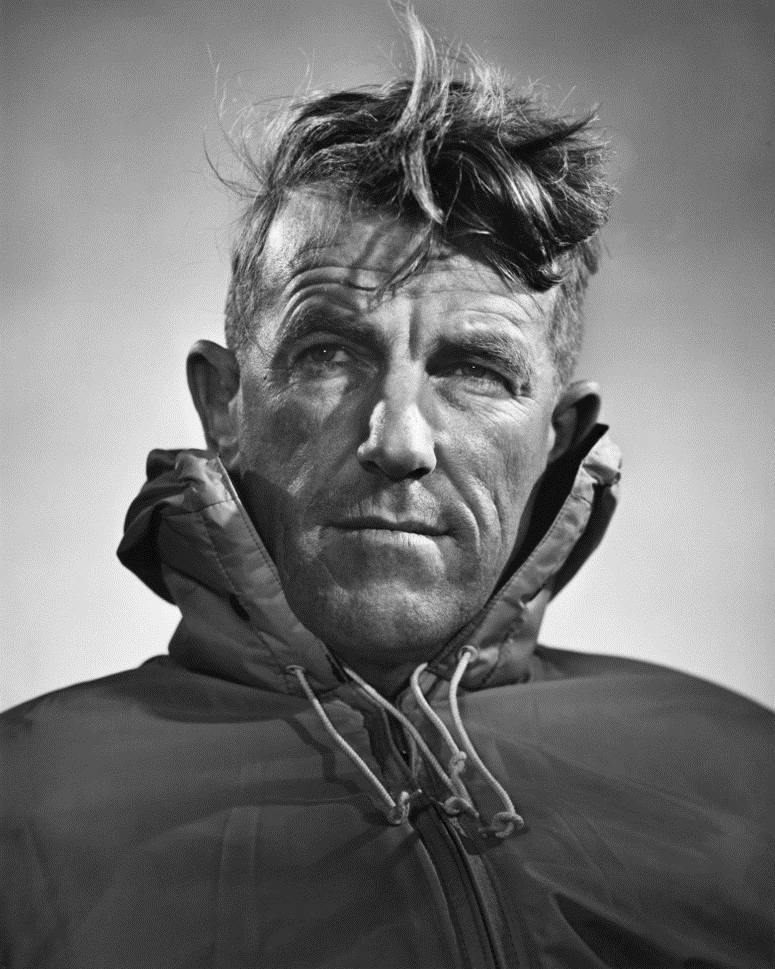 The beekeeper who stood on the top of the world. Source: Yousuf Karsh
Here's another story closer to home. You already know that Sir Edmund Hillary was the Kiwi hero who conquered Mt Everest. You might also know that he worked as a humble beekeeper prior to his famous feat.
But here's what you might not know: beekeeping is actually a hazardous profession. Hillary would endure dozens of painful stings daily while handling honey. Some days, the number of stings he endured would be close to 100.
Gasp-inducing? Cringe-worthy? Absolutely. But the experience did teach Hillary the value of pushing through physical discomfort. This gave him the mental toughness he needed to survive and thrive on the unforgiving slopes of Mt Everest.
It's a mythic journey, isn't it? Hillary started from a place of humility…and he ended up on top of the world.
Stepping beyond our comfort zone
Of course, most of us could never imagine ourselves doing what Columbus or Hillary did. We don't see ourselves as pioneers, adventurers, risk-takers.
We avoid uncertainty. Choose predictability. And that might mean deciding not to invest in the share market.
For this reason, investment rates in Australia and New Zealand continue to be remarkably low:
Only 20% of Kiwis own stocks.
Only 40% of Aussies own stocks.
When asked why they choose not to invest, folks often say, 'It's too risky!'
As the prevailing logic goes, you're safer when you keep your money outside the stock market.
But…what if that logic is wrong?
Inflation is the greatest destroyer of value
Here's is what global inflation looks like over a 10-year time frame, based on historical data and projections: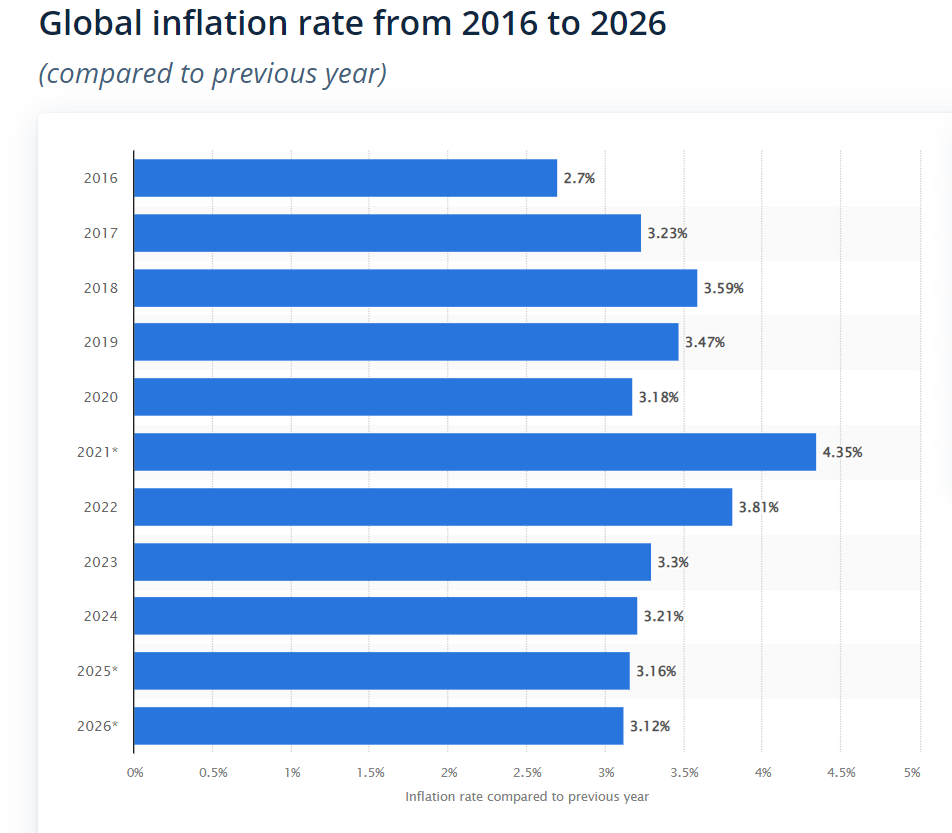 Source: Statista
Yes, like a ravenous rodent, inflation is gnawing away at your money. Destroying the true value of your wealth.
Despite this, the vast majority of people will choose to keep their cash locked up in the bank. They do it out of habit.
But what's the best term-deposit rate you can get now in New Zealand? Shop around, and you'll see that it hovers around 2.20% or so. This may well be tolerable for local conditions, but even so, it doesn't keep pace with the global rate of inflation.
In addition to this, the math isn't on your side either:
$1 million a year gives you a gross yield of around $22,000.
$2 million a year gives you a gross yield of around $44,000.
Unless you have a high net worth to begin with, you're going to find it really tough to generate a decent rate of return.
If you're a saver — as opposed to an investor — you're losing out more and more.
The benefits of doing business
Are you still sceptical of investing?
If you are, the prevailing image in your mind might look something like this — traders standing huddled on the floor of the New York Stock Exchange, their terrified eyes locked in thousand-yard stares, their mouths agape, as they watch the numbers turn red on the big screens in front of them.
Mm-hm. You know exactly what I'm talking about, don't you? It's a highly-charged emotional image that's become entrenched in the popular consciousness.
It always seems to make an appearance on the 6pm news or the front page of your daily newspaper. It's a visual prelude to a market crash and a recession.
And yet…does that image actually tell the full story?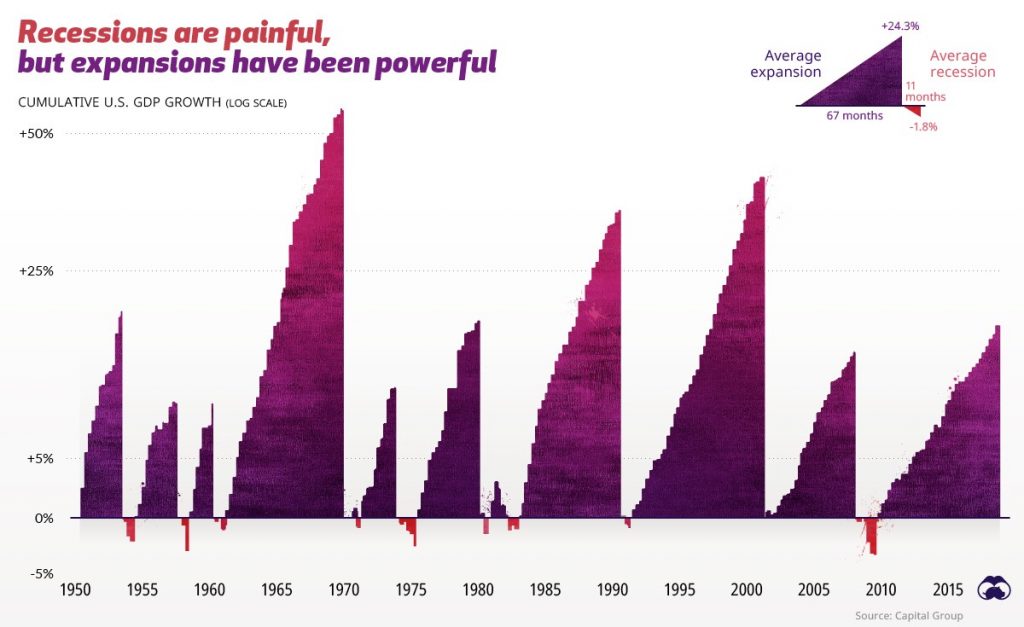 Source: Visual Capitalist
Do you see the rising pillars in the graph above? That's surging economic growth. And do you notice the small negative dips along the way? Those are recessions.
When you it all into perspective, you can understand how powerful the stock market has been in delivering value to investors. In the long-term, there really is nothing more fruitful than doing business.
Since March 20 2020, we've seen a great spurt of growth. Covid fear hasn't stopped the markets:
In the United States, the S&P 500 has posted a return of over 100%.
In Australia, the ASX 200 has soared over 53%.
In New Zealand, the NZX 50 has climbed over 39%.
As we always like to say: 'Past performance is no guarantee of future performance.' And, yes, given the fact that we've enjoyed some exceptional growth, we are due for a correction sooner or later.
But, still, take a pause and look at the graph again. Even if you took a chance and started investing now, could you be better off over the long-term?
Life is filled with risks, both real and imagined. Columbus risked a lot to cross an ocean. Hillary risked a lot to climb a mountain.
So…how much are you willing to risk to achieve a bit more financial independence? And is that risk measured and reasonable enough to be worth taking?
Here at Vistafolio, we are constantly searching for value.
For our Eligible and Wholesale clients, we run what may be the only active night-trading desk in New Zealand. And, every week, we aim to buy into exceptional companies in the USA, the UK, Australia, and more. Our focus is on sectors that offer the perfect balance of growth and income.
Our mission? To capture pockets of outstanding opportunity where we can.
We're not losing sight of the brighter horizon ahead, and neither should you.
Regards,
John Ling
Analyst, Wealth Morning
(This article is general in nature and should not be construed as any financial or investment advice. To obtain guidance for your specific situation, please seek independent financial advice.)