If you've lived in a leaky building, you'll know the real trauma comes from failed fixes.
During my last year in Europe, I spent months dealing with this. Neither the beauty of the building nor its position looking out to sea did little to soften the blow.
On one occasion, I had to enter the downstairs apartment of my elderly neighbours. The mould was so bad you couldn't breathe. I recall rushing out, gasping for air. Realising the big sum we'd just paid out for repointing the building was in vain.
I felt like this again on Friday.
The VIX Index, my go-to for a read on market volatility and investor sentiment, jumped over 50%.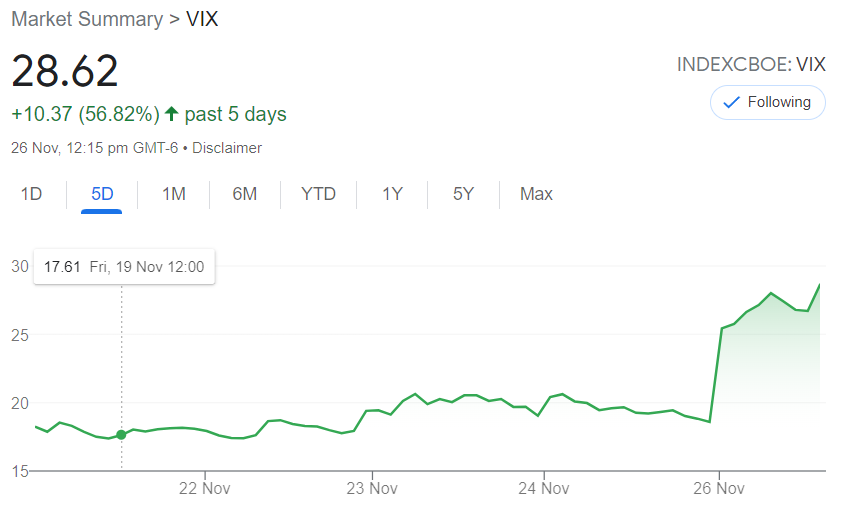 Source: Google Finance
I hadn't seen it jump this much since March 2020 — or for that matter, the GFC!
Welcome to coronavirus country! The ultimate leaky building.
Just when we thought we had the ultimate fix with the vaccine, a new variant has appeared. Omicron.
As an investor, you're trying to get a read on these types of situations. To decide whether to buy (or sell) and what. Dips can provide golden opportunity to enter or top-up on shares that wouldn't normally be available at the going price. A fearful market brings down most.
In the case of Black Omicron Friday, investors had had enough uncertainty. The S&P 500 dropped over 2%. The FTSE in London 3.6% — wiping out £72 billion. New Zealand and Australia were sharply down too.
But here's why I'm still optimistic. Though I am taking a long view — looking ahead into next year.
Despite intense volatility over the past week, at the time of writing, Pfizer [NYSE:PFE] is actually up over 6%. In the Wholesale Accounts we work with, we bet last year — when vaccines were in doubt — that Pfizer would be the front runner. This continues to pay off.
It was reported on Tuesday that if the Pfizer and Moderna vaccines are found to be less effective against the Omicron variant, they will be able to adapt their vaccines within a few months.
The results of tests on this variant should be available in the next week or so.
It may well be the vaccines can combat Omicron to some degree. If not, it appears vaccines can be adapted in a short space of time. If modification is needed, that could start coming through in the booster shots that many parts of the world will soon be due.
News media thrives on fear.
'Omicron could mean more lockdowns.'
'Vaccines that don't work.'
'More rapid spread.'
Markets operate on fear and greed. When it comes to this virus, uncertainty has been one of the worst sources of fear. In this age of the world on your desktop screen or mobile device, people expect certainty and control.
Experienced investors know that life is not like that. There is much you cannot control. You can only sail the seas you come across.
It's been rough lately. But there will be calm around the corner. And growth.
So which companies did we have our eye on during this volatility? Head over to our Quantum Wealth Report to find out.
Regards,
Simon Angelo
Editor, Wealth Morning
 (This article is general in nature and should not be construed as any financial or investment advice. To obtain guidance for your specific situation, please seek independent financial advice.)