Earlier this year, Province Resources [ASX:PRL] announced plans it would acquire a company with green-hydrogen generation licences in Western Australia (WA). The share price has been rising swiftly ever since.
PRL is a resources company with a market cap of around A$180 million. Previously, it was fully focused on mining copper, gold, nickel, cobalt, vanadium, and other mineral opportunities. The hydrogen licences are a new opportunity.
They call the project 'HyEnergy'. It proposes to generate 1GW (1,000MW) of renewable energy using wind and solar to produce approximately 60,000t of green hydrogen, or approximately 300,000t of green ammonia.
Back in May, the Company received commitments from sophisticated investors to raise $18 million from a private placement at 15c per share.
These funds will be used to advance work at the Carnarvon site in WA. The area averages 211 sunny days per year and has high wind speeds, making it suitable for solar and wind energy generation.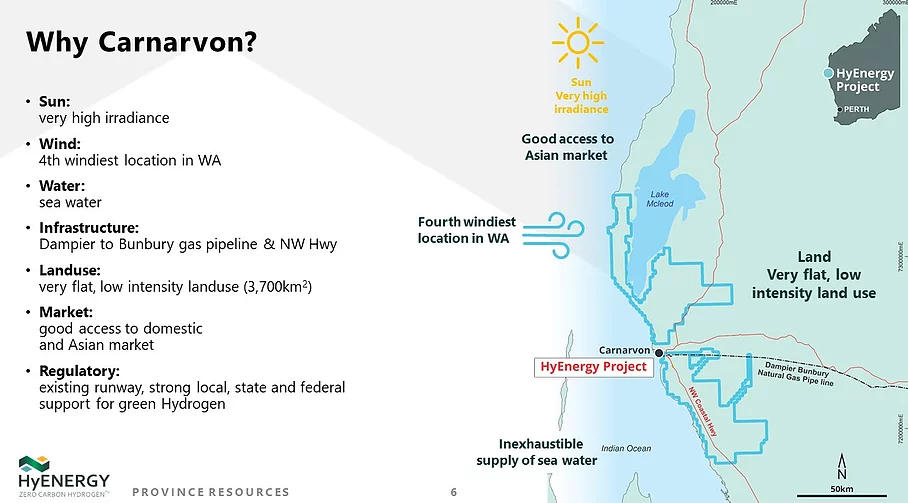 Source: Province Resources
Why has the Provinces Resources share price risen?
1) The market loves clean energy
First, a potential investment in PRL (following this clean energy project) has a lot of impetus. There are no guarantees they will be successful. But many speculative, large, and some institutional investors are seeking exposure to the possibility.
Here's what's happened to the stock price since the announcement of the hydrogen opportunity: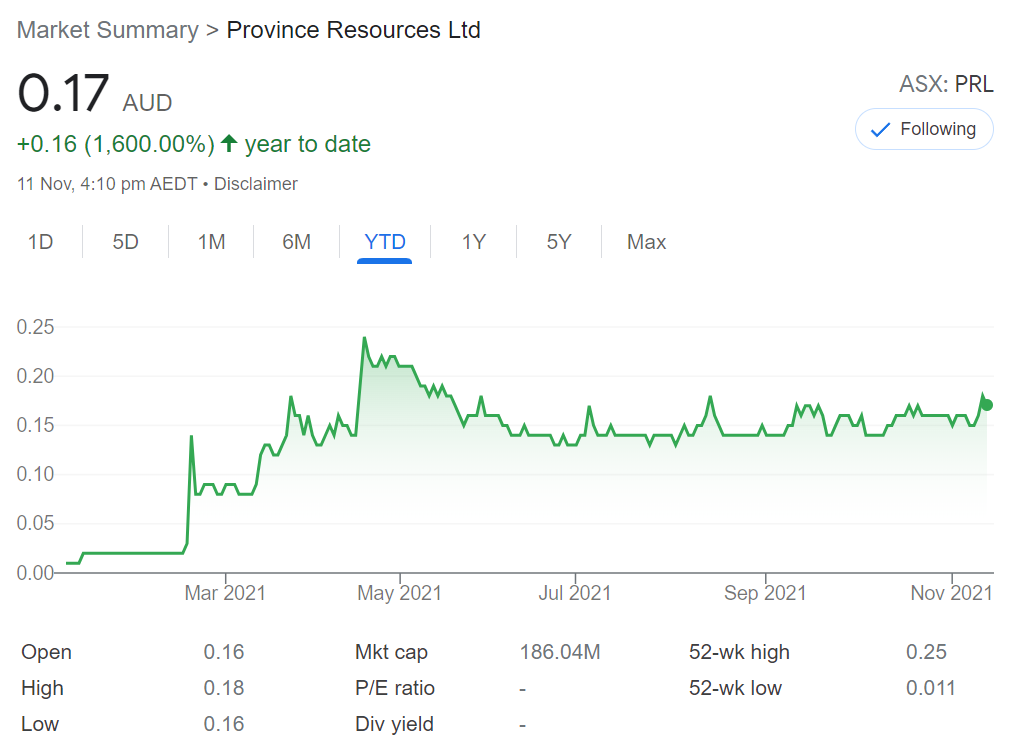 Source: Google Finance
From February, the stock price went on a tear after doing nothing for years. It has now jumped 1,600%. So it has our attention.
2) There is an existing business here
Province Resources [ASX:PRL] was formerly ScandiVanadium [ASX:SVD]. It changed its name (and stock ticker) last year.
It has previous history in speculative exploration projects in Western Australia and Scandinavia. In particular, targeting battery metals.
The bad news is that while these projects have revealed promising deposits, they have yet to convert to revenue. For the year ended 30 June 2021, the business lost $14.5 million
The good news is that for the speculative investor a wide range of prospects is offered — with projects from mining for vanadium in Sweden, to nickel and gold in WA.
In fact, PRL's Pascalle Gold Project is only 20km away from Greatland Gold's [LSE:GGP] Havieron discovery.
The new HyEnergy project represents another opportunity.
3) An energy transition opportunity
Last month, PRL announced that Global Energy Ventures [ASX:GEV] is to start a feasibility study on HyEnergy. According to PRL, they want to 'demonstrate the technical feasibility and commercial advantages of Global Energy's compressed hydrogen shipping solution.'
In particular, they are looking to analyse the requirements for a fleet of Global Ventures' compressed hydrogen ships. And how to integrate PRL's proposed hydrogen production plant with an onshore compression facility.
Essentially, they're looking toward a viable export solution: PRL's green hydrogen, shipped to key markets in the Asia-Pacific using Global Energy's compressed hydrogen ships.
Of course, this is music to investors' ears. The 'produce' could be soon ready to monetise in a larger way.
Couple this with the intense current interest in green energy, especially hydrogen, and you have a growth stock winner.
This is a speculative opportunity
Although it appears the business has no long-term debt, it also has little immediate revenue. Only about $68,500 in the financial year to 30 June.
This is like investing in a start-up. There are many unknowns.
Will the promising deposits revealed from mining efforts produce significant finds as they did with Greatland Gold?
Will the new hydrogen project produce saleable fuel?
And will the world embrace hydrogen as cleaner alternative to electrification of transport?
Since there are many working parts to PRL, we can only verify the value and range of activity and the promise for its output. It is thereafter a bet.
Since the stock price trades far beyond the value of any tangible assets, there is significant risk to capital when investing.
Should the business be unable to convert any of its projects to revenue in the medium-term, it is likely investors will lose patience. The Company will burn through its funds. And the shares could fall.
But we are here to cover opportunities with high growth potential.
👉 In our Quantum Wealth Report, we have several we like even better.
Regards,
Simon Angelo
Editor, Wealth Morning
(This article is general in nature and should not be construed as any financial or investment advice. To obtain guidance for your specific situation, please seek independent financial advice.)