Airbnb Inc [NASDAQ:ABNB] has seen its share price increase around 17% since the start of this month. It appears to be heading back toward its post-IPO run of over $200.
This Company has sure come a long way since schoolboy entrepreneurs and industrial designers Brian Chesky and Joe Gebbia moved to San Francisco in 2007.
As roommates, they had the idea of putting air mattresses in their living room and renting them as 'bed and breakfast'.
The concept has turned out to be quite a breakthrough. A long way from one of Joe Gebbia's first businesses of selling CritBuns — an ass cushion he designed while a student.
Though, due to Airbnb fame, CritBuns have made a comeback, and their website currently reports they are sold out.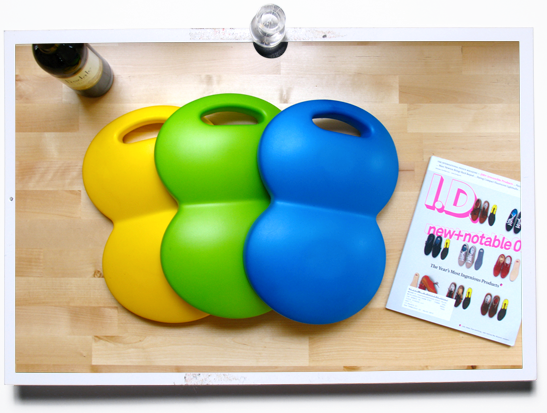 Source: CritBuns.com
When Chesky, Gebbia, and later Nathan Blecharczyk approached venture capitalists, they were initially told nobody would want to pay to 'sleep on people's couches'. The idea was mad!
The trio are now each worth over $10 billion. And Airbnb has a market cap today of over $120 billion.
Why has the Airbnb share price risen?
There are a couple of reasons. Primarily, Q3 earnings were excellent. And there's been a bullish run again in US stocks as investors see a bumper reopening earnings season.
But it's important to note, by share price, we're only rejoining that initial hype following the IPO. And Airbnb, by measure of forward revenue, is an expensive stock.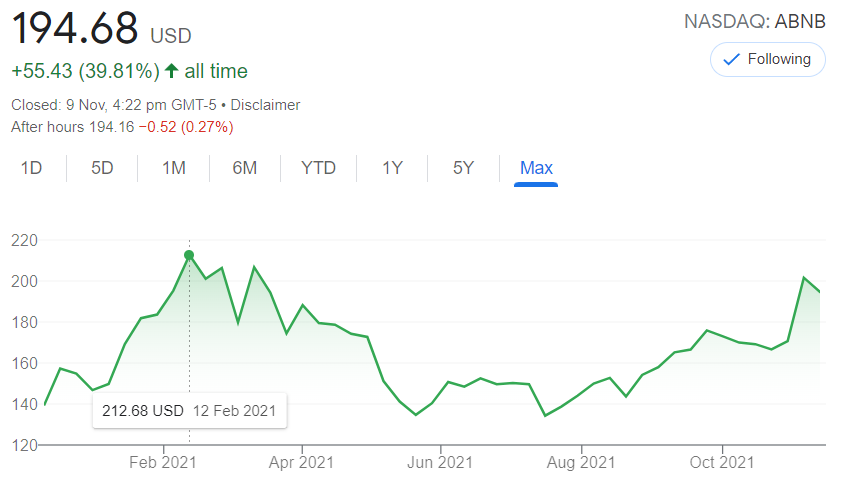 Source: Google Finance
So let's take a look at the Q3 (July to September) 2021 earnings announcement:
Q3 revenue of USD $2.2 billion was highest ever — 36% higher than Q3 2019.
Q3 net income of $834 million was most profitable quarter ever, nearly 4x larger than a year ago.
Q3 Adjusted EBITDA exceeded $1 billion for the first time ever at $1.1 billion — doubling from $501 million in Q3 2020, and more than tripling from $314 million in Q3 2019.
Adjusted EBITDA margin was 49% for Q3 2021 — best margin ever, an increase of 30% compared to Q3 2019. 
People can travel anywhere now (in most countries), and pent-up demand is showing.
People are using Airbnb to find longer-term accommodation options. It's diversifying into the short-run housing market — where shortages are plain.
Airbnb hosts are growing, with seniors one of the fastest-growing areas. Hosts earned a record $12.8 billion in income, up 27% from Q3 2019. 
Q3 nights and experiences booked reached 79.7 million (up 29% Y/Y).
Where could [NASDAQ:ABNB] go from here?
Don't get too excited. Airbnb is disrupting and changing the travel and accommodation sector, but it still faces some headwinds:
The price is only back to the initial IPO hype and is still expensive, at around 20x estimated forward revenue.
The cost of renting Airbnbs are increasing, with hosts demanding more and guests considering other options.
There are signs that other options like hotels and rival sites like Expedia [NASDAQ:EXPE] and Booking.com [NASDAQ:BKNG] are getting their mojo back.
Bad PR from out-of-control parties to damaging the integrity of city neighborhoods continues to dog the Company.
Certain authorities are limiting or taxing the use of Airbnb. Here in Auckland, you'll start to pay commercial rates on your property if you let it out on Airbnb (or other such providers) for more than 28 nights a year.
Still, I remain bullish on Airbnb. I can only see growth ahead for the brand and concept as the world continues to reopen, start to travel, and seek better accommodation options.
As a dad with two kids, it's unlikely we'll ever stay in a hotel again for leisure. Why would I? I can get two bedrooms, an engaged host, and a washing machine for the same price as a minuscule hotel room. The last Airbnb we stayed at included bags of free avocados!
Yet the current share price does have continued and very rapid growth factored in. And I'm not sure that will be as achievable as the business matures.
I was happy to buy the stock at sub-$170. But at $200+? Hmm, we're going to need to see a lot more growth in that revenue.
For now, a Company this disruptive and promising remains on our Watch List.
If you want further updates and our free report, I encourage you to join our free investor newsletter here.
Meanwhile, we're also monitoring another high potential reopening stock which is much cheaper. Access to that is via our premium newsletter from just $19 a month.
Will Airbnb go from a $120 billion Company to a $240 billion one?
It's already larger than any hotel chain I can find. But with many more people wanting to host and many more wanting to stay, it would appear there's plenty of track ahead.
Regards,
Simon Angelo
Editor, Wealth Morning
Important disclosures
Simon Angelo owns shares in Airbnb [NASDAQ:ABNB] via portfolio manager Vistafolio.
(This article is general in nature and should not be construed as any financial or investment advice. To obtain guidance for your specific situation, please seek independent financial advice.)