After work, we liked to go to a small country pub. It was on the north cliff of the island. I'd have an ale, my wife a cider. The kids would be occupied at the attached playground. And I'd get a snack — a couple of bags of pork scratchings.
On the bags was a tongue and cheek warning: 'Keep away from vegans.'
While this was amusing, it also highlights one of the fastest-growing food behaviours in the world. As I sat by the crackling fire, nursing my ale, I thought of members of my family, thousands of miles away, living the vegan dream.
They run a vegan bed and breakfast. It seems constantly booked. They live the vegan lifestyle and visit vegan restaurants where you wait for a table. They're never sick. And they live free of the guilt of animal slaughter.
While I can see the benefits of a plant-based diet, I doubt I could do it. A good cut of meat with a nice wine is my weakness. I'm the anti-vegan. I've enjoyed kangaroo steaks right off the barbecue at a Melbourne vineyard; ostrich burgers on an ostrich farm while remaining relatives prance by; and some great steak tartare in the bistros of France.
But then came the vegan sausage roll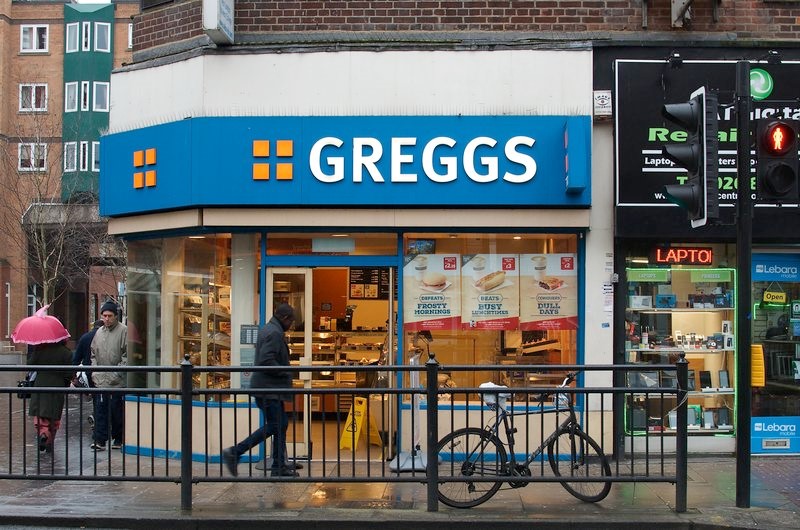 The Greggs bakery chain is a staple of the British High Street. It was a guilty breakfast pleasure for me until they closed my local branches. Delicious hot pastries for as little as 80p!
Yet the chain was flagging. Health-conscious consumers were walking by. And marketing seemed to be losing touch. In one bizarre promotion, Greggs replaced the baby Jesus with a sausage roll in a nativity scene, leading to boycott threats.
In January 2019, Greggs responded to an online petition organised by animal welfare group PETA. It called on the baker to produce a vegan version of its bestselling item — the humble sausage roll.
And sales went ballistic.
Within seven weeks of its launch, sales for the entire chain climbed nearly 10%. Greggs announced profits would be higher than expected. Shares in the company climbed nearly 7% to an all-time high, and the businesses value soared to £1.8 billion.
This little vegan food offer helped Greggs' sales top £1 billion for the first time ever.
The coming vegan revolution
It's hard to be meat these days.
More and more research show excess consumption is hazardous to health — particularly red meat.
The Mediterranean diet — considered to be one of the healthiest in the world — is increasingly sought after. It's mostly plant-based but with small intakes of meat and dairy.
Roy Morgan Research found that 2.1 million Australians now choose to go meat-free. And data from Google Trends suggests Aussies are more interested in vegan principles than other diet movements such as keto or Paleo.
With developing and emerging markets demanding more of their share of protein, the price of meat and dairy is soaring. Salmon companies and their stock prices appear to be doing especially well. If you've been with us any length of time, you'll know the story of a2 Milk [NZX:ATM].
In developed countries, high meat prices and a health focus are creating a pushback movement.
Here in New Zealand, we're ranked third in the world for veganism (after Australia and the UK). Vegan product suppliers are struggling to keep up with demand. 
Listening to Google
Want a good sense of investment opportunity? Listen to Google Trends. Last year, searches around veganism (vegan food, restaurants, etc.) hit an all-time high. It was 35% higher compared to 2016.
Veganism as a fashion, as a movement, has been so strong that one government is looking to outlaw it.
In 2016, a bill proposed in the Italian parliament threatened to jail vegans who impose the diet on their kids. There was such backlash to the bill, it appears to have disappeared.
Veganism can be a firestorm in families. Last year, a 48-year old vegan woman in Italy, who had moved back in with her 69-year old mother, ended up in court. She'd threatened to kill her mum with a knife over the smell of ragu meat sauce simmering for hours in their small apartment.
What is clear is that when a major food movement starts to revolutionise the way many in the world eat and relate to their families — as investors, we need to pay attention.
And we need to look for fair instruments where we can capture a slice of the carrot.
Vegan McDonald's?
McDonald's [NYSE:MCD] has been a good defensive investment through good times and bad. Over the past five years, if you had McDonald's stock, you would have doubled your capital while enjoying a median dividend yield of around 3% per annum.
Yet, over the past five years, sales for McDonald's have been flagging. Revenue growth over five years sits at around –5%. Still, the share price has been growing.
Among the reasons for this is that the company has been outperforming analyst expectations. They expect pressure in the fast-food industry thanks to high competition and health worries. But the company has been doing a good job in emerging markets and technology — such as mobile app coupons and ordering, plus a partnership with UberEATS.
It's now looking to use AI (artificial intelligence) to automatically tweak drive-through menus. McDonald's recently announced a $300m acquisition of Dynamic Yield — a system able to consider external factors like weather, time, local events, traffic levels, historic sales, and currently popular items.
So next time you pull into the drive-through, the menu will sense that it's a hot day, and it may tweak itself to angle you a cooling McFlurry.
Welcome to the Amazon of fast food.
The Company has led several innovative changes within a global business that has the resources, size, and scale to make them fly.
Now it's cutting in on the vegan action. The company has just launched vegan nuggets for the first time. This is on top of a vegan burger and vegan Happy Meals. The company is angling to become a vegan-friendly fast-food resource.
If Greggs can accelerate sales with a simple Quorn-based roll, picture what McDonald's could do across their global network. And the PE (price-to-earnings ratio) of McDonald's currently sits quite a bit lower than Greggs'.
One drawback of vegan food is prep time. If Maccas can sort that, then prepare for the rise of the McVegan.
Of course, there remains risks around McDonald's, with intense competition in fast food and a move toward local homespun joints—– but there could be opportunity for income with growth.
Eat well and invest well.
Guess where I'm heading for lunch…
Regards,
Simon Angelo
Editor, Wealth Morning


Important disclosures
Simon Angelo owns shares in McDonald's Corp [NYSE:MCD] via portfolio manager Vistafolio.
(This article is commentary and the author's personal opinion only. It is general in nature and should not be construed as any financial or investment advice. To obtain guidance for your specific situation, please consult a licensed Financial Advice Provider.)