The a2 Milk Company [NZX.ATM] [ASX.A2M] has suffered a major setback today, with its stock price crashing by over 18% at the time of writing.
It currently sits at NZ$6.17.
The company has announced that a recovery in the business is not likely to happen any time soon.
To add salt to this wound, Peter Nathan, a2's chief executive for Asia Pacific, has tendered in his resignation.
The company is now projecting 2021 revenue to be in the range of $1.20 billion to $1.25 billion. This is sharply down from an earlier estimate of $1.4 billion.
Right now, the mood in the market is at sour as it gets, which is encouraging a heavy sell-off.
What is A2 Milk? 
A2 milk is marketed as an alternative variety to regular cow's milk. It lacks a specific form of the A1 β-casein proteins. Instead, it consists mostly of the A2 form.
Some studies have shown that A2 milk can prevent certain symptoms of dairy intolerance, while easing others. This research can be summed up here in the 2017 a2 Milk study.
Despite preliminary research dating back as far as the 1980s, a vigorous debate is still brewing.
Does A2 milk have a distinct benefit over the A1 variant?
It has to be said that the benefits of A2 milk has yet to be unequivocally ascertained by scientific backing.
Furthermore, to reduce any uncertainty on the topic, A2 milk is not suitable for people with dairy allergies or lactose intolerance.
Published research suggests that this variant is simply 'easier to digest'. It may help those who receive 'discomfort' while drinking regular milk.
Company profile
The a2 Milk Company has been a forefront pioneer in the dairy business.
They first entered the market in 2000. They commercialised a genetic test that identified cows producing milk without the A1 protein. They trademarked and marketed their product as a premium offering.
The company's main product lines include fresh milk under the a2 Milk brand, as well as infant formula under the a2 Platinum brand.
The company is dual-listed on the NZX and ASX.
Headquartered in Auckland, a2 Milk discontinued operations in the UK in 2019.
They now conduct themselves within three major operating segments:
Australia and New Zealand
In the six months to year end 2020, the Aussie and Kiwi segment contributed 46.77% of consolidated sales.
Meanwhile, the Chinese and Asian segment contributed 48.18% of consolidated sales.
Historical performance
The a2 Milk Company has enjoyed a meteoric rise.
It emerged from humble beginnings in 2000 to become the largest listed company on the NZX by 2018.
By July 2020, the stock price reached a high of $21.50 per share. The company had a market cap just south of $16 billion.
However, in less than a year, the stock price plummeted below $8 per share. The market cap slipped to under $7 billion. This was a shock that left investors and company directors alike reeling.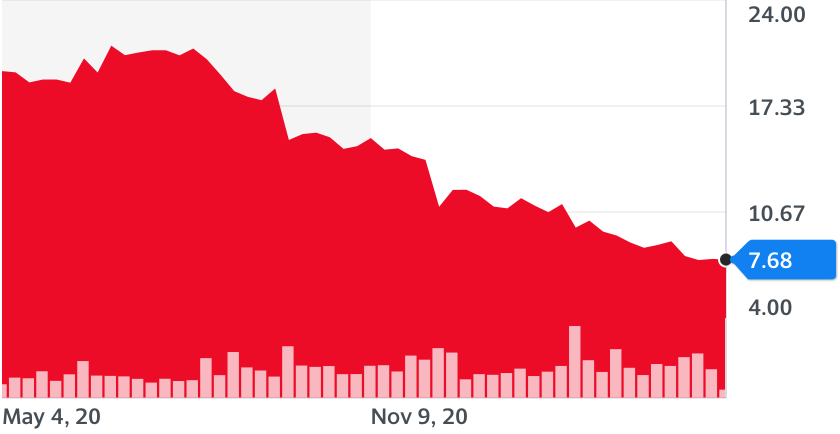 Source: Yahoo Finance
The graph above illustrates the consistent downtrend that a2 Milk has been experiencing.
Urgent questions need to be asked:
What factors may have influenced such a drastic fall in stock price?
Can the company pick itself back up again?
What does its future prospects look like?
Declining sales in China
The Chinese segment of the market makes up a very large percentage of a2 Milk's revenue stream. Specifically, through the sale of milk powder and infant formula.
These sales are processed through the so-called daigou channel. Daigou is the unofficial trade network in which baby formula is shipped from Australia and New Zealand to customers in China.
Due to the Covid-19 pandemic, supply to China has been impacted.
Daigou sales and revenue have been heavily strained.
This disruption is currently anticipated to remain during the first-half of 2021.
Continued uncertainty about the future of Covid, mixed with lower revenue estimates, has decreased growth prospects. This has left a bad taste in the mouth of investors.
Unless a2 Milk can figure out an alternative method for finding and retaining customers in the Asian segment, revenue and growth targets may continue to be missed.
They are aiming to remedy this situation by acquiring new assets: 
a2 recently made a majority stake purchase of another Kiwi company, Mataura Valley Milk.
The China Animal Husbandry Group (CAHG) will retain the other ownership stake of 25%.
This move may improve a2's manufacturing ability. It may also provide geographic and supplier diversification, as well as strengthen relationships with key Chinese partners.
This acquisition has been forecasted by the a2 Milk Company to be earnings positive by 2025.
Emerging global competition
In 2018, a2 Milk signed a partnership agreement with industry giant Fonterra [NZX.FCG]. This was an unexpected turn, considering the two companies have a history of fierce competition.
Moving forward, the management of a2 Milk and Fonterra apparently saw more value in mutual collaboration than outright rivalry.
While this may have been a beneficial action for both parties, new competition continues to emerge globally.
European companies such as Nestle [SWX.NESN] and Danone [EPA.BN] have already started selling infant formula that do not contain the A1 protein.
This development poses a serious threat to a2 Milk Company's unique selling proposition. As more companies enter the marketplace, more pressure will be put on the a2 Milk to innovate urgently — or risk losing out.
Ongoing consumer debate
First and foremost, for the average person, buying a litre of A2 milk will cost more than a litre of regular milk.
Is this practical? Can this be justified?
With the price of groceries already so costly, I would rather opt for the good old Anchor Blue from Fonterra.
I think it is rational to believe that most Kiwis may share the same sentiment.
Of course, I do not have any digestive issues, and I believe the majority of people don't either.
The simple fact is this: As long as no conclusive evidence points to A2 milk being as magical as it sounds, I will continue to buy the cheaper option.
If more research was funded in order to prove that A2 is better for us, I think it's safe to say that the a2 Milk Company may be swimming in more sales.
Unfortunately, the big companies in the dairy sector don't seem interested in investing in more expensive research. So the jury is out on whether A2 is really as healthy and beneficial as it seems.
Overall, perhaps a reason for decreased sales has to do with the fact that old habits die hard. In times of economic distress, consumers may not hesitate to switch from premium milk to generic milk.
This isn't too surprising. After all, humans have been drinking regular old cow's milk for thousands of years.
What does the future of [NZX.ATM] [ASX.A2M] look like?
At this point, the future outlook on the a2 Milk Company is unknown, yet it cannot be regarded as wholly positive.
Based on multiple analyst reports, the consensus recommendation appears to point towards a Hold rating.
Still, this hasn't stopped the likes of The Commonwealth Bank of Australia [ASX.CBA] from disposing of nearly 10 million a2 Milk shares during the tail end of April.
This is just another factor that contributes to the negative outlook.
This may be a sign that the stock price isn't turning around any time soon.
Conclusion
If you are a firm believer in the a2 phenomenon, then now might be the right time to invest in the stock while it's trading at such a discount.
This is the first time in years we've seen the P/E ratio sitting below 15. That could present value if the company still has a growth story to offer, particularly given its record of strong returns on capital based on brand assets.  It may still continue to carve out more share of the lucrative Chinese infant formula market.
But you should be aware of heightened risk factors such as Covid and increased global competition.
Personally, I believe that even if the a2 Milk Company manages to turn itself around, its stock price may still be a long way off from where it used to be.
This is mainly due to the large financial impact that we have seen due to trade disruptions and low growth estimates for the future.
Could the a2 Milk's best days already be behind it?
For now, it's a case of wait and see.
Regards,
Samael Knaap,
Analyst, Wealth Morning
PS: Looking for other investments to grow your wealth? Right now, in our Lifetime Wealth Premium Research, we have over 20 stock picks that cover a wide range of high-impact industries. They could be primed to surge once the world defeats Covid-19.

Already a Member? Sign In Here