It's bold. Ambitious. Highly anticipated.
Cyberpunk 2077 has spent eight years in development, and it has been called one of the most expensive video games ever made. Its production budget is reportedly in the range of US$100m to US$300m.
It's been billed not just as a game, but a cultural phenomenon. A watershed moment.
Cyberpunk 2077 promises a Hollywood-like narrative, along with eye-popping visuals and unparalleled freedom. It even features a major name in a starring role — Keanu Reeves.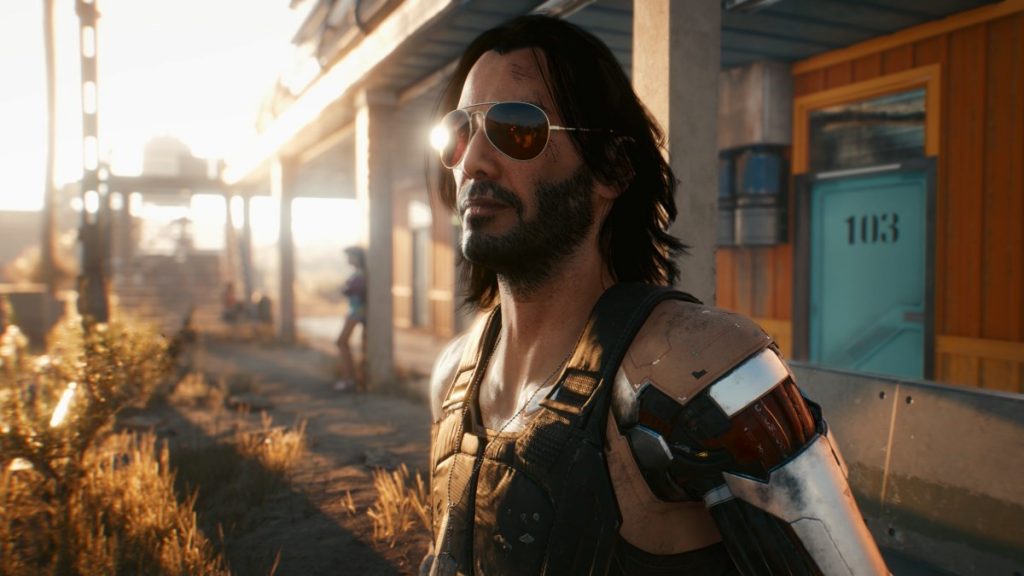 Source: Esquire
The marketing push for this game has been feverish, and it's been impossible to ignore the hype. If you've ever watched movies like Blade Runner, or read literature like Neuromancer, then you already recognise that classic cyberpunk atmosphere.
It goes like this. Traditional nation-states have collapsed. Governments are too weak to govern. Corporations have taken over. The streets are rough, with urban ghettos existing alongside shiny skyscrapers and flying cars. People use consumerist technology to modify their bodies to the point of self-mutilation. Society has seemingly been reduced to pursuing violence, sex, and profit with mindless abandon.
Of course, this is not the sanitised vision of Star Trek or Star Wars. This is something far darker and moodier. It's our post-industrial future as it might look like 20 minutes from now, if we're unlucky enough.
Yes, there have been cyberpunk stories before — but Cyberpunk 2077 promises to outdo them all in both scale and spectacle. It seeks to deliver an immersive experience. Hardboiled crime noir in an urban dystopia. The perfect showcase of an aesthetic known as 'High-Tech, Low-Life'.
Can this game possibly live up to the hype?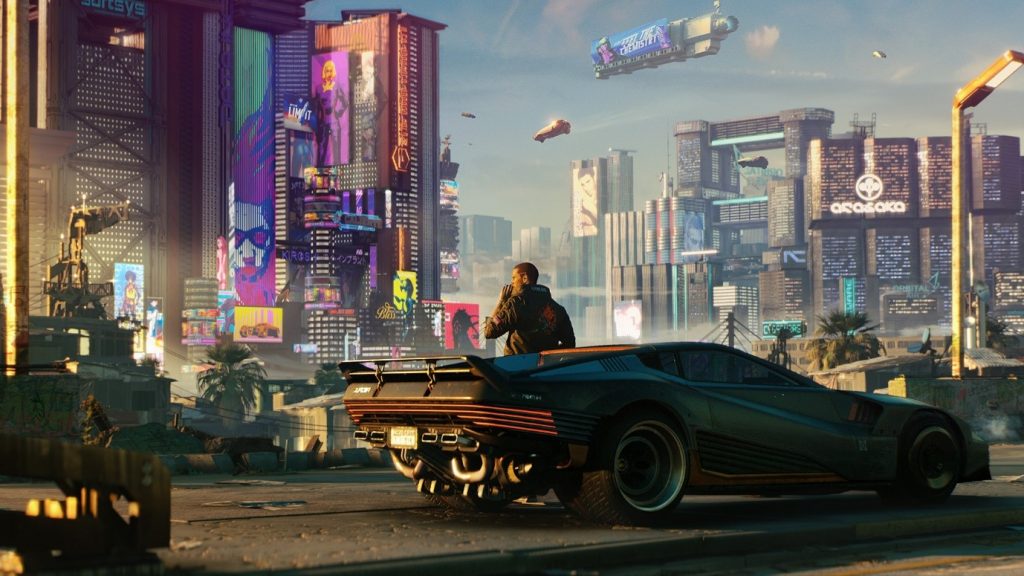 Source: TechRadar
Poland's shining star
CD Projekt Red [WSE:CDR] is the developer behind Cyberpunk 2077. It might just be the most iconic global company that Poland has ever produced. It certainly is one of the largest, boasting a market cap of over US$30b.
CD Projekt Red's claim to fame is its best-selling Witcher series, which has shifted over 50 million copies worldwide. This achievement is a source of great national pride for Poles, who regard the company's founders — self-made billionaires Michał Kiciński and Marcin Iwinski — as patron saints of the gaming industry.
There's adoration. Reverence. Hero worship.
Consider this: when former US president Barack Obama visited Poland in 2011, Prime Minister Donald Tusk gave him a collector's edition of The Witcher 2 as an official gift. It was the clearest demonstration yet that Polish video games have been catapulted from a narrow niche to a mainstream art form.
It's little wonder, then, that anticipation for Cyberpunk 2077 has reached astronomical levels. Eight years is an eternity to wait for a game — but with its release date locked on December 10, it seemed like CD Projekt Red was on track for even greater success and acclaim.
It wasn't just gaming fans who were watching and waiting. Analysts from financial giants like Morgan Stanley [NYSE:MS], Barclays [LON:BARC], and Citigroup [NYSE:C] were also tracking the company's progress with keen interest.
By all accounts, Cyberpunk 2077 was projected to be a runaway success that would shatter all expectations upon its release. Pre-orders were looking healthy. The goodwill was universal.
What could possibly go wrong?
Well, as it turned out, pretty much everything.
Here's a taste of what unfolded in the space of just two weeks: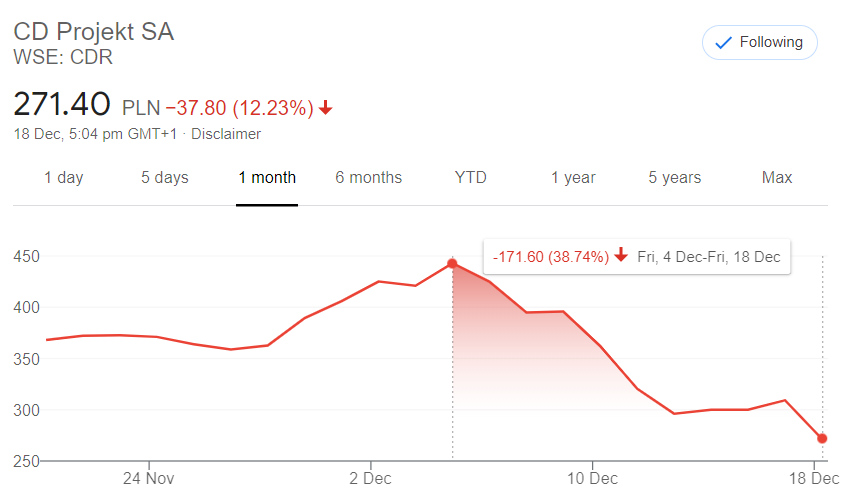 Source: Google Finance
Uh-huh. That's right. CD Projekt Red's stock price took a stunning nosedive. It lost almost 40% of its value — which translates to a decrease of over $1b in wealth.
What should have been a moment of triumph for the developers has turned instead into an anguished ordeal with no end in sight.
How on earth did this happen? Why?
Big entertainment, big money
Let's hit the rewind button. Let's pause for a moment and look at the bigger picture.
The video game industry is huge. Massive. Colossal.
It towers above every other entertainment sector.
In 2019, video games delivered global revenue of $145b. By comparison, films and music combined only managed to deliver a measly $62b.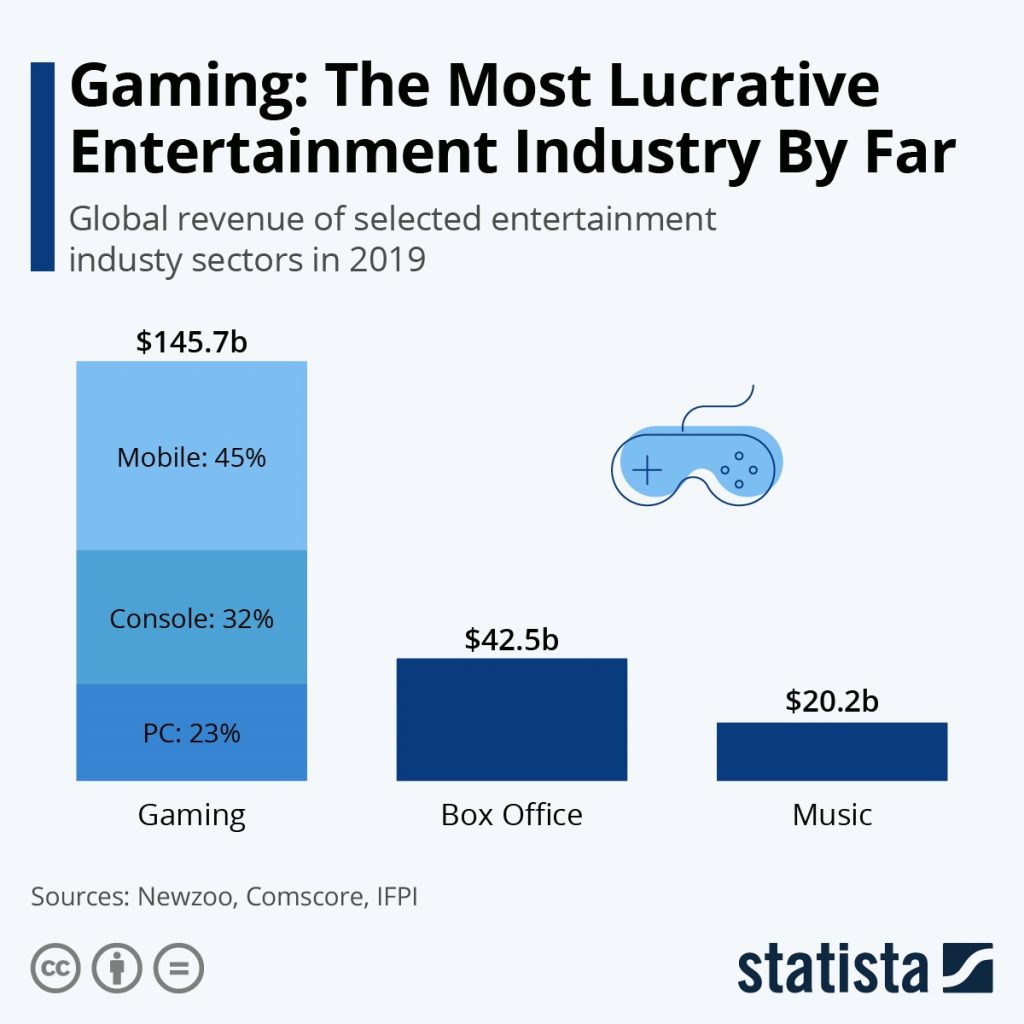 It's a trend that's only accelerated in 2020.
Here are some notable facts:
Alongside CD Projekt Red, other gaming stocks like Electronic Arts [NASDAQ:EA], Activision Blizzard [NASDAQ:ATVI], and Take-Two Interactive [NASDAQ:TTWO] have soared.
Covid lockdown has been a major factor, boosting the popularity of stay-at-home tech companies.
The average age of a gamer is 34. He is usually male, owns a house, and has children.
Women increasingly have a stake in the gaming world as well. 45% of gamers are estimated to be female.
For those of us who grew up with simple games like pinball or Pac-Man, it's now clear that the old stereotypes no longer apply.
Today's video games today are highly sophisticated, combining mature storylines with a realistic visual flair. They have become increasingly expensive to produce — especially so-called AAA titles. Each game may require hundreds of programmers, engineers, and artists working on it, rivalling the scale of a Hollywood production.
The stakes of this investment can be extraordinarily high. The gamers who purchase these products are not just passionate about their hobby. They can be downright obsessive. They will pore over the details of every released trailer and gossip about every passing rumour. Everything is placed under the microscope. Nothing escapes their attention.
Ultimately, it's this pressure-cooker culture that's proven to be CD Projekt Red's undoing.
The dangers of crunch time
Certain words have the power to cause your heart to seize up. One such word is 'crunch' — a dark and ominous term for those in the gaming industry.
It's where employees are forced to work excessive hours, at an insane pace, for an extended length of time. Psychologists have warned that the human body is simply not built to endure this kind of punishing schedule, and the risk of mental breakdown is alarmingly high.
Historically speaking, Rockstar Games — a division of Take Two Interactive — is perhaps the most notorious offender when it comes to crunch. It has used it habitually as a way of meeting tough deadlines and pushing out popular titles like Red Dead Redemption and Grand Theft Auto.
However, CD Projekt Red has pushed back against this trend. They have openly criticised the human cost of crunch, declaring that their company would be different. They announced they had embraced a 'more humane' approach to work, as well as a 'non-obligatory crunch policy'.
In June 2019, co-CEO Marcin Iwiński said:
'We want to make sure that there will be no guilt when people will be leaving early if they need to, in case we ask some people to stay.'
In the eyes of many, this statement elevated CD Projekt Red's saintly status. A moral, compassionate company devoted to employee welfare. What's not to love about this?
Unfortunately, storm clouds were already gathering on the horizon — and soon enough, they would be impossible to ignore.
High pressure
The first major sign of trouble came in late September, when Bloomberg revealed that CD Projekt Red was transitioning into a six-day working week.
This came as a genuine shock to everyone, and Marcin Iwiński had to issue a sobering statement in an attempt to reconcile this move:
'I take it upon myself to receive the full backlash for the decision. I know this is in direct opposition to what we've said about crunch. It's also in direct opposition to what I personally grew to believe a while back — that crunch should never be the answer. But we've extended all other possible means of navigating the situation.'
The situation Iwiński was referring to was the increasing pressure to release Cyberpunk 2077. Doubt and impatience were setting in from all sides — the media, the gaming public, as well as investors.
As it stood, the game had already suffered numerous delays, blowing through several proposed release dates:
April 16, 2020
September 17, 2020
November 19, 2020
As an investor in CD Projekt Red, I had the chance to listen in on several earnings calls. It was hard to miss the undercurrent of anxiety simmering as company executives tried to pacify and reassure us.
They acknowledged that what was particularly tricky was trying to get the game functioning on multiple platforms at the same time:
Windows PC
PlayStation 4
PlayStation 5
Xbox One
Xbox Series X/S
I got the feeling that it wasn't just the company's reputation at stake, but maybe even the reputation of Poland itself. National pride was on the chopping block.
To allow the game's release window to slip into 2021 would be considered intolerable. It really felt like December 10 was their last chance.
They really had to commit to this release date. They had to pull the trigger. There was no other way.
Judgment day
As the release date loomed, review copies went out. Journalists were given early access to Cyberpunk 2077 on the Windows PC platform.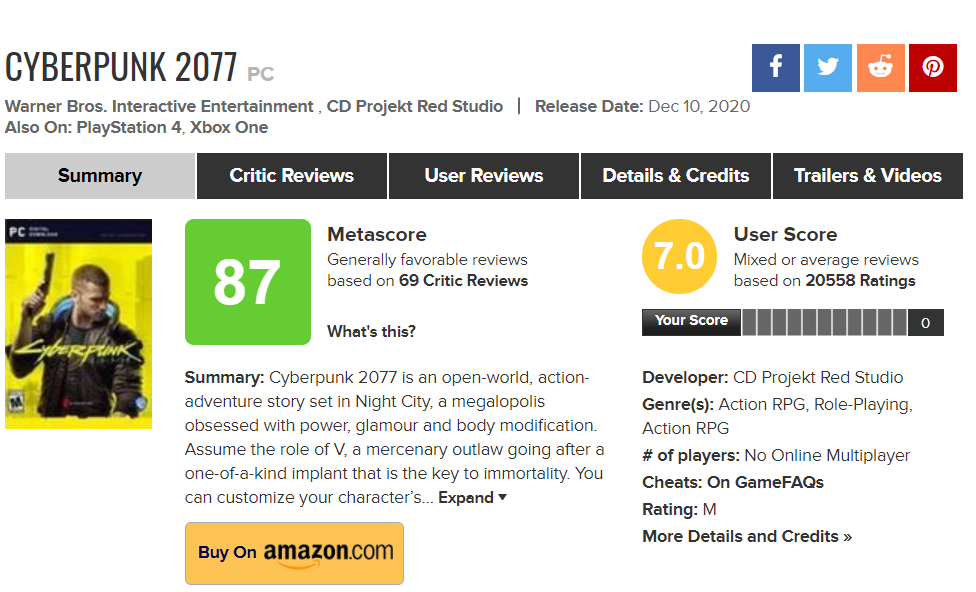 Source: Metacritic
The first media reviews emerged on December 7 — three days before release. On the whole, the consensus was mostly positive: this was a very good game with ambition and scope. CD Projekt Red had certainly captured the futuristic flavour of an urban dystopia. It was entertaining to play. Oh, and Keanu Reeves was a great addition as well.
But — yes, there's a but — the game was far more unpolished than journalists had expected. It was riddled with bugs. Performance was sluggish. Crashes were frequent. This came as a genuine surprise, especially considering how long the game had spent in development.
Investors got nervous, and CD Projekt Red's stock price started to slip. For a title that had been billed as the most anticipated best-seller of 2020, the reviews just weren't glowing enough. And given the high expectations, the flaws in quality felt unacceptable.
Also, there was another worrying fact to consider. Because journalists were only given access to the Windows PC version of Cyberpunk 2077, they had no way of telling what performance would look like on consoles like the PlayStation 4 and Xbox One.
Still, despite it all, there was some cautious optimism. CD Projekt Red released a memo to investors, revealing that they had already secured 8 million pre-orders of Cyberpunk 2077. This meant that the company had already recouped its development and promotional costs for 2020.
This put the company in the green, and they were well-placed to reap the financial benefits in the months and years ahead. It would be smooth-sailing from here on out.
Tragedy and tears
At long last, December 10 arrived. The day of days. Release day. 
The joy and excitement among the gaming community was stratospheric. Was all the hype justified? Would this game actually deliver? Is this the transcendent experience they promised us?
Well, it could only really end in tragedy and tears.
As expected, the Windows PC version was buggy but bearable. However, in a sickening twist, the PlayStation 4 and Xbox One versions fell far short of expectations. They were crippled by bugs that far exceeded those on the PC version — which made the game downright unplayable.
The shock and disbelief were profound. The backlash was fierce.
According to The Wall Street Journal, Sony [TYO:6758] was forced to pull the game from its PlayStation Store and issue refunds to frustrated gamers.
Microsoft [NASDAQ:MSFT] also stepped forward to offer full refunds for the Xbox platform as well.
CD Projekt Red swung into damage control. They promised a steady schedule of fixes to bring the game up to acceptable quality. The roll-out of patches would happen throughout December and continue at least until February.
More crunch time would be required for already-stressed employees. But CD Projekt Red attempted to get around this moral dilemma by promising employees a 10% share of annual profits.
The endgame
Currently, as it stands, the company's reputation is in tatters. CD Projekt Red is trying to salvage what they can — but by some estimates, they could lose around 30% to 40% of console sales revenue.
The refund requests, as well as the bad publicity, will continue to damage them. It's, quite literally, death by a thousand cuts.
Warren Buffett once said: 'In the business world, the rear-view mirror is always clearer than the windshield.'
In hindsight, should the game have been delayed into 2021? Should investors have been more patient? Should creative integrity have been placed before immediate profit?
Well, regretfully, it's all a moot point right now. The public-relations battle is still raging, and how CD Projekt Red manages this crisis as we head into the Christmas and New Year season will be crucial for the company's future.
The gaming industry is intensely competitive and notoriously forgiving. As an admirer of CD Projekt Red, I really hope that they rediscover the corporate values that made them so successful and beloved in the first place.
The clock is ticking, and it feels like their window for redemption is closing.
Regards,
John Ling
Analyst, Wealth Morning
Important Disclosures
John Ling owns shares in CDProjekt Red [WSE: CDR] via Wealth Manager Vistafolio