With a title like that, you must be dying to know what this small-cap stock is.
Before I explain, I'll say one thing that will grab your attention.
This New Zealand-based company is 10% owned by McDonald's [NYSE:MCD].
McDonald's is a corporation that has a market capitalisation of over $155bn.
McDonald's feeds 68 million people every day.
 Quite remarkable, when you think about it.
So, what is this small-cap stock?
This Kiwi company is called Plexure Group Ltd [NZE:PX1] [ASX:PX1].
What is Plexure's core business model?
Plexure focuses on connecting brands with consumers. Its core business model enables Plexure's app to be integrated with various companies. This allows customers to claim discounts when they visit these businesses.
Here are a few well-known names around the world that have formed a partnership with Plexure:
McDonald's
7-Eleven
White Castle
Super Indo
Some very big names, indeed!
McDonald's, in particular, hasn't even finished integrating Plexure's app into its franchises across the world. This suggests that there's more future growth to come.
Plexure's partnership with global businesses
Of course, there are plenty of loyalty programmes out there for businesses to use.
For example, here's a simple old-fashioned method:
A coffee shop may give a customer a physical loyalty card.
Each time the customer buys a coffee, they get a stamp on that card.
After 10 stamps, the customer gets a coffee for free.
The idea is to encourage repeat visits, which boosts revenue in the long-term.
However, Plexure goes beyond your traditional loyalty programme. Its digital app is revolutionary, providing more functionality and bargains. This increases customer loyalty on a large scale and boosts business growth within a short amount of time.
Here are two case studies to show how it works…
Plexure's partnership with Super Indo
Super Indo is one of Indonesia's largest supermarket chains. Within six months of its partnership with Plexure, it saw its average basket size of orders increase by 55%.
Quite remarkable.
How was this possible?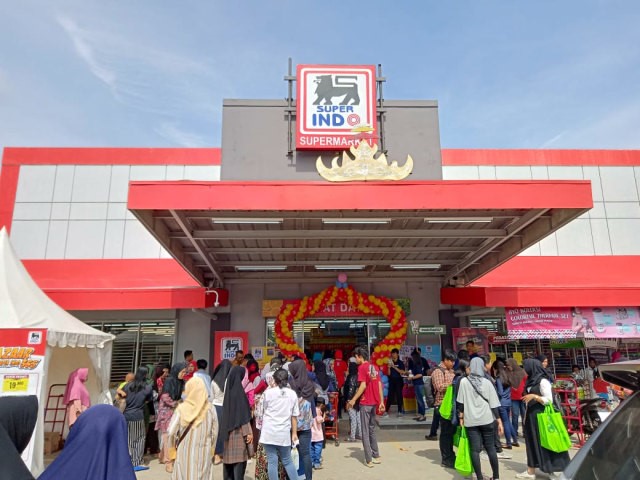 Source: Kumparan
Here are some key facts:
Globally, the grocery industry is worth several trillion dollars.
Consumers are increasingly moving towards online shopping.
The Covid-19 pandemic has been a major factor in this change.
Indonesia has been at the forefront of this digital shift.
Plexure has been using this as a golden opportunity to innovate.
While shopping at Super Indo, Plexure's app isn't just being used to claim discounts. Customers also have access to a customised digital catalogue, unique recipes, as well as a habitual eating plan.
There are many advantages here:
With the customised catalogue, customers can easily create personalised meal plans.
This allows customers to cater for different dietary needs.
This adds an incentive to shop more and stay loyal to Super Indo.
For example, a customer who loves to bake may have changing requirements every week. Sometimes they may want to create muffins. Sometimes they may want to create cakes. Sometimes they want to create biscuits.
The Plexure app can guide them through their shopping experience at Super Indo:
They can keep track of different recipes.
They can keep track of the ingredients they need.
They can add multiple items to the shopping basket, then save that for return visits.
Products selected on the app can be redeemed simply by scanning a barcode or a QR code. This makes the whole process simple and contactless. This is highly desirable when we're living in a world still dealing with the Covid-19 pandemic.
And the magic doesn't end there. Plexure has announced that they are working on more personalised artificial intelligence — with the goal of helping users to eat well and live better.
Plexure's partnership with 7-Eleven
7-Eleven Australia is a convenience store chain that runs across 700 locations.
Between 2016 to 2020, 7-Eleven grew their business by about 71%.
How did Plexure help them achieve this?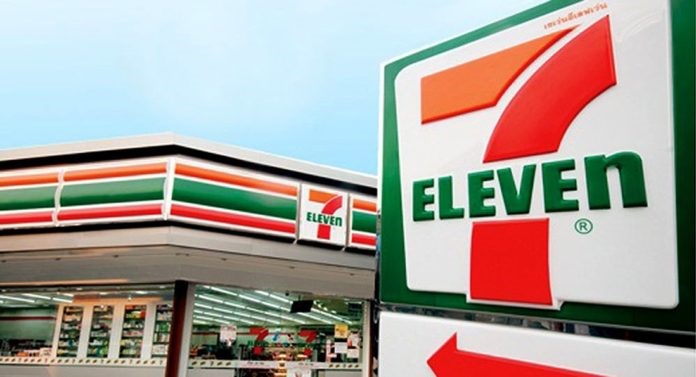 Source: Pattaya News
The secret is fuel. For those of you who don't know, 7-Eleven allow you to fuel up your car at certain convenience stores.
Here's how it works:
When Plexure partnered with 7-Eleven, they launched the Fuel App.
This allows customers to find the best fuel price at the nearest 7-Eleven convenient store.
They can lock in the deal and redeem it within seven days.
The Fuel App isn't just about claiming cheap fuel. It also has other powerful features:
It can gather intelligent data on spending habits, the current weather, and other external factors.
This information allows Plexure and 7-Eleven to create highly targeted personalised offers for each individual user.
Is Plexure a good investment?
The company's relationship with Super Indo and 7-Eleven is just the tip of the iceberg.
They are constantly forming new partnerships. They are always innovating. They are always looking to see how they can grow businesses even further.
Over the past five years, Plexure has been on a steady incline.
Here's data from Google Finance: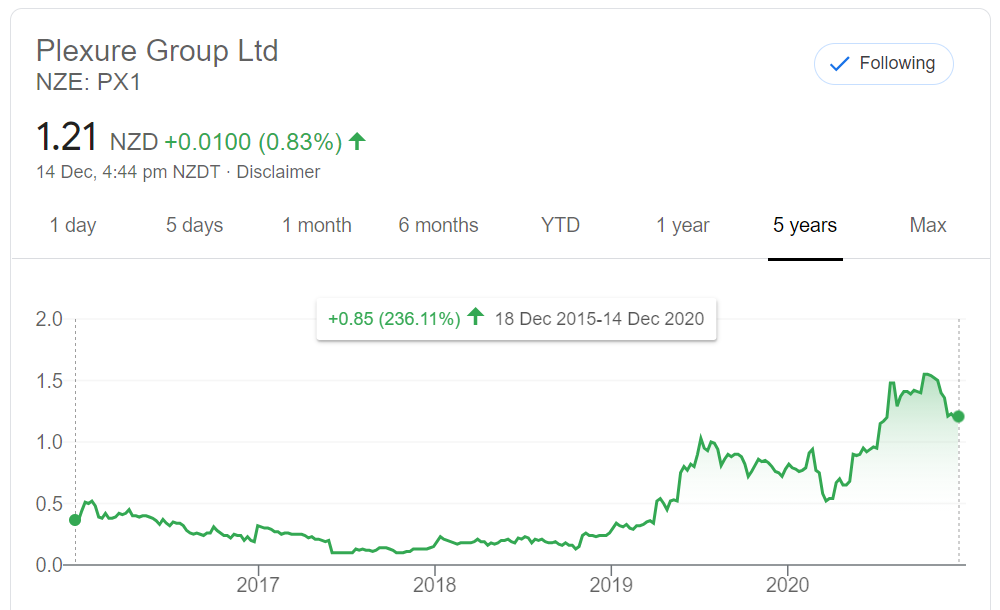 Plexure has been at a low of around $0.20 per share.
As of 14 December 2020, its share price is trading at $1.21 per share.
Another big shift in direction is Plexure has officially been listed on the Australian Securities Exchange on the 25 November 2020.
Companies do this to raise capital and expand their business even further.
Not all of them succeed. However, there have been good stories about small-cap companies starting out in New Zealand and following similar footsteps. These companies have gone on to become a phenomenal success.
Xero [ASX:XRO] is an example of this.
So, one can only speculate what the future may hold for Plexure.
Regards,
Alistair Bilkey
Analyst, Wealth Morning
(Disclaimer: this material is provided for example purposes only. It should not be construed as investment advice. The opinions expressed are the personal views and experience of the author, and no recommendation is made.)
Important disclosures:
Alistair Bilkey owns shares in Plexure Group Ltd [NZX:PX1] [ASX:PX1]