Small cap stocks are often overlooked.
The vast majority of people turn a blind eye to them.
I think the reason is because many people are looking to slowly grow capital, while earning an annual dividend, which provides them with constant passive income.
That is a fair enough statement to go by.
However, I do feel that people should diversify their portfolio more and open themselves up to some small-cap stock opportunities.
You don't even need to invest into the company as much as you would for a conservative company that pays a dividend. Its potential upside could be deemed to be much more valuable.
Some historical small-cap opportunities, even in NZ
Many of you would've heard about many of the small-cap opportunities in history.
Some of the companies that have skyrocketed in share value were once upon a time small-caps too…
Apple [NASDAQ;AAPL]
Microsoft [NASDAQ:MSFT]
Amazon [NASDAQ:AMZN]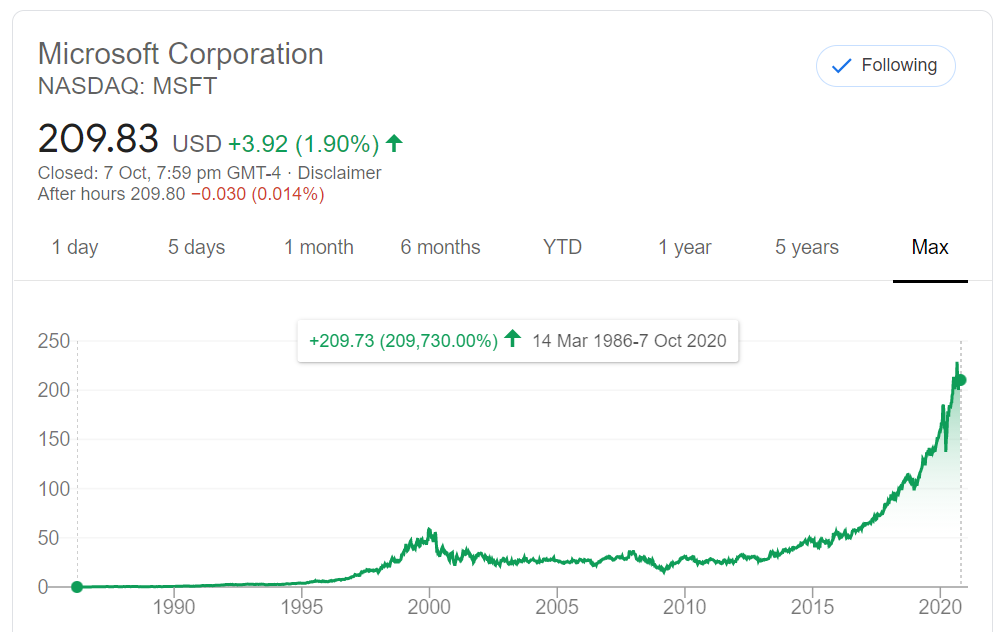 Source: Google Finance
Yes, very big names I've listed here.
Often, when people refer to something that is very big and successful on the other side of the world, they don't really take this thought into consideration: 'It could be me.'
However, with small-cap stocks, you definitely do not need to think this way. Even if you're living in a little isolated country like New Zealand.
Some of the companies that were originally listed on the New Zealand Stock Exchange and have skyrocketed in share price are…
Xero [ASX:XRO]
a2 Milk [NZX:ATM] [ASX:A2M]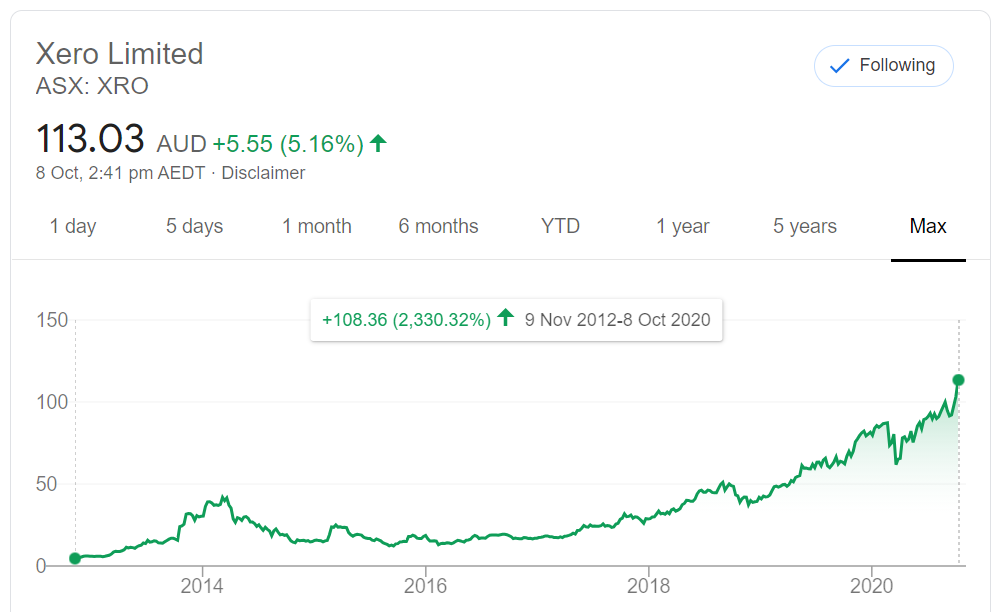 Source: Google Finance
Xero in 2012 was trading at $4.65 per share.
As of October 2020, it is trading at a share price of around $106.16.
a2 Milk in 2004 was trading at $0.33 per share.
As of October 2020, it is trading at a share price of around $15.48.
So there are opportunities easily within reach, all across the globe.
Stories of people who have done well from small-cap stocks
There was a time, with any of these companies that were once known as small-cap stocks, that if you had invested roughly US$1,000 into them, you would be a multimillionaire.
Believe it or not, at least 12,000 people that have worked at Microsoft all became millionaires.
It is quite common that companies reward their staff with bonus shares for working there.
These types of employees who worked for Microsoft went on to become millionaires.
Could have been your regular receptionist or secretary.
Very few receptionists and secretaries are self-made multimillionaires in this world.
There will be many other people — not just employees of massive firms — that rode in on the opportunity. They returned massive upside gains as a result of investing in companies when they were worth a few dollars or pennies.
My personal experience with small-cap stocks
I have invested a small stake of my wealth into some small-cap stocks on the New Zealand Stock Exchange.
These two companies that I invested in are…
EROAD [NZX:ERD] [ASX:ERD]
Plexure [NZX:PLX]
Both of them have gone through phases when they went through a very rough ride.
Especially EROAD.
However, despite this, I still have faith in these companies. They have seemed to have pushed themselves through all their tough phases — and, of course, even through the global pandemic and recession that we are currently in.
Let's look at why both these companies show great potential.
Plexure — why does it show potential?
The core of Plexure's business model is to connect brands with consumers.
Their objective is to enable brands to build strong relationships with customers, and have them coming back for more, along with additionally referring new consumers.
Plexure enables businesses to have loyalty programmes — offering discounts to consumers who use their app to make purchases.
Many businesses across the world have a partnership with Plexure, including McDonald's, 7-Eleven, and even supermarket chains in Indonesia.
In fact, McDonald's actually owns a 10% stake in Plexure.
Plexure's app, that has been provided for McDonald's, is being used in 48 countries around the world.
In fact, it is actually in every McDonald's franchise in Japan.
Japan is the second-largest consumer in the world for McDonald's.
Despite this company having a high P/E and appearing to be overvalued, it always seems to show promise. It is constantly growing, and they are always forming new partnerships all the time.
Earlier in 2020, they even made an announcement that they were raising capital and going ahead with becoming listed on the Australian Securities Exchange.
As of March 31st 2020, the company released its annual report on how well the company performed from the year 2019. They were, in fact, up 51% in revenue from last year, along with being up 243% in net revenue.
I find this highly remarkable, as they were operating amidst a global pandemic.
EROAD — why does it show potential?
EROAD has been through a rough ride.
I personally experienced all of it, as I was one of the initial investors who invested in EROAD within a week of this company going public and being listed on the New Zealand Stock Exchange.
As of October 2020, it has been trading around the $4.10–$4.50 mark.
Back in 2017, it reached an all-time low of $1.65.
So, what is this company? Could this stock be like the next Xero?
EROAD's core product is a technology that acts as a tolling and services provider.
In fact, they were actually the first company in the world to implement a GNSS/cellular-based road-charging solution across countries.
What does all of this mean?
There is currently a device already in place that is typically used on trucks, buses, and semi-trailers around the world.
These things are called Hubometers.
These devices are attached to the hubcap of wheels.
Countries all around the world use them.
Hubometers record how many kilometres a vehicle travels.
In New Zealand, a Hubometer is required for vehicles that weigh over 3.5 tonnes.
They usually charge someone based on every 1,000 kilometers or 1,000 miles.
Different laws are applied to different countries around the world for using Hubometers.
Though this system has been in place and people are using them, these Hubometers could easily be damaged or tampered with.
Meaning, that a vehicle driver could be paying far more in road taxes or far less.
This is where EROAD has come in and provided a solution.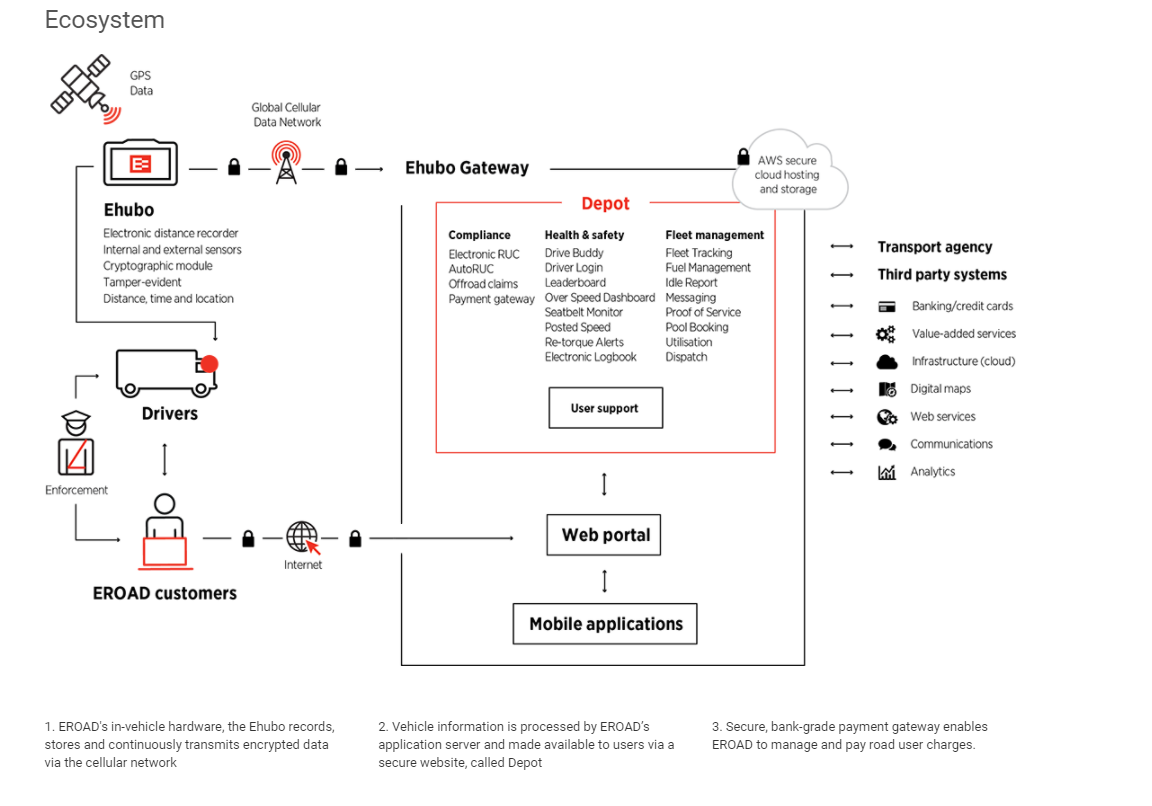 Source: EROAD
They have a software product which you attach on the inside of your car as you would a GPS.
This software records how far the drivers drive, based on GPS data.
EROAD has a dashboard called Depot, where managers can monitor and track all their drivers.
This product can do many things, but just having the GPS feature and a dashboard for tracking drivers solves a huge need in the market.
If something goes wrong and the system is faulty, you will see it on the Depot dashboard. You will know when and where exactly it went wrong.
That way, you won't have any issues with drivers by overpaying or underpaying their toll-road charges.
This shows there are always small-cap opportunities that come up, even on the New Zealand Stock Exchange.
You just need to know where to look!
Regards,
Alistair Bilkey
Analyst, Wealth Morning
PS: Looking for exciting new opportunities beyond the radar? We have a range of global tech recommendations in our Lifetime Wealth Investor Premium Research — and we're adding more cutting-edge insights every month. As the world recovers from Covid, tech will be a game changer. There's never been a better time to study these opportunities for yourself and jump on board.
(Disclaimer: this material is provided for example purposes only. It should not be construed as investment advice. The opinions expressed are the personal views and experience of the author, and no recommendation is made.)