With interest rates hitting record lows and lending restrictions being eased, New Zealanders are doing what comes naturally: flocking into residential property. And why not? It feels like the easiest asset to invest in. One that could provide ongoing rental income and capital growth. 
But in the rush to follow the herd, are Kiwis actually missing out on the benefits of commercial real estate, which is arguably a more savvy slice of the market? 
Entrepreneur Mark Campbell believes that commercial real estate is an ideal investment vehicle for generating and protecting long-term generational wealth — yet most people aren't tapping into this opportunity. 
Often, potential investors struggle with the idea that they require tremendous capital or the right connections before they can own commercial property.
Mark Campbell and his team say they are on an urgent mission to fix this— and their solution is Jasper, a real estate investment platform they claim is already shaping up to be a game changer.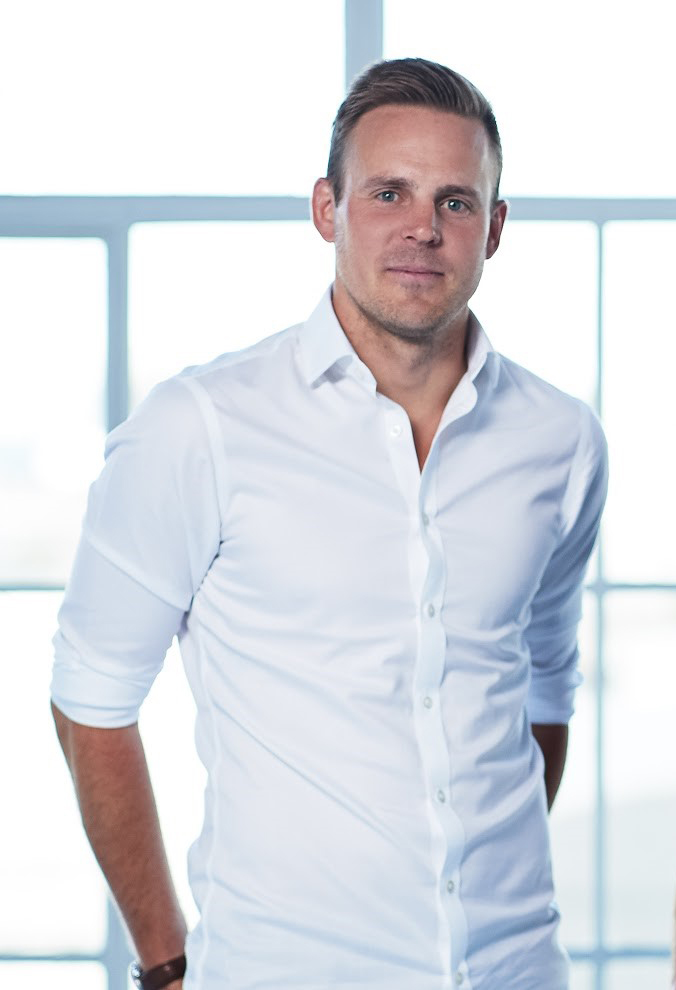 Source: Jasper
The benefits of Jasper
Jasper is a digital platform that allows investors to buy and sell fractional ownership stakes in commercial properties and multi-asset real estate funds. The immediate advantage? The ability to earn a passive monthly income stream from a diversified portfolio of real estate assets. 
Jasper promises that their interface is simple, intuitive, and transparent. It aims to 'democratise real estate investment' — by offering low fees, low minimums and giving users the ability to cut through the red tape with no paperwork.
Jasper seeks to solve the three biggest challenges that investors have faced in the past when trying to buy commercial property: 
The high level of expertise needed to evaluate opportunities.
The high cost of entry, and therefore the lack of diversification.
The time and expertise needed for ongoing management.
One strength of Jasper is that the heavy lifting has already been done for users. When investors log into the platform, they are presented with a carefully curated selection of opportunities pre-vetted by the Jasper acquisitions team. 
This acquisition team is led by co-founder Mark Campbell. Prior to returning to New Zealand and starting Jasper, he led a commercial real estate fund for one of the world's leading real estate companies. He oversaw assets worth more than NZ$12 billion in seven European countries.
Jasper is also in the process of adding new features to their platform that they say will revolutionise the investment space. This includes:
A secondary market which will match buyers and sellers of units. This offers unprecedented liquidity for a traditionally illiquid asset class.
An auto-reinvest function. Investors can automatically purchase additional units with their cash distributions and enjoy the benefits of compounding growth.
An AUD wallet. Kiwi investors can build a portfolio here and across the ditch, without having to manage currency or set up an Australian bank account.
Commercial real estate debt offerings. Jasper plans to fractionalise more than just the equity component of commercial real estate capital stack, creating low-risk savings products as an alternative to traditional bank term deposits.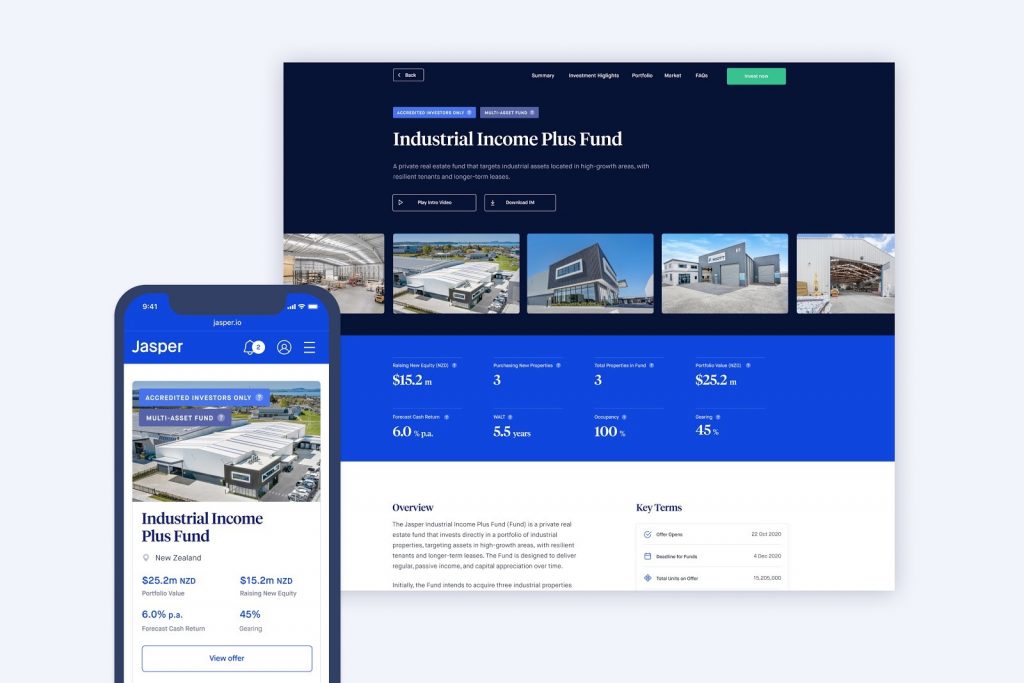 Source: Jasper
The Industrial Income Plus Fund
So, what's the next for Jasper? 
Jasper's most recent offer is the Industrial Income Plus Fund. This private commercial real estate fund invests directly in a portfolio of industrial properties located in high growth areas, with resilient tenants and longer-term leases. The fund's goal? To deliver investors regular passive income and capital appreciation over time.
The key highlights of the Industrial Income Plus Fund are:
Immediate diversification. This portfolio includes three assets in Hobsonville, Papakura, and Mangere, all high-growth areas. It offers immediate diversification through one simple investment vehicle.
High yielding cash returns. The portfolio is fully let, offering investors an initial cash return starting at 6% per annum, with distributions being paid monthly.
Tax-efficient investment. The fund is a portfolio investment entity (PIE), with the top tax rate capped at 28%.
The deadline to register your interest
For investors solely focused on residential property or traditional syndication arrangements, Jasper's Industrial Income Plus Fund offering and digital experience may offer a welcome change of pace.
Jasper's Industrial Income Plus Fund is open now and is being offered exclusively to wholesale investors. The fund's portfolio of properties is currently valued at $25.2m and is forecast to return investors 6% cash per annum. 
Investor interest is expected to be enthusiastic. Jasper's previous fundraising round was fully subscribed in 24 hours — and this new fund is likely to experience a similar uptake.
Limited units are available now on a first-come, first-served basis.
👉 >> Click here to find out more about investing in Jasper's Industrial Income Plus Fund today <<
Regards,
John Ling
Analyst, Wealth Morning
(This article should not be construed as any financial or investment advice.  This opportunity is independent of the publisher and may be subject to eligibility.  To obtain advice for your specific situation, please seek independent financial advice.)