We're sitting out on the new deck. Steaks off the BBQ, cut on a wooden board. Medium rare with Béarnaise sauce. The Black Pig Shiraz in glasses — one of my favourites. The view over the inner harbour to Rangitoto Island beyond.
'You should never sell this house,' our friend says.
She understands the industry. She and her husband  have built up a good property portfolio with homes in London, Jersey, and Auckland. To provide for family. But few know this. It's not what matters to our friends.
They're back in the country for a short visit. So we're having dinner together. Good times.
'Funny you should say that,' I reply. 'We were thinking of a change.'
You see, I grew up with countryside all around me. Space. When I was a kid, a market garden behind our house. I roamed nearby farms with my mates. Testing electric fences with blades of grass before climbing over.
Back then, we had about an acre, next to a giant watermelon farm. Room to build huts. And tame a wild hare who became my pet for several years.
Sometimes 800 square metres in Auckland doesn't cut it. Even if it's within about a 2km docking range from the CBD.
So, we've been considering 5 acres. Just north of the city.  With a pool. And paddocks.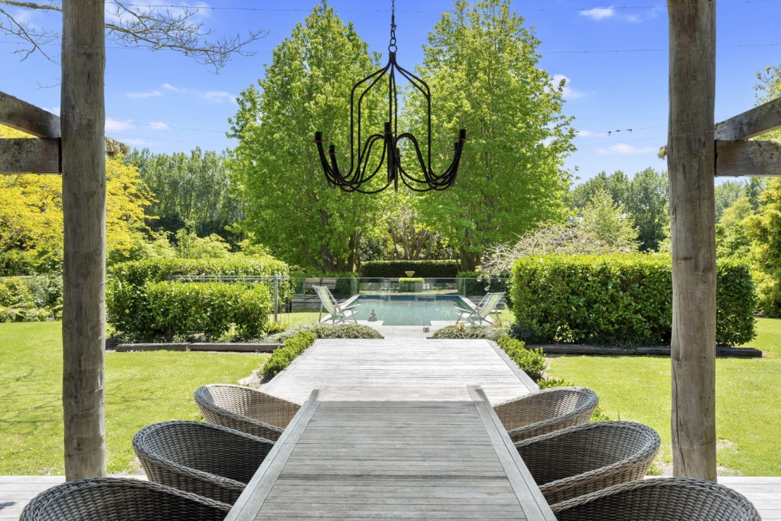 Source: Trade Me Property
Lifestyle housing dream
But I'm also wary of this lifestyle dream.
While people love the space and freedom, there are tales of cost and bloody hard work. And long periods in the car.
In life, to gain something, you must also often lose something else.
Well, fortunately, my wealthy friend gave me a good piece of advice on this. On making major life or asset decisions.
Since she's a global lawyer who routinely advises wealthy families around the world, I respect her opinion.
'You should rent one first,' she says, regarding the lifestyle-block option. 'Renting something is a good low-cost way to try something out. Before you spend a lot of money or change your situation. Especially since the property could be really illiquid. And then you get stuck.'
Rent, test, and see
Makes perfect sense. Before you invest a huge amount of money in a plan or a property or some other asset, see if you can rent it first at far lower cost. Before you get stuck. And be sure this is what you want.
Because the reality is you don't know how something will be until you get into it. For quite some time.
And when renting is too hard, you may also find your desired area or type of housing for a week or so on Airbnb. A business that is transforming accommodation. And a potential IPO we're watching in our Lifetime Wealth programme.
Liquidity trap
This advice is pertinent. I've seen many cases where property has been hard to shift. In Europe, friends had homes on the market for a year or more. And I've seen the same in regional areas of New Zealand. And in attractive country-living zones of Auckland.
You don't want to be in something that's not easy to get out of. Life can change fast. And then you need access to your cash and opportunity.
As for liquidity and outlook, here's my view on where certain asset opportunities may be heading in 2020…
European stocks
Large, actively traded value picks on the London Stock Exchange are my current favourite. There's still value around due to Brexit. The shares are actively traded. You can usually sell and settle your cash within a few days.
Of course, there's the risk you need to sell at a down point. Or you lose on the currency cross. But, again, you have to play the value card to make it on both counts.
Australasian stocks
The NZX seems really high. Hard to find value at all. Of course, larger listed stocks are all pretty liquid, and again, you should be able to cash out in a few days if needed.
The ASX offers only slightly better value opportunity, due to variety. And the current distressed AUD could help. (AUD.NZD cross sits around $1.03 to $1.04 at the time of writing).
Generally, with shares, larger traded securities on major exchanges provide good liquidity. It's the small-caps and alternatives than can pose an issue.
Auckland housing
Those active in the market tell me rental demand is strong. Anything well-located, below the median price of around $900k is selling. So that provides reasonable liquidity over about a month. The number of days to sell, on average, fell to just 31 days in Auckland in December.
The trouble is in higher-value properties. Or 'special' properties.
Those north of $1.5m. Or located in lower-demand areas, such as countryside living or less central lifestyle suburbs.
And one reason for this may be the foreign-buyer ban. For example, let's take searches in my favoured countryside area — potentially a future urban zone of Auckland. You'll notice what appears to be some foreign or recent migrant buyers trying to get out.
One case has been on the market many months. The owner will desperately meet the market. 'Ignore CV and all previous prices,' the ad promises.
It seems to me that the icing will have to melt in Auckland. Higher-value properties, especially out of central areas, will have their prices forced down.
What about at the lower end? A dearth of new construction and a willingness to adopt more density living could see mid-range prices stabilise rather than increase any further.
What will I do?
Probably keep investing in what I know — shares. Returns seem to be outpacing residential property on dividends alone.
And across the developed world, history tells us that a great business can generally outperform a suburban home.
But rents in New Zealand are likely to keep going up, despite all the pressure on landlords. So we'll still have a nasty housing crisis. That makes people homeless. And pushes our young out of the market.
Meanwhile, migration continues thoughtlessly at steam to maintain our slender GDP growth.
We need skilled people to come looking for a better life. While retaining the Kiwi dream of 'Your House, Your Castle'.
A population and housing plan is needed
If I was the government, I would start a home-building plan. Not KiwiBuild. But a plan to flood the market, especially in Auckland, with rental homes and apartments. And I'd throw the yield back into the tax coffers.
Let's face it: the government can obtain property finance far cheaper than any Auckland mortgage broker. So the financial equation may not be bad. And when you have crazy housing shortages, that's reason enough to become the country's largest landlord.
Then let's float that housing business on the NZX in a shared-ownership model, as was done with the profitable power generators. And we can all own a piece of the action in a liquid and sustainable way.
The upside could be that speculative and rental property investment becomes less attractive. To the ordinary punter. Since it's hard to compete with the government.
New players could very well switch to investing into productive businesses instead. Like shares, where the return could be better, creating a force we've long sought.
And then maybe I can go rent and try out that lifestyle dream for a season at a great price.
Regards,
Simon Angelo
Editor, WealthMorning.com