When I was working in finance in Europe, 'Spreadsheet Phil' was the firm if drab hand in control of Britain's finances under the Theresa May government.
Philip Hammond, Chancellor of the Exchequer from 2016 to 2019, was conservative with a small and large c. Delivering 'steady as she goes' financial management. And the news media loved to portray him as the boring accountant. Graphs always on display. Poring over spreadsheets while on holiday.
And so the lead-up to Brexit crawled but delivered better-than-expected numbers.
Perhaps, as we're now seeing, this was a missed opportunity. As Boris Johnson has been saying: the UK can thrive without the EU if it navigates its own bold economic policy.
But what could we expect from 'Spreadsheet Phil'? He was a remainer. His heart was never in leaving the EU.
Well, the spreadsheets are gone now. The pound is up. Our FTSE picks are well up. And now what's left is to keep track of the capital gain, currency gain and dividends.
Fortunately, we've come across one tool that does all this.
And it doesn't involve spreadsheets.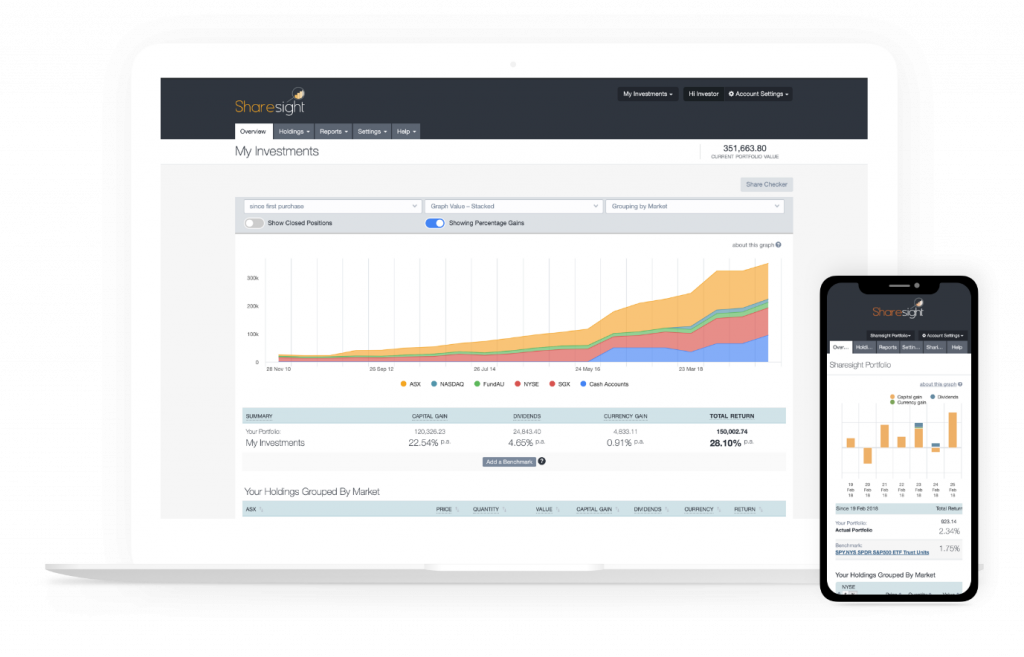 Source: Sharesight.com
Sharesight began as a New Zealand father-and-son team — Tony and Scott Ryburn — seeking to properly track the performance of their DIY share portfolios.
As the number of holdings, dividends, corporate actions and so forth built up, they experienced what many of you have gone through — the nightmare of keeping track of everything, let alone understanding where real performance is coming from.
Rather than have a myriad of spreadsheets that need constantly updating, Sharesight puts it all in one easy system. It takes in live market feeds to keep your records updated in real time.
It's grown to become one of the most popular portfolio-tracking systems in the world.
What I really like about Sharesight is it provides automatic dividend updates and reports, including them in your performance calculation. It also considers currency gain or loss across your portfolio. It also integrates with Xero to provide the reports you need to complete that part of your tax return.
If you already have your shares on a brokerage platform — or even a few different platforms — you can also upload files into Sharesight.
This provides a better way to measure your total performance, spanning dividends, currency impacts as well as capital growth.
Then, if you're wondering how you're going as your own investment manager, you can also benchmark the performance of your portfolio against over 200 ETF funds. Can you beat the market or not?
Sharesight is continuing to expand and grow its features. It's used by investors worldwide and provides 20-minute delay or end-of-day price tracking across most major stock exchanges.
The key to Sharesight is that it automates portfolio tracking with live data. And it provides an instant snapshot on your total return, considering all the drivers of return.
So if you're wanting to know if your share portfolio is outperforming property, your KiwiSaver account, 401(k) plan or other managed funds, this is an economic and smart way to do so.
Well, in the UK, 'Spreadsheet Phil' is gone now. As we move toward the Brexit deadline, the new Chancellor of the Exchequer is Sajid Javid. He's told the media he's a 'low tax guy' and plans to simplify things to achieve economic growth.
A bit like Sharesight. No spreadsheets. Just straightforward tracking of all return drivers to help you achieve a productive portfolio.
Right now, you can sign up and put Sharesight to the test with a special offer for followers of Wealth Morning.
Happy investing!
Regards,
Simon Angelo
Editor, WealthMorning.com