Of all the world's cuisines, which is your favourite?
That's a useful question in an increasingly mercantile world.
Globalisation is littered with problems — from industrial slavery in Asia to job losses in America.
So more and more countries are turning their backs on it. Pushing out their own goods and technology as the way forward. And defending their markets with tariffs and other measures.
As investors, the best we can do is to catch the best companies, ride their growth and share their profits.
The best opportunities in the food business
What's ruling online search? You might consider Google [NASDAQ:GOOGL]. What about mobile consumer technology? Apple [NASDAQ:AAPL].
But what about food? We all need to eat. And in a volatile global trading market, the food business could be a good defensive investment.
So, given a choice, what is the world's favourite food? And are there financial instruments to capture that trend?
You might think the globe has been overrun with McDonald's [NYSE:MCD] or other multinational fast-food offers. McDonald's has been something of a stock market darling. Holding its own through difficult times and delivering pleasing growth while paying dividends.
The world's favourite cuisine
Well, the other week, the debate was settled by The Economist. My favourite cuisine is also the world's. When it comes to the culinary deficit, there's one country that boasts a vast surplus.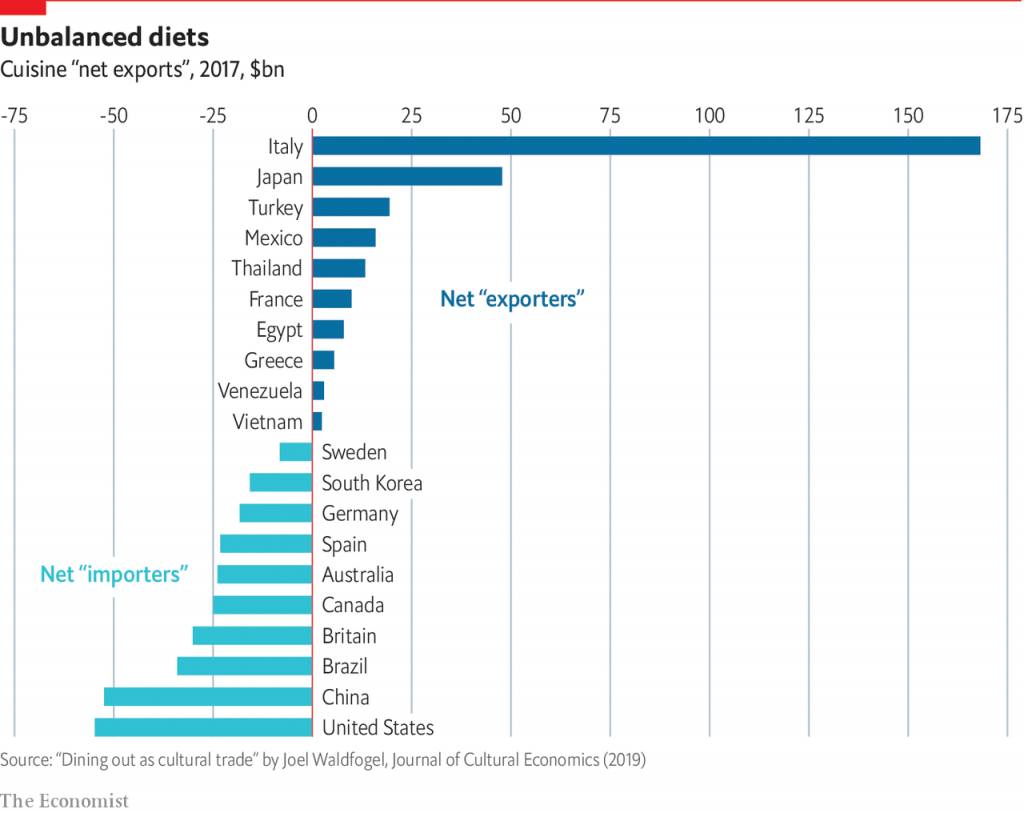 Joel Waldfogel at the University of Minnesota studied restaurant listings and sales figures around the globe. Then he estimated world trade in cuisines for 52 countries.
So the focus is on which food cuisine is the most in-demand at restaurant tables.
If you're going to open a restaurant, sell food or invest in a food company — at least, according to his food study — this is where the demand-side opportunity sits.
No surprise to me. It's Italian, by a long margin.
Who can resist a delicious pizza, pasta or Scaloppine Marsala?
Yet, there are some generous oversights in the paper. Waldfogel does not consider authenticity. I'm not sure many Neopolitans would consider much, if any, of the Domino's Pizza [NYSE:DPZ] range as the genuine article.
Still, there's something in this.
The performance of Domino's Pizza
Over the past decade, the Domino's stock price has increased from under $4 at the end of 2008, to nearly $230 today.
If you'd bought 10,000 shares then — which I wish I did when I had the opportunity — you'd be sitting on well over USD$2 million in pizza shares, plus approximately 20-30k in annual dividends.
Here's what I'm betting: the opportunities for new and exciting food companies are yet to come. They will combine old favourites — like Italian cuisine — with new trends in convenience and health.
What we are seeing is a move away from mass-packaged foods companies like Kraft Heinz [NYSE:KHC]. Which Warren Buffet discovered to the detriment of his portfolio.
In our premium newsletter, Lifetime Wealth Investor, we're looking into opportunities to catch the new wave in food demand.
Could you find the next Domino's there?
Regards,
Simon Angelo
Editor, WealthMorning.com
Important disclosures
Simon Angelo owns shares in McDonald's Corp [NYSE:MCD].