My wife has one of the most important jobs in New Zealand.
She is a high school maths teacher.
As I march toward retirement age, her students will be taxpayers at the peak of their earning potential.
So we need as many of those kids as possible to be good in maths. And we need high-earning jobs to keep them in this country.
You'd think, given the strategic investment teachers make, the government might do more to reward the profession.
Instead, the last budget focused on mental health. And as I analysed it, I wondered when I too would end up going crazy.
Want to improve mental health? Financial wellbeing shouldn't be ignored.
1.Pay the 70,000 teachers a salary that recognises their strategic investment value.
Attract the best people to the teaching profession. Let them impact the educational lives of approximately 476,000 children and 287,000 teenagers.
2. Cut the company tax rate for the 535,000 enterprises who employ 2.2 million New Zealanders, giving them more room to invest.
The OECD found back in 2017 that economic investment in NZ could increase by cutting company tax. At 28% it's well above the OECD average of 21.4%.
And we've seen the boost to the US market and jobs after the Trump tax cuts. Boeing alone signalled upping Dreamliner production by two planes a month, adding thousands of jobs because of the cuts.
New Zealand businesses don't invest enough because by global levels, they're penalised. Try to retain profits for future reinvestment and it costs you 7­–15% more compared to the US, UK, or Ireland.
3. Reduce compliance on businesses and individuals.
New Zealand is slipping on the Global Competitiveness Index. We sit 23rd. Australia 16th. Britain 12th. The US 4th.
Compliance seems to be the fastest growing job area in New Zealand. Try to build something — you need a complicated and expensive permit. Enter certain industries — you need a licence involving hundreds of pages in application. Various regulators are now among our largest employers.
Regulation feeds on itself. Rules beget rules. And the freedoms we once enjoyed are being strangled by red tape. I wonder when we'll get to the point where the average Kiwi can't get out of bed and spend a day without breaking numerous laws, most of which they aren't even aware of.
Why is the US currently leading the developed world in economic and job growth? One reason is that the Federal Register — the government's rulebook — is being cut at a record rate. It now has 36% less pages since Trump took office. And it's the thinnest since 1993.
I'm not saying the market doesn't need some rules. But here in NZ, we're starting to tip control over economic success.
4. Fix housing unaffordability.
84% of first-home buyers in Auckland now suffer below-average incomes after housing costs and 52% of renters. Auckland holds the most job opportunities. But housing affordability is impacting mental health.
Why are homes so expensive in New Zealand? Because it's hard and expensive to build. Because local councils strangle development with rules. Because previous governments sold off the housing stock to migrants in bulk, and before the foreign buyer ban, floated them on a global market.
In my part of Auckland, typical family homes sit around the $2 million mark. Thinking about the other dads at my local school, a good number don't derive their income from NZ. One advises in the Middle East. Another consults in Silicon Valley. We have a telco contractor in Papua New Guinea, and previously, an IT commuter to Singapore. These guys are often on aeroplanes.
Which brings me to the next issue:
5. The low wage trap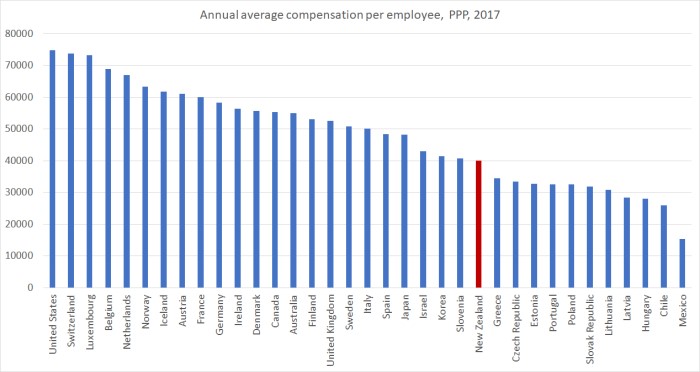 New Zealand has low real wages, and they don't seem to be getting much better. Why? Mass immigration has contributed to GDP growth — but not so much to GDP per capita. In other words, more people, more cars, more demand — but more competition for jobs, pressure on wages, and in real terms, little growth.
A lack of investment in productive business and innovation. The majority of Kiwi wealth is invested in housing. I suspect there's a correlation between low wages and too much money tied up in real estate rather than productive industry.
What can you do as an investor?
As a reader of Money Morning NZ, you probably already recognise the power of investing in the future. You probably agree that investing in teachers and education will make tomorrow better. And in your own portfolio, you likely know investing in great businesses worldwide could contribute as much to your income as a job might.
If you're income-focused and not up for the higher risk profile of tech stocks, another company I like is Z Energy [NZX:ZEL]. It's out of favour with the market since it sells fuels — and note, a decline there is a risk for this business. Yet, the company has a strategic plan refocusing the business on transport innovation and convenience.
Pursuant to this, it's rolling out fast-charge stations, recently acquired most of retail power wholesaler Flick Electric, and is investing surplus cash flow into a revenue-extension programme. This covers areas like alternative fuels, vehicle-sharing and leveraging the Z retail network through Dropbox centres and drone deliveries.
Z is possibly the best-positioned retail business to leverage future transport trends. 80% of NZ's population live within 5km of a Z Group site.
Meanwhile, the company is highly cash generative. Revenue in FY19 was $5.45 billion, nearly eight times as much as market darling Auckland International Airport [NZX:AIA] — which clipped in only $684 million in revenue last financial.
Dividend yield at time of writing for Z is a passive-income fuelling 9.7% per annum.
Investing capital into high-yield businesses can supplement, even overtake your wages. A well-structured $1 million high-yield portfolio could bring in $70,000 per year.
Of course, this income is not without risk. Dividends are subject to company performance and strategy. Their yields go up and down. In hard times, they can get cut altogether.
But then no job is for life or without risk either. And if you want to build some wealth and passive income, you've got to be prepared to embrace some risk.
The trouble is taking risk can impact your mental health. It goes against the compliance culture. Or investing in small business. Or stretching government budgets to pay teachers more.
But an individual only has a few options. Vote. Leave. Invest.
The invest option usually works out best.
Regards,

Simon Angelo
Analyst, Money Morning New Zealand
Important disclosures
Simon Angelo owns shares in Z Energy Ltd [NZX:ZEL] and Auckland International Airport Ltd [NZX:AIA] via wealth manager Vistafolio. The value of shares may rise as well as fall, as may any income from them. No recommendation is given.