For betting shop Ladbrokes, it was their largest single bet.
$1 million Aussie dollars on Bill Shorten's Labor Party winning the Australian election on Saturday.
The New South Wales based punter stood to make $230,000 based on the odds.
It was only his second bet with the agency. And it seemed to follow Shorten's near tearful response to a nasty story in The Daily Telegraph. It accused him of embellishing his late mother's story of giving up a career in law to go teaching so she could care for the kids.
But the punter didn't throw down a million bucks because he felt emotional about Bill Shorten. Labor was expected to win. They were ahead in the polls and had been for years.
Sportsbet thought their Labor betters had already made an early call on the election. They were so certain of the result they paid out early.
Our million-dollar Ladbrokes punter was not so lucky.
What really happened in Australia?
When Scott Morrison's Liberal-led Coalition won again, it turned out to be one of the worst failures for pollsters ever.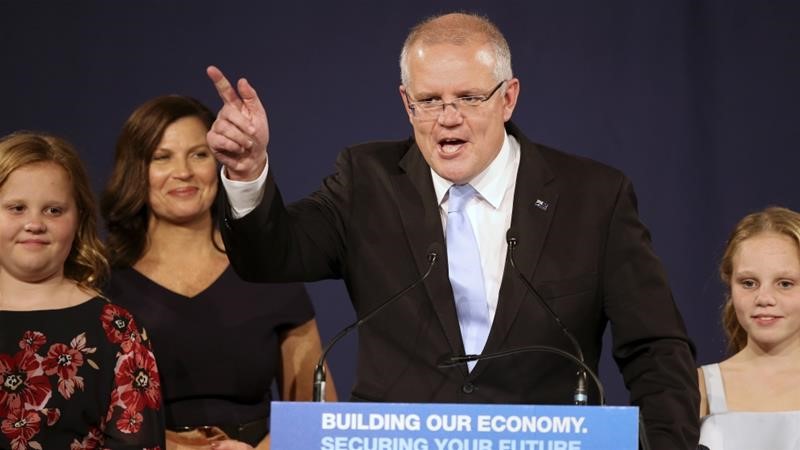 There's a lesson here. When placing bets, ignore them. They got Trump wrong. Brexit wrong. ScoMo III (Scott Morrison's Liberal Party third term) wrong.
The reason is the wide divergence between what people say and what they do.
Call a typical Aussie up to take part in a poll. They might toe-the-line on some of the popular issues of the day. Climate change. Turning against traditional mining industries. Open immigration to resolve the issue of ageing demographics. Willingness to pay a bit more tax to support society.
When they put the phone down, there are more pressing concerns.
'Will my kids ever earn enough to buy their own home?'
'When will I get a pay increase and some tax relief so I can give the family a break?'
'Will there be good jobs available for my son or daughter?'
'What will it mean if we can't claim franking credits anymore on our dividends?'
And people do what they've always done — the best they can for themselves and their families.
When it comes to voting, they might like some of the Labor ideals. But with parts of the Australian economy starting to brownout, they're worried. So they vote for what they think will be best for the economy.
Queensland experienced one of the strongest swings toward the Coalition.
The state is grappling with high rates of youth unemployment in many towns. It depends on mining and industry, more so than big service-focused cities like Sydney.
Case in point — Rockhampton. It's an agricultural and industrial hub about 600km north of Brisbane. It's known for bulls, reasonable home prices, and a big Stockland shopping mall with Woolies and a Kmart. One of the many regional cities that form the backbone to Australian life.
It just swung more than 10 percentage points away from Labor. The right-wing One Nation candidate took 17% of the vote. [openx slug=inpost]
Embracing economics over ideology
Labor and the left-wing in Australia, Britain, and the US used to command a resounding share of white, working, and middle-class votes. The largest voting group in these countries.
Today, a generation of people have realised that their families and countries are not going to get ahead under ideological policies. They may not like Trump, but they do like job growth, getting on top of illegal immigration, lower taxes in their business, and the government leaving them to get on with their lives.
ScoMo appealed to millions of 'quiet Australians' with these sorts of policies. And on top of that, he's a likeable family guy. A cap-wearing, thumbs-up Christian who compared his miracle win to the birth of his daughters, who were conceived naturally after 14 years of fertility treatment failed.
Investors, come on board
It was a bad bet to put $1 million on Labor taking Australia on Saturday.
The polices alone made the Liberal Coalition more investable from an economic standpoint:
The Coalition:
Raise 19% tax threshold from $41k to $45k
Flatten tax brackets so anyone earning between $40k–$200k pays a marginal tax of no more than 30%
94% of Australians will pay no more than 30% tax
No changes to negative gearing or capital gains tax
Continue rebates on franking credits (for tax paid on share dividends)
Remaining open to a high-efficiency coal plant in Queensland
Strong border protection regime where asylum boats are turned back
Reinforce Australia's alliance with the USA
Labor:
Tax cuts only for people earning below $48k
Abolish negative gearing tax breaks for investors buying homes from January
Halve the capital gains tax discount for investment properties brought from January
End rebates on franking credits
National EV target of 50% of all new vehicles by 2030, with businesses able to claim deductions
Will maintain asylum boat turnbacks but increase humanitarian and refugee migration to Australia
Seeks a more independent relationship with the USA and a 're-framing' of the China relationship.
For anyone looking to build wealth in the share market, the Coalition's policies are similar to Trump's. Lower taxes. Focus on growth. Manage labour supply.
What has happened in the US to stocks since the election there in 2016?
A sustained and welcome buy-and-hold bull rally as US companies continue to grow and post strong earnings.
In Australia, since the weekend, the share market has been bubbling.
Westpac [ASX:WBC], Australia's oldest bank, is up nearly 12% at the time of writing. It's on track to pay a dividend yield of 6.77%. This was one of our stock picks in our February Wealth Report, when we mentioned there we felt the bank may have been oversold.
The right time
With Australian housing markets in shock and the prospect of the first Australian recession in nearly 30 years, the Liberal win has come at the right time for the markets.
As Bill Clinton's successful 1992 campaign rang, 'It's the economy, stupid.'
As investors in the ASX, we need a strong Australian economy. And that means allowing businesses and individuals to get on with finding their own potential and doing the best they can for their families.
As it stands, Australia has just positioned itself to be an even luckier country.
Unfortunately for us here in New Zealand, Australia has just created a stronger drawcard — higher wages and lower effective taxes.
We need to compete. And place better bets.
Regards,
Simon Angelo
Analyst, Money Morning New Zealand
Important disclosures
Simon Angelo owns shares in Westpac [ASX:WBC] via wealth manager Vistafolio.