21-year-old Kylie Jenner just became the youngest 'self-made' billionaire of all time.
She fully owns one of the hottest make-up companies ever, Kylie Cosmetics…which has exploded in recent years due to her flagship US$29 lip kit. A product she designed for anyone wanting 'the perfect pout'.
But for Kylie, it might be hard to find a reason to pout as her net worth has recently eclipsed the ten-digit mark.
It's a feat that few have achieved…and much fewer in their 20s.
She's joining Facebook founder Mark Zuckerberg, who hit that milestone at 23…Twitter's Jack Dorsey…and Snapchat's Evan Spiegel, who crossed the threshold in his early 20s.
As someone who's admittedly out-of-touch with the cosmetic world, I was shocked when I heard the news that a make-up start-up was hot on the heels of Facebook.
Kylie Jenner's leap into financial success also signals a new era of wealth creation.
For the past 150 years or so, the 'self-made' wealthy elite have done so via a mix of three factors:
Strong business acumen
Strategic investments
Generational wealth accumulation
Fame, for the most part, was a symptom of the wealth…not necessarily the cause.
But with the birth of social media, a new factor has come into play — social influence.
Those who dominate this field are called 'social influencers'.
They tend to have large numbers of followers connected via various social media channels like Twitter, Facebook, Instagram, or Snapchat. They leverage that network…and the idea that these followers look up to the influencers…to sell.
Some sell their own products. Others endorse products for companies willing to pay for the post.
It's an effective way to reach audiences, particularly the younger audiences who surf social media from dawn until dusk (or longer).
For example, Kylie Jenner has 128 MILLION followers on Twitter…and that 128 million followers make up a very targeted audience — young women.
If you're a businessperson trying to sell a new product to young women, you could reach out to Kylie Jenner's social media manager and strike a deal for Kylie to endorse your product in a post.
Want to guess how much that post would cost?
Try US$1,000,000.
That's right. You'd have to fork over a million bucks to get Kylie to make a single post about your product. [openx slug=inpost]
Here's an example of what it might look like…this is Kylie promoting her own brand: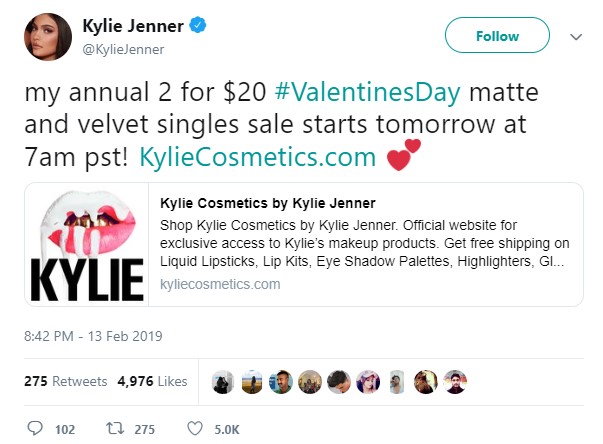 Source: Twitter | @KylieJenner
Now, you may doubt that a tweet like that could generate much business…but that sort of marketing is EXACTLY how Kylie Jenner made it to a billion dollars.
Regular endorsements on social media — it works.
However, when she's described as 'self-made', you know that's not necessarily true.
She's the daughter of Olympian and TV personality Bruce (now Caitlyn) Jenner. The sister of Kim Kardashian West (and therefore the sister-in-law to rapper Kanye West). Her whole family starred in the TV show Keeping Up with the Kardashians when she was 10.
It's hardly pulling yourself up by your bootstraps.
But credit where credit is due, Kylie Jenner has leveraged her fame and name better than anyone else in her family.
(Arguably more famous Kim Kardashian West is only worth a mere $350 million)
Kylie has converted attention into dollar bills…like Bill Gates converted technology…or Warren Buffett converted investments.
And as a result, she's tipped the $1 billion mark at age 21.
Now, before you run off to start your own Twitter to hawk your own 'perfect pout' lipstick…it's important to acknowledge that Kylie's success may have happened because the stars aligned in her favour.
Natural(ish) beauty
Early fame
Wealth to invest
An influential family
The birth of social media
All of these variables fell perfectly into place for her to dominate her market today.
As my colleague John pointed out to me, this is exactly what Malcom Gladwell hits on in his book Outliers. That the idea of 'self-made' success can be debunked by simply looking at the environmental factors that led to that success.
Like the fact that Bill Gates' high school was one of a few in the entire United States that had a computer club. Without that, it's unlikely that Microsoft would have ever come about.
So calling Kylie Jenner's success as 'self-made' might be a bit farfetched…but she's certainly capitalised on a new channel to wealth…and she's done so faster and more effectively than any other person in history. Good on her…
While neither you nor I will likely enjoy similar success as a social influencer, we might be able to profit off others who are.
There are many influential entrepreneurs growing their businesses through social media. There are also successful companies leveraging social influencers to generate sales.
Both of those represent opportunities to savvy investors.
The question becomes — how will you capitalise?
Best,
Taylor Kee
Editor, Money Morning New Zealand