Looking for a job? Know someone who is?
If so, you're probably familiar with the tortuous application process that modern jobseekers endure.
It's the painful result of the fusion of traditional human resources and automation technology…and has resulted in making life miserable for those applying for jobs.
20 years ago, recruiting was very different. You'd put a job ad out, maybe as a classified in your local paper. Maybe put up posters in a few cafes. Mostly, you'd rely on word of mouth to generate a couple of promising leads.
Depending on the job, you'd get a dozen applicants or so…weed through the mediocre ones…and hire the best candidate.
These days, the process is large-scale and utterly impersonal.
Let's say you need to hire someone for a position. Forget the paper — you go straight for a job board like SEEK or Trade Me or LinkedIn. You put up the job ad…and watch as applications pour in.
You see, with the internet, you can instantly reach incredible audiences and cast a very wide net. The result is that you can muster heaps of applications in a short amount of time, making your job of hiring a strong candidate a whole lot easier.
For example, the Indian state of Uttar Pradesh posted 368 openings for clerical jobs in its local government. They received 2.3 million applications.
Combine that with the advent of robot crawlers — that'll automatically weed out the poor candidates — and you've got a pretty good setup going.
But here's where we've gone wrong…
This process of candidates applying to a job ad is foundationally a transaction. The company is posting an advertisement, and applicants are responding with CVs and cover letters.
In return for a CV and a cover letter, the company owes the applicant a response, doesn't it? In the spirit of quid pro quo?
Maybe it's a quick dismissal: 'Thank you, but your application does not meet our minimum qualifications.'
Or an update: 'We're reviewing your application now and will respond with a decision within a week.'
Or an offer to interview: 'Thank you for your application. We'd like to know more about you. Are you free for an interview next week?'
Seems simple, right?
Well, unless you've searched for a job recently, you might not know that companies rarely respond to applicants any more.
Even after you customise your CV for the job ad, write a personal cover letter, fill out the company's lengthy online application — you probably won't hear back.
Most applications are met with radio silence.
A Reddit user, u/strikerhawk, made a wonderful flow chart describing his six-month job search. Over half of his applications never got a response: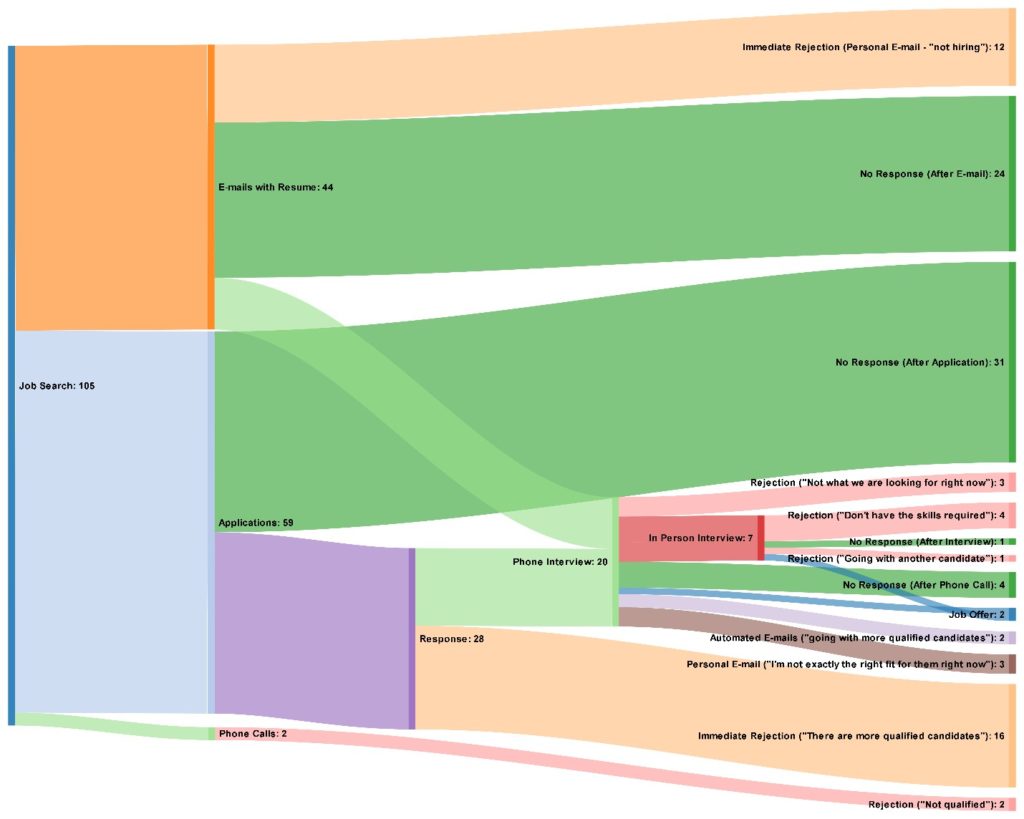 Source: Reddit | u/strikerhawk
[openx slug=inpost]
Forbes suggests that this is because most enterprise-level applicant-tracking programs are out of date:
'Any company that treated its customers as badly as it treats job-seekers would be out of business! It's a [shame] how disgracefully job-seekers are treated by many if not most medium-sized and large employers.

'The recruiting process is broken. It's been broken for years. Applicant Tracking System technology is straight out of the 1980s and never made sense in the first place. We don't force our customers to fill out forms in order to do business with us.'
Quartz thinks it might have to do with angering rejected candidates:
'Employers may also worry about getting sued from rejected applicants, or simply fear an angry response. Rachel Bitte, the head of HR at Jobvite, a recruitment company, has a word for those companies: "chickensh*t." Smart employers should not only find the time to notify applicants, but offer constructive criticism, Bitte believes. "Give them something that helps them improve," Bitte says. "If you give them something you can't do anything about, they'll get angry and they'll get on Glassdoor."'
Maybe it's a bit of both.
Perhaps it also has a lot to do with the growing emphasis on automation — taking people tasks and turning them into robot tasks.
Is modern hiring an example of automation gone wrong?
I'd say it is. Because while filtering through applications has become impersonal, the job ads themselves ask for personal effort on behalf of the applicant.
Writing a cover letter, for example. Filling out the online application. That all takes real personal work…and time…and I believe that it deserves to be met in kind with a personal response (even if it's a rejection).
To make things interesting, a smart guy named Robert Coombs created a robot to apply to the jobs on his behalf. Pitting robot versus robot.
In his article in Fast Company, Coombs describes his unique strategy:
'I cobbled together a Rube Goldbergian contraption of crawlers, spreadsheets, and scripts to automate my job-application process, modestly referring to it as my "robot."

'My robot aggregated hiring managers' contact information, then submitted customized emails with my resume and a personalized cover letter. Soon, I was imagining myself telling the story of how I'd turned my job search into a super-precise job firehose.

'I tracked how many times my cover letter, resume, or LinkedIn profile was viewed. I also tracked email responses (including from autoresponders). It wasn't a particularly elegant mechanism, but it was ruthlessly efficient. The first time I fired it up I accidentally applied to about 1,300 jobs in the Midwest during the time it took me to get a cup of coffee across the street.'
But how did Coombs robot applicant pan out?
Surprisingly, it failed to generate many interviews…because, as he deduced, his applications simply weren't being read. He could say whatever he wanted in a cover letter and it wouldn't affect the response rate…because no one was reading them.
As he investigated, he found that most open positions are filled via referrals, not by online applications. According to one hiring consultant, personal referrals lead to 85% of all critical jobs filled.
In other words, online job ads are more-or-less a sham. A formality. But not the actual way jobs get filled.
And unfortunately, that means a lot of wasted time applying to jobs, writing cover letters, personalising resumes, etc.
It seems that this is a clear case of automation going wrong, even decreasing the productivity of the workforce.
The solution? Let's make it personal again.
Unless a company is ready to personally go through applications, I don't think they have any business posting the ad for the world to see.
Keep it small, focused. Rely on personal pipelines. Reach out to contacts.
Or do as I like to do…open jobs up to customers first. If you're a reader of Money Morning, I already know you are thirsty for new ideas…contrarian in your thinking…unwilling to accept what the mainstream says about the world of money.
That's exactly the kind of person I want on my team.
So, if you're looking for a job now, keep an eye out in future issues of Money Morning NZ…you might just land a position. And at least you can bet you'll get a personal response.
Best,
Taylor Kee
Editor, Money Morning New Zealand