Is bitcoin dying?
It is a much different scene for cryptos this November compared to a year ago.
Last year, around this time, bitcoin was rising…and rising.
There was a lot of interest as bitcoin increased from US$1,000 to reach almost US$20,000 in 2017.
The graph below shows Google search interest for bitcoin over time. As you can see, interest for bitcoin was the greatest in December, coinciding with the price peak.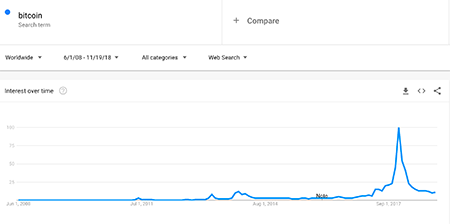 Source: Google Trends
Things have slowed since.
Bitcoin's price dropped in 2018 and interest seems to have quieted down.
Bitcoin's price stayed around the US$6,500 mark from September through to October this year, even as the stock market went through turmoil.
Now, after months of uncharacteristic calm, bitcoin prices are on the move again.
Last week, bitcoin fell below US$6,000, and at time of writing, bitcoin has plummeted below the US$5,000 mark
Why is bitcoin tumbling?
To be honest, no one is really sure.
Some are attributing it to the bitcoin cash (BHC) hard fork.
Bitcoin cash is currently the fourth largest cryptocurrency by market cap. Bitcoin cash separated from bitcoin last year to become its own currency.
Last 15 November, bitcoin cash went through another hard fork, where it divided in two: BHC ABC and BHC Satoshi's Vision (SV). Now both sides are involved in a war against each other as they fight for their own survival.
We are a bit sceptical about this reasoning, we don't see how the ongoing bitcoin cash war really affects bitcoin.
Yet it is creating a lot of doom about bitcoin, and where the price will go next.
Bloomberg Intelligence predicts bitcoin's sell off has long to go, and that could drop as low as US$1,500:
'After months of tranquility that became the envy of equity investors, the biggest cryptocurrency roared back into the public consciousness this week with the biggest sell-off since August, another fork and a cameo in a major semiconductor earnings report. Some digital asset industry pundits have already begun referring to it as the crypto winter.

'Bloomberg Intelligence says the drama's just starting. Analysts predict the price could fall to $1,500, which would indicate another drop of more than 70 percent from current levels. The digital token tumbled 12 percent on Wednesday alone to its lowest level in over a year, and has lost more than 60 percent of its value so far this year. Many of Bitcoin's closest peers, including XRP, the cryptocurrency also known as Ripple, fell in tandem.'
Yet, as we have written before, if you are dismissing cryptos based solely on bitcoin's price, you are missing the whole point.
Cryptos aren't dying…bitcoin is
Instead, look at what is happening behind the scenes.
Bitcoin's price is volatile. And while bitcoin's price keeps fluctuating, we are seeing more companies and people flowing into blockchain, the technology behind bitcoin.
IBM, for example, has been investing heavily in blockchain technology to develop solutions in finance, payments and shipping.
IBM has even been working with Walmart using blockchain to track food as it moves through the supply chain to increase food safety.
The Australian ASX stock exchange is looking at replacing its old clearance and settlement system with blockchain.
There is a lot of money flowing into blockchain.
A recent report by Research and Markets values the global market for blockchain at US$708 million in 2017, and they anticipate it could reach US$60.7 billion by 2024.
Coincidentally, as bitcoin's price is dropping, Switzerland has just approved its first Crypto Exchange Traded Product (ETP) backed by Amun.
Switzerland is a blockchain hub with plenty of blockchain start-ups setting up there.
With the ticker name HODL — a common crypto term that means to buy and hold — the ETP will begin trading in the Six Swiss exchange rate in the next few days.
It will be keeping track of bitcoin and four other coins: bitcoin cash, ripple, ether and litecoin.
According to Hany Rashwan, Amun's top executive, it could allow for institutional investment of bitcoin:
'The Amun ETP will give institutional investors that are restricted to investing only in securities or do not want to set up custody for digital assets exposure to cryptocurrencies. It will also provide access for retail investors that currently have no access to crypto exchanges due to local regulatory impediments.'
So, when you look at this space, don't just look at bitcoin's price, but take a look at what else is going on behind the scenes.
Best,
Selva Freigedo