Today, I'm excited to announce that New Zealand's first cannabis company is set to list next year. For those of you who have been following our coverage of the pot phenomenon, this could be your first foray into an explosive industry.
For those that haven't been following it, we believe that the potential legalisation of cannabis in New Zealand could shake up the investing world…possibly minting hundreds of millionaires overnight.
But more on that in a second.
First, NZ Super.
At the moment, you need to live in New Zealand for 10 years to qualify for Superannuation.
But a new bill is proposing doubling that residency requirement from 10 to 20 years.
Additionally, the clock only starts ticking after age 20…so you could theoretically put in 40 years of living in New Zealand before you're eligible.
Since you don't have to contribute to draw on the Super when you retire, you can see how the whole scheme can collapse if too many folks get pay-outs while too few pay in.
It's very much like a pyramid (scheme) that's been flipped on its head.
While this new bill might help delay the looming collapse of the scheme, it won't fix it. There are heaps of problems with the scheme…and it's not sustainable as is.
I'd love to see a bill proposed that turns the Superannuation into a tax-incentivised retirement fund (Like you'd find in Oz or the States). Give investors like you more control over how that money is used.
But I doubt it would ever happen. This government simply doesn't trust us with our own money. Better let them handle it, right?
For the money you can control, we believe there are several growing trends in New Zealand that could help investors fatten their nest eggs — one of which is cannabis.
A budding industry
If you've been reading Money Morning New Zealand for a while, you'll know where we stand on marijuana.
But if you haven't, we believe that marijuana as an industry represents a humongous opportunity for investors, particularly Kiwi investors.
Why? Because we have the benefit of seeing how these stocks skyrocketed in the Canadian and US landscapes…
And the results have been stunning:
Tilray, Inc. [NASDAQ:TLRY] up from US$20.40 in July to $122.50 at the time of writing.
Canopy Growth Corporation [NYSE:CGC] up around 100% since it launched in January.
AbbVie Inc. [NYSE:ABBV] has grown steadily over five years from $34 per share to $84.
That being said, cannabis stocks are taking a hammering right now in North America…
There's a variety of reasons why this is happening — market-wide volatility…low share float…controversial partnerships…
But we believe most of the downward activity is because of the mass exodus of speculators who were in it for the short-term gains…and are now moving onto the next newfangled sector.
Despite the sell-off, early investors are still sitting on hefty returns. For reference, the numbers for Tilray, Canopy and Abbvie above all include the recent downturn.
And that leads us back to New Zealand…
We believe that we're following a similar stratospheric path as cannabis stocks in Canada and the States…but five years earlier on the timeline.
Some of the companies we've been tracking — like Hikurangi Cannabis Company in Gisborne — have shown promise, but haven't made it past crowdfunding and venture capital.
What we've been eagerly waiting for is one of these trailblazers to make it onto an exchange. That way, investors like you and I can buy our tickets for what promises to be an exciting ride.
And, finally, it's happened.
Introducing your first investing opportunity in the cannabis world…
Waikato-based Cannasouth has announced plans to list on the NZX during the second quarter of 2019.
Cannasouth is a unique company. It's staffed not by dreadlocked hippies or red-eyed stoners, but rather pharmacists and businessmen.
It's heavily focused on the research side of things…having a close partnership with the University of Waikato. That's how they were able to get New Zealand's first Ministry of Health Controlled Drugs licence to extract and refine CBD and THC for research purposes.
And, at the moment, they've stated that they're fully focused on therapeutic applications and are not interested in pursuing recreational production.
In other words, this is a serious research firm manned by serious people…and when they go public, their stocks could lead to some serious gains.
Cannasouth is using funds from the CMP Growth Capital Fund to build new production and cultivation facilities in the Waikato region.
For now, those facilities will be used for research purposes only, but if legalisation occurs in the next couple of years, they'll begin producing larger quantities to meet New Zealand's demand for medicinal marijuana.
Co-founder and director of operations, Mark Lucas, believes that the stereotypical image of a teenager smoking a joint is completely wrong. Today, medicinal applications of cannabis are 'a lot more complex than people think.'
Here's what Cannasouth's product looks like: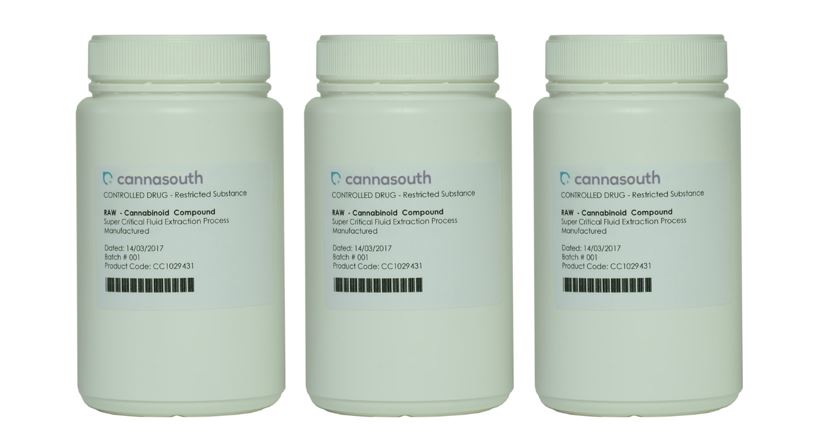 Source: Cannasouth
Not what you were expecting?
It's evidence of a changing face for this sector.
And, for investors, it's a sign of a rising sun — a new industry with new opportunities.
The pieces are falling into place — are you ready?
Best,
Taylor Kee
Editor, Money Morning New Zealand