American President Donald Trump is sure taking us for a wild ride, isn't he?
Regardless of what you think of the man, one thing is clear — he's being very active in the global marketplace.
He's initiated what many are calling a 'trade war' with China.
And that tense dynamic could have lasting effects on support economies like New Zealand's.
You see, our country is heavily lopsided when it comes to trade.
We export heaps more than we import.
Practically, that means we have a lot to lose when the global waters get a bit choppy.
That's why Prime Minister Jacinda Ardern recently said, 'It is a big focus for us to protect New Zealand's interests and we do that by supporting the rulebook, by operating under the predictable international order that New Zealand's always supported.'
In other words, when Trump and Chinese President Xi Jinping are off splashing each other, Kiwis can't avoid getting soaked.
We rely on calm waters to make our export-economy work.
And while our position as a third-wheel is a little awkward, it doesn't mean that there won't be opportunities during this time.
One of which is the Chinese tourism industry…and it puts Auckland International Airport Ltd [NZX:AIA] in the spotlight.
A high-flyer in the world of tourism
The Auckland Airport is a pivotal element in New Zealand's tourism industry.
In fact, of our 3.5 million visitors each year, 99% come by air…and 71% of those bounce through Auckland Airport.
And according to MBIE, it's not enough. They reckon that demand growth is going to outstrip capacity over the next seven years.
Which is exactly why Auckland Airport has been spending over $1 million per day on infrastructure, trying to keep up with demand.
With that sort of forward-thinking and heavy investment, it's no wonder that the Airport's stock [NZX:AIA] continues to be an over-achiever.
Here's how the stock's performed over the past five years:
Source: Yahoo Finance
From $3.67 to $7.41…a gain of 102%.
In the Airport's latest earnings report, chairman Sir Henry van der Heyden released the following stats:
Total number of passengers increased by 5.7% to 20.5 million.
Total profit after tax rose 95.3% to $650.1 million (including the sale of North Queensland Airport holding).
Underlying profit after tax was up 6.2% to $263.1 million.
Underlying earnings per share rose 5.8% to 22.0 cents.
Final dividend increased 4.8% to 11.00 cents per share.
Those are significantly positive numbers.
Underlying profit up 6.2%? Dividends up 4.8%? Passengers up 5.7%?
That's hard to argue with.
But for Auckland Airport, it's more the norm than the exception.
And they're not sitting idly with those profits. The Airport is a bit unique in that it's invested in the area around the airport too. Hotels. Car parks. Storage. It's got lots of projects going… [openx slug=inpost]
One such project is a brand-new $30–40 million dollar hotel being built just outside the airport.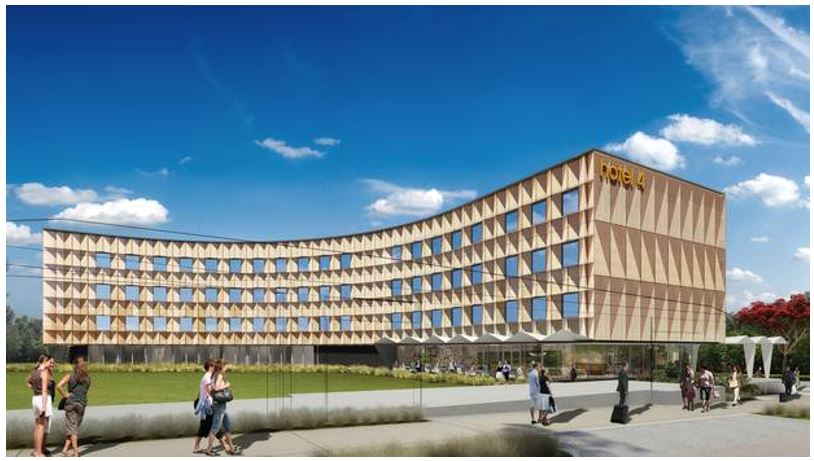 Source: NZ Herald
It's one of several hotels in the area owned by the Airport and designed to meet the demands of the entire spectrum of customers.
And it's part of the company's focussed effort to cater to the growing wave of tourists.
That's why Auckland Airport could be poised to take on — and profit from — the growing Chinese tourism industry.
In that vein, this week the Airport offered up to $175 million in six-year fixed-rate bonds. It's estimated that the bonds will pay out about 3.5% in interest annually.
The $175 million is geared to go towards the next phase of the airport's massive decades-long $2 billion infrastructure project.
The same project that could give Auckland Airport a big advantage as the tourism wave hits.
Picture it like a flood. It's going to pool up behind bottlenecks. These bottlenecks, to us, will be the companies that haven't prepared for the increased demand.
When this happens, most of the flow is likely to redirect towards the organisations with high capacity.
In other words, this trend will spill over into hotels, parks, parking, ferries, trains, etc.
Those that aren't ready may miss out on any potential gains on offer.
They'll simply incapable of handling the increased traffic. And the traffic will find somewhere else to go.
Keep your eye out for companies that understand this…and are acting now.
They could be the big winners down the road.
Best,
Taylor Kee
Editor, Money Morning New Zealand