The FAANGs had a great year in 2017.
If you are not familiar with the acronym, it stands for five US technology companies. That is, Facebook [NASDAQ:FB], Apple [NASDAQ:APPL], Amazon [NASDAQ:ANZN], Netflix [NASDAQ:NFLX] and Google's Alphabet [NASDAQ:GOOGL].
This year however, investors have mixed feelings about them.
Some investors are saying they are overvalued. They could be right. Amazon, for example, is trading at a PE ratio of 347.
Others are thinking they still offer a great opportunity. Investors like billionaire Warren Buffet, who bought Apple shares back in 2016, has bought some more shares in the first quarter of this year.
The thing is, while these companies look like tech stocks, they are much more than that.
Take Amazon, for example.
According to Forbes, Amazon is the world's third largest retailer. It is also number 83 on Forbes' Global 2000 list of the world's largest and most powerful public companies.
In fact, take a look at the chart below which shows what Amazon has done to US retailers between 2006 and 2016.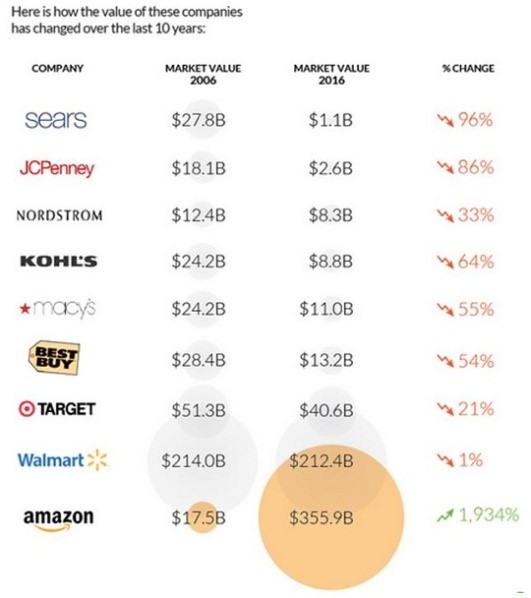 Source: Visual Capitalist
[Click to enlarge]
It is not surprising that retailers in Australia were — and still are —worried about Amazon's entry into Australia last year.
But, Amazon is not just a retailer.
Much of its revenue in 2017 came from Amazon Web Services (AWS), which are its cloud services.
Amazon is also trying to get into the food business. Last year they purchased the organic supermarket chain Whole Foods.
There is also its streaming service, Amazon Prime Video. It makes electronics…like Kindle reader, or Alexa.
And it is getting into space exploration through Blue Origin, a rocket company.
The same is true for Google.
Google started as a search engine, but it makes its money through advertising.
It also develops smartphones.
It has invested large amounts of money on artificial intelligence and autonomous cars.
It is involved in cloud services and real estate development. In fact, Google may very well develop your next home.
Recently it is also dipping its toes into the health sector.
Apple sells electronic consumer products, develops software, invests in artificial learning, and is involved in banking.
Netflix is a video streaming giant, but also a studio and a producer. It is affecting all media outlets — from TV, to big film studios, to movie theaters.
And then there is Facebook.
Is Facebook a social media company, an advertiser, a dating company…or a fake news publisher?
The truth is that the FAANGs continue to get into more and more areas of our lives. They collect massive amounts of data that can then apply to any other business.
They are aiming to be 'everything for everyone.' And the boundaries are becoming blurry.
The new FAANG
While you are for sure familiar with the FAANGs, have you heard of the BATs?
These are China's answer to the FAANG.
They are Baidu [NASDAQ: BIDU], Ali Baba [NYSE:BABA] and Tencent [HKG:0700].
They also had quite a good year last year.
Baidu is like Google, in the sense that it is a search engine. It also offers payment tools, apps and is developing autonomous cars.
It is investing massively in artificial intelligence. According to PR Newswire, Baidu has invested over US$1.5 billion on AI research in the last two years.
It is also working with China on developing smart cities.
Baidu is also looking at integrating its services to become a one stop service. Especially through mobile, which accounted for two thirds of its total search traffic.
As the company notes on their website:
'As Baidu grows and evolves in the age of mobile, we are taking mobile search to the next stage by connecting users with both information and services, enabling users to complete closed loop transactions and providing local merchants across multiple industry verticals with an integrated online marketing and transaction services solution.'
Alibaba is one of the world's leaders in e-commerce. It owes its massive growth in China to the fact that there are few modern physical stores, so people are comfortable buying online.
They are also the big promoters of single's day. This day in which Chinese celebrate being single, has also become a popular for shopping.
In China, Alibaba has its fingers in almost every proverbial pot. They encompass shopping, finance, cloud services, entertainment and healthcare to name a few.
Alibaba is also planning world expansion. Last year, Alibaba officially opened in Australia, installing its headquarters in Melbourne.
It is also rolling out Alipay, its online payment platform, around Australia. They have partnered with Woolworths [ASX:WOW] and Australia Post to increase their presence in the country.
And then there is Tencent
Tencent is one of the largest companies in the world.
Tencent is big on gaming, but it also provides social platforms, payments, music and e-commerce. It is putting money into everything from electric cars to asteroid mining.
Tencent's jewel is Weixin, or WeChat as we know it in the Western world. The mobile chat service has not really caught on outside of China…yet.
But WeChat is something of a super app. That is, what every app strives to be: everything for everyone.
The 'super app' allows you to do almost everything — from social networking to booking a doctor´s appointment to making payments. The platform has almost 1 billion monthly active users and has had quite spectacular growth. Only six years ago it had only 194 million users.
Tencent´s WeChat is also starting to catch on in Australia. The app has been advertising to target Chinese migrants and tourists. It is also offering a digital wallet service.
Tencent is competing in China with Alibaba and Baidu in a race to become a one stop shop for everyone. Their platforms are light years ahead of the Western world, where there is one app for each service.
That is, we use Amazon to shop, PayPal to pay, Spotify to listen to music, WhatsApp to chat, Uber to catch a ride…you get the drift.
For the Chinese companies, integration has been a big factor in their success, as it allows them to spot trends.
Until recently, there seemed to be two internet worlds: China and the rest of the world.
Western technology companies have tanked trying to enter to China. Just ask Uber, eBay and Google.
These Chinese companies are now starting to head overseas, and they may very well succeed.
That's why you should be keeping an eye on the BATs.
Best,
Selva Freigedo