It took us 14 long, creaky hours by train.
But that was OK.
After all, we were on holiday.
It was 2012, and my wife and I were on a six-month around-the-world trip. As such, we travelled at the pace of the locals as much as possible.
The plane would've only taken an hour. But where's the fun in that?
And the Chiang Mai to Bangkok sleeper train also saved us one night's accommodation.
Being a frugal Scotsman, this was an added bonus!
If you've been to Thailand or Southeast Asia before, you'll be used to the time warp that is public transport.
It truly is a step back in time, in a lot of regards.
But perhaps not for much longer…
You see Thailand — and much of Southeast Asia — is in the early stages of an enormous infrastructure boom.
Driven by ever-expanding Chinese investment.
It could rapidly alter the landscape for future travellers. And in turn the fortunes of the Asian tiger economies…
Time is money
Unlike me on holiday mode, most travellers would like to get to their destination as soon as possible.
High speed rail is set to be a key part of Asia's future connectivity.
The Thai government has just put out a tender for a US$5.5 billion high speed rail project.
From Bloomberg this week:
'The bidder will build the first half of the network in Thailand, Minister of Transport Arkhom Termpittayapaisith said in an interview Thursday.
'His ministry expects to receive detailed designs this month from China, its partner for the project, before approving them in August to kick start the bidding process for the 253-kilometer (157-mile) route.
'Thailand's military government, which seized power in 2014, has prioritized infrastructure projects to broaden the drivers of economic growth and generate employment opportunities.'
This project is just one part of a much wider Pan-Asia network in the works.
And it ties in with some even grander ambitions from China.
Beijing is lending out billions of dollars for rail projects all the way from Budapest to Beijing. It's part of the new 'Silk Road' China hopes to open up between China and Europe.
In a world of political volatility — particularly the growing isolationist stance of Donald Trump's US policies — China is hoping to move into the void left behind.
But it's not just a political gambit for greater influence.
Beijing hopes the economic activity enabled by a web of high speed rail through the old Marco Polo trade routes will spur economic activity and bring benefits to everyone.
[openx slug=postx]
Musk takes it to the next level…
High speed rail isn't the only transportation tech hitting the headlines right now.
First there was Uber unveiling a flying car prototype.
As you can see, it looks a bit like a cross between a helicopter and a drone.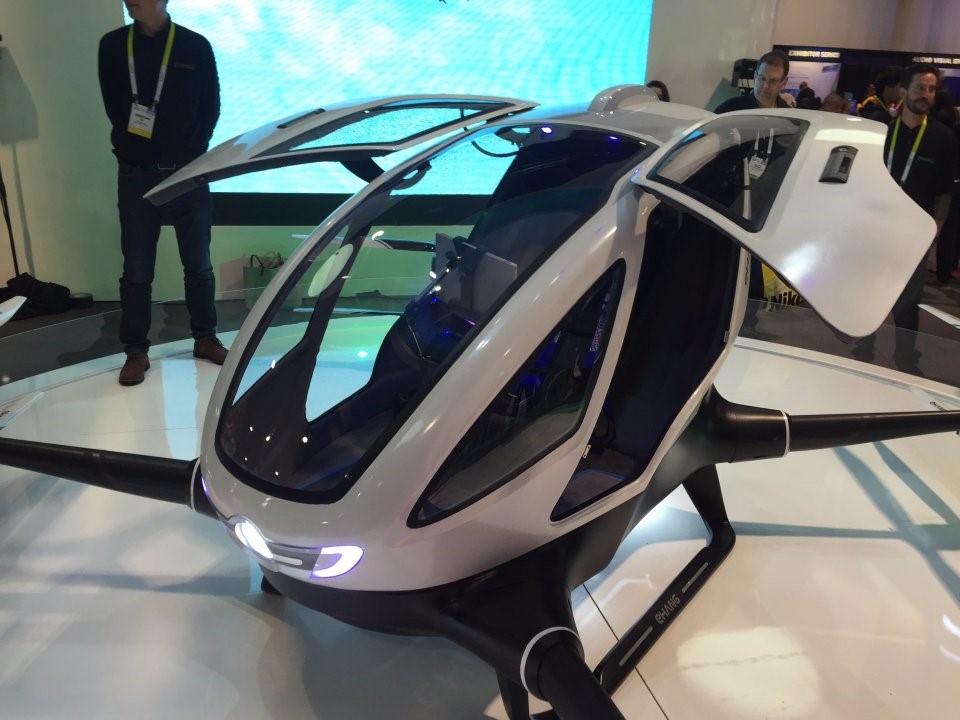 Source: Business Insider
The flying cars, which the company hopes to introduce to riders in two to five years, will conduct vertical take-offs and landings from air stations on rooftops or the ground.
Apparently, Melbourne is in the running to be one of the pilot cities.
Then there's Elon Musk's 'other' pet project — Hyperloop.
Being a Musk project, it's of course ambitious.
Basically, think of a cylindrical underground tunnel with a tin can in it. The tubes create a low-pressure environment that almost completely cuts out drag.
And that means these 'tin cans' can whoosh around the tunnels at unbelievable speeds.
The science behind Hyperloop will allow humans to go faster than some of the fastest planes in the sky. Only it will be underground, rather than up in the air.
It makes high-speed rail look like a quaint, old-time steam engine.
But as Dan Katz of Hyperloop says, they're not a railway anyway.
'The government thinks we're a railroad, but in reality, we're a lot more like Airplanes.'
Airplanes without the check in times or costly fuel.
There's no question that transportation around the world is set to radically alter over the next decade.
High speed rail, hyperloops and flying drones are no longer just the stuff of science fiction movies. They could be a reality in the next 10 years.
And they should start to be part of a speculative technology that investors are interested in, too.
Good investing,
Ryan Dinse