There's a lot of money in music streaming. Estimates in 2021 suggested that the market value was about $29.5 billion. 
Making the music streaming market are a range of different platforms including Spotify, Tidal, Apple Music, Amazon Music, Tencent Music, YouTube Music, SiriusXM and Pandora. Each platform has its own way of generating revenue – often through a mix of advertising and subscription fees. But which is taking in the most revenue?
Unsurprisingly, Spotify is the biggest earner. In 2021, Spotify generated revenue of $11.4 billion. Much of this is due to its large subscriber base – boasting 162 million subscribers, it has more subscribers than any other platform. 
Other streaming platforms are still doing pretty well. SiriusXM, which is popular among businesses for its commercial music streaming service, generated a revenue of $6.6 billion in 2021. Apple Music meanwhile generated a revenue of about $5 billion, while Pandora's revenue was roughly $2 billion. 
Will Spotify continue to hold the crowd in the future? Or will another streaming platform take over? Recent controversies surrounding Spotify have resulted in many artists and listeners boycotting the platform, however Spotify has continued to gain new users too. It is uncertain as to who will dominate the market in the future. All that is certain is that music streaming isn't going anywhere – it is still the most convenient way to listen to music.
Eager to learn more about the music streaming market? Check out the infographic below for more stats on streaming revenue.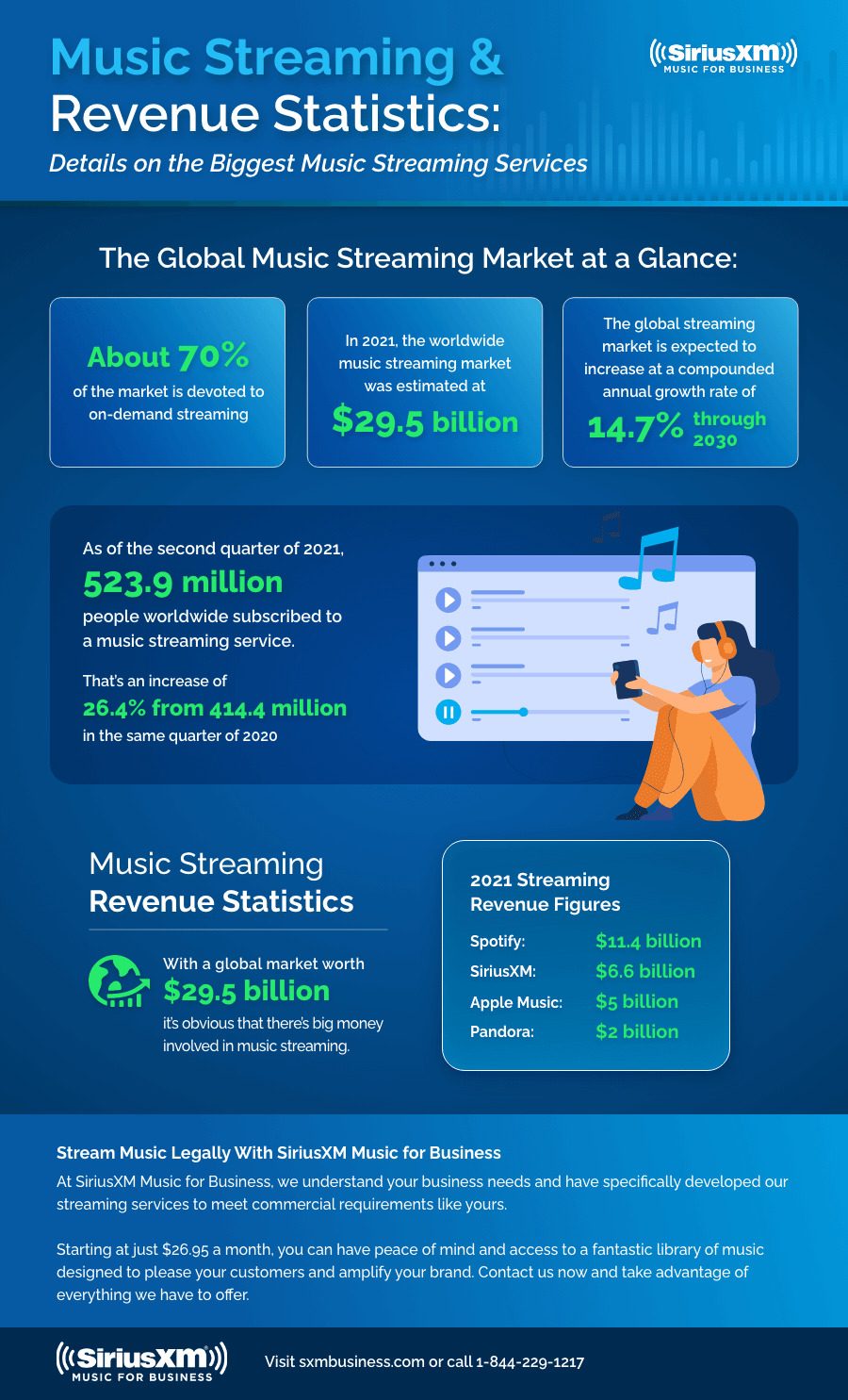 Infographic By Music Streaming Market Share and Revenue Statistics by SiriusXM Music for Business
(Disclaimer: This content is a partnered post. This material is provided as news and general information. It should not be construed as an endorsement of any investment service. The opinions expressed are the personal views and experience of the author, and no recommendation is made.)