What do you get when you combine the convenience of Uber Eats [NYSE:UBER] with the control and satisfaction of a home-cooked meal?
You get something like My Food Bag [NZX:MFB] [ASX:MFB].
I am sure that most New Zealanders have heard of it by now.
My Food Bag has been touted as the new wave of e-commerce grocery delivery, in line with the likes of Germany competitor HelloFresh [ETR:HFG].
The idea is that, upon subscribing, customers will be able to choose from a variety of recipes — then a box of fresh Kiwi ingredients show up at your door.
Many were enthralled at the novelty and practicality of such a system. So much so that My Food Bag has delivered 88 million meals to over 300,000 Kiwi households since launching eight years ago.
On 5th March, 2021, My Food Bag made its debut on the NZX and ASX main boards. It was the biggest IPO in New Zealand by amount raised since 2014.
Shares were priced at $1.85 each in the offer, raising $342 million. This valued the Company at just under $450 million.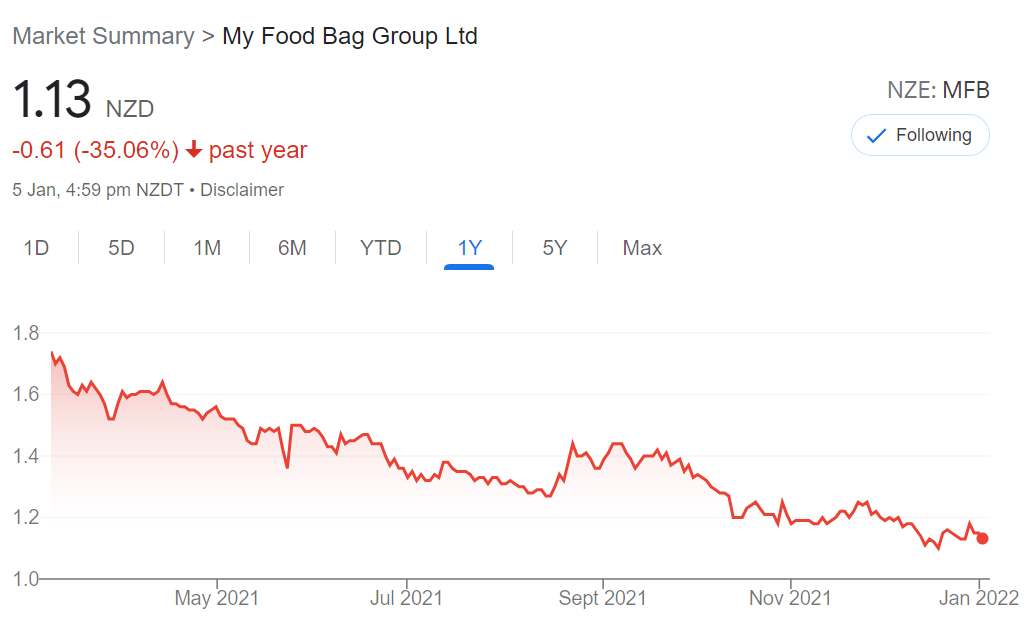 Source: Google Finance
Unfortunately, since then, the share price has trended downward. It has experienced a plunge of over 35%.
What on earth happened?
In this article, I aim to touch on the following points:
Why has My Food Bag performed so badly? Is this a case of misplaced expectations? Or weak business fundamentals?
Can My Food Bag compete with larger German competitor HelloFresh?
What are the investment risks to be mindful of?
Why has My Food Bag underperformed so far?
As far as I see it, My Food Bag performed below many people's expectations for a variety of different reasons.
Let's start with the IPO. Analysts were sceptical from the jump about the 'confident' valuation of the company, and whether the $1.85 price tag was too much to justify.
The market was already weak at the time, no doubt a carry-over effect from Covid, and many were questioning the company's value proposition.
Some of the threats that could be identified included a saturated market, low barriers to entry for competitors, and the intentions of the management.
Out of the money raised in the IPO, only $54.8 million was actually allocated to the company to fund their growth strategy. The rest was used to fund the offer cost and pay down their significant bank debt.
Now, this is not necessarily a bad thing — but a staggering $287.3 million went straight to existing shareholders who were selling their shares.
This action did not exactly warrant confidence in the eyes of those who had only just bought into the IPO. Perhaps the funds could have been used to support further growth through investments or acquisitions.
Instead, the management apparently used the IPO as an exit strategy. They got paid handsomely in doing so.
As we can see in the image below, individual insiders now make up less than 1% of the total share ownership of the Company.

Source: Simply Wall Street
Another glaring issue with My Food Bag is their perceived value proposition.
The Company was early in the food-box game. However, they did not manage to seize the market when they had the chance.
They now have to contend with multiple players, including the German powerhouse HelloFresh, as well as domestic competitor Woop, which has been hailed by some as being better priced and more convenient.
It will be no doubt difficult for My Food Bag to scale up, with so many contenders in a market, with low barriers to entry.
In comparison with other OECD countries, New Zealand is a lower-wage, higher-cost economy. Every dollar counts for a lot of us.
The point that I am getting at is whether or not the convenience of the product offering outweighs the high price.
I believe that most will catch on that they can download millions of recipes from the internet, compile a grocery list on the Countdown or New World apps, and then have food items delivered to their door.
This would provide greater flexibility, similar convenience, and all for a lower price than what My Food Bag is offering.
Where could the My Food Bag share price go from here?
The Company will need to innovate. But how? How can they stand out with a truly infallible product offering?
This answer to this is uncertain, which is why My Food Bag isn't living up to the hype.
According to the first-half FY21 results, My Food Bag has been hitting their financial targets. They have made a record half-year profit, despite the volume of sales dropping during the same period.
The cost of sales was also brought down to $72.6 million compared to $80 million previously. This may be a result of cheaper ingredients due to seasonality.
These results are a positive sign that My Food Bag is hopefully heading in the right direction, but the question is whether this will be sustainable.
With such tight net margins (2.34%) in 2021, customer retention and increasing sales will be key to improving profitability in the future. Especially if they want to compete with the likes of HelloFresh.
At the moment, HelloFresh trumps My Food Bag in its share size and scale of business. With a market cap of €12 billion and operations in over 12 countries, HelloFresh has concreted itself as a major player in the international meal-kit game.
They have also been driving meaningful growth by meeting financial targets through strategic acquisitions.
Their strong foothold and connections in the overseas market will make it difficult for My Food Bag to diversify if they ever wanted to move abroad.
It's hard to see how My Food Bag can compete on the world stage.
The bottom line
In conclusion, the keys risks that I have identified for My Food Bag are:
Competition which may affect critical customer retention through better value offerings, ease of use, and promotions.
Low barriers to entry make it feasible for new competitors to gain market share.
Covid cases or lockdowns disrupting supply chains, or causing product withdrawal.
Key food ingredients becoming more scarce or expensive. This will raise the cost of sales and put a strain on already tight net margins which are critical to profitability.
The threat of a hostile takeover by a larger company.
The difficulty of scaling up domestic business and targeting certain demographics due to high prices.
No involvement from the founders of My Food Bag due to the sell-off of their shares. This is a big one as the company is majorly held by institutional and private investors without prior engagement or high-level knowledge of the company.
My Food Bag is a New Zealand company with solid brand awareness. But it is sorely lacking in polished execution, and the current state of the stock price has left a bitter taste in the mouths of its investors.
Many of these investors have already jumped ship — yet some still cling on with the hopes that future growth and increased earnings will turn the tide.
Unfortunately, competition is fierce, and My Food Bag does not offer a special sauce that differentiates it from the other offerings on the market.
We will have to wait and see what they come up with in 2022.
I'll probably be getting takeout.
Regards,
Samael Knaap
Analyst, Wealth Morning
(This article is general in nature and should not be construed as any financial or investment advice. To obtain guidance for your specific situation, please seek independent financial advice.)