It doesn't matter what happens after an IPO.
Everyone wants to get listed.
And why not? Early investors, employees and investment banks love the current situation. Cheap money is flowing. Punters want to get in on 'the next big thing'.
So it doesn't matter that Uber has gone nowhere or that LYFT is down almost 20% since listing.
The venture capitalists, senior employees and brokers have already made their money in fees and stock options.
Whatever happens next is a non-event.
Would you believe the best recent IPO (for equity investors) has been a vegan play?
The meatless meat company, Beyond Meat, has more than doubled since May.
Hopeful buyers talk about the 'vegan movement'. They remind themselves Millennials are horrible with money and are willing to fork out the $60-plus bill for brunch.
Clearly, there's a market for this stuff…
Explosive Stock Market Growth is Possible
But like with many IPOs, the estimates and assumptions you'd need to believe to buy Beyond Meat seem a little too good to be true.
Is the meatless meat market really going to be worth US$35 billion long term? And is it going to be Beyond Meat that dominates?
When in doubt, move on, I say.
Yet, investors buy anyway.
We're all growth gluttons at the end of the day. We see growing sales and a potentially huge market, and we're more than happy to take a swing.
But exponential growth…doubling sales year-after-year…this is all possible in the new investing world we live in.
It used to be that businesses had to advertise, spread word of mouth and maybe even try a PR stunt or two to gain customers. And it might take all that, over a number of years, to build up a solid base.
Today, the newest tech start-up with a good idea can drum up hundreds of thousands, sometimes millions of users over a weekend.
A great example is Alibaba's e-commerce platform, Taobao.
Let me show you…
On the chart below is Walmart, IKEA and Alibaba (China's Amazon).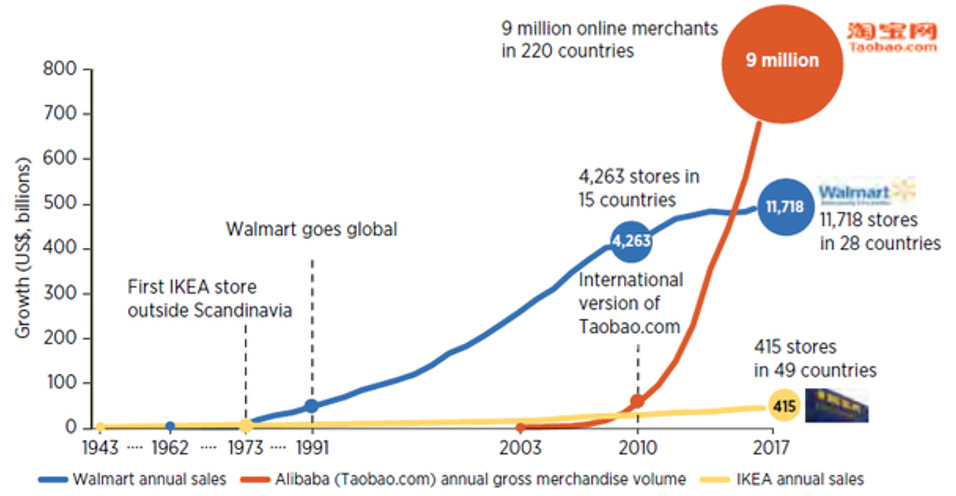 By leveraging the connective infrastructure we all take for granted, Taobao alone has been able to generate more sales than Walmart and IKEA combined.
And they did it in what seems like a blink of an eye.
These are the new dynamic investors need to grasp… [openx slug=inpost]
Intangibles (user networks or patented software) are now more valuable than tangibles (stuff like property, plants and equipment).
Human capital is also far more valuable. Meaning you or I could start up the next big thing with little more than a couple of computers and our own ingenuity.
And of course, our digital world makes it that much easier to scale.
This is why I think new money is coming. And coming fast.
Could Libra Convince the Masses to Adopt Crypto?
Along with stocks, the growth of other asset classes has been aided by our digitally connected world.
The growth of cryptocurrencies, for example, has hit 'absolutely ridiculous' on the scale.
Who would have thought anyone wanted digital money, not backed by anything…? *Wink, wink, nudge, nudge.*
Yet today, companies like Facebook, Visa, Mastercard, Uber, eBay, PayPal and Spotify among others are putting their full weight behind the stuff.
Maybe you've heard 'Libra' in the news recently?
It's a crypto, created by Facebook and backed by many more billion-dollar companies, which could be the first step towards a new form of money.
The way it works is you buy Libra for fiat money. You can then use Libra to purchase goods and services online.
Then with your leftover Libra you can convert it back to whatever currency you'd like, as the digital coin is backed by a basket of currencies.
The plan is to launch the crypto by next year. It'll be Facebook's payment arm. And I imagine it could lock users in completely to Facebook, Instagram and WhatsApp.
Rather than being taken to some separate page for payment information, you'll be able to do everything, from inspecting the item to purchase, on Facebook's platforms.
Now consider how many people, completely new to crypto, will try out Libra.
Facebook has two billion users. They've also got others like eBay, Spotify and LYFT encouraging their users to 'buy into' Libra too.
In a few short months, I wouldn't be surprised if a few hundred million people were using Libra for their online and mobile transactions.
Like a crypto, the transactions will be instant. Plus, there could be discounts purchasing with Libra, as it cuts out the bank transaction fees.
THIS could be the moment new money takes off…
Maybe it won't be Libra. But Libra could be the gateway crypto getting the mainstream used to the idea and comfortable using digital wallets.
Maybe…
Your friend,
Harje Ronngard