They might be silly.
Often, they'll give up their dignity for a bit of fame and money.
But you've got to admit…the Kardashians are doing pretty well for themselves.
From internet fame (for all the wrong reasons) to mega fame, Kim Kardashian has grown her wealth from nothing to $350 million.
Her little half sister, Kylie, has done one better.
While she's had a lot of guidance from agents and help from her sisters, Kylie is now the youngest self-made billionaire.
Let's just say this…you don't become a billionaire by sitting there just looking pretty.
Clearly these girls have worked, hard.
And their hard work could change the way we think of retail.
Influencers like the Kardashians have a captive audience: Millennials.
And it's this future audience you should think of before putting your money into the market next.
I wish we could ignore Millennials, but…
The Kardashians…have you lost it, Harje!
Maybe I have.
Or maybe there's something to it.
A very smart kid by the name of Nick seems to think so. And he himself is growing richer by the month.
Nick Molnar is co-founder of Afterpay Touch Group Ltd [ASX:APT], the buy now, pay later juggernaut.
Year-to-date the stock has doubled. In the last five years, it's up 718%.
Nick's ownership in the company has helped him to become the youngest person on the Financial Review 2019 Rich List.
Not bad for a 29-year-old.
Afterpay has become the player in their field in Australia.
But they're now trying to break into the US. And with the Kardashians' help, Nick might just climb further up that rich list by next year.
Reported by the Australian Financial Review:
'When Afterpay launched its buy-now, pay-later service in the United States just over a year ago, its co-founder, Nick Molnar, was told that its growth in the world's biggest retailing market would be turbocharged if he could get the Kardashians on board.

'…For several months, Molnar tried hard to get a meeting. The doors didn't open. But then one day just before the Thanksgiving holiday, one of the Kardashians' crew made contact – via the Afterpay website.

'…The Kardashians were demanding. Molnar received a phone call from a member of the digital team over Thanksgiving, when no one was at work in Afterpay's San Francisco office. They wanted Afterpay live that day.

'This would allow them to take full advantage of "Black Friday", the day after Thanksgiving, the biggest day for retail sales in the United States. The Kardashians knew their customers would be attracted to splitting payments into instalments and this could help them sell more make up.

'Molnar swung his team into action. "Within two hours, we got them live," he recalls. Those frenetic moments worked on a public holiday paid back in spades. Kim Kardashian, one of the sisters, uploaded an Instagram post to her 120 million followers and also endorsed Afterpay to her 60 million followers on Twitter.'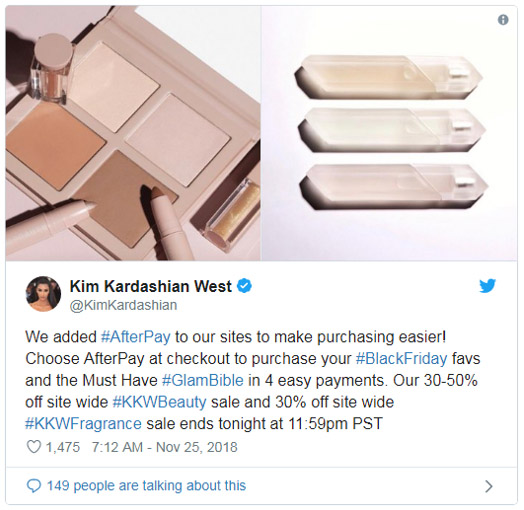 10 months later and Afterpay is growing like a Silicon Valley tech start up.
For the half just passed, sales were up 147%. Active customers have more than doubled on the platform. A big part of that future growth, many believe, is going to come from the US…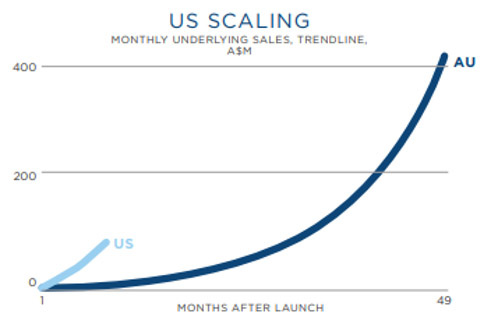 Do I think you should buy Afterpay right now…?
No.
Do I like the Kardashians…?
Please.
But I think it's important you pay attention to what's happening here.
There is a whole new generation coming of age. And a lot of them don't shop in store. They shop online and listen to influencers.
It's this market you should be aware of when hunting for that next big idea… [openx slug=inpost]
What do the Millennials think?
Even Amazon is under threat.
For ages, people have been saying that Amazon will encroach on Facebook and Google's advertising turf.
Yet it seems, with Facebook's Instagram and Google's YouTube, the two ad giants are moving further into retail.
In fact, you know you can look at and buy clothes all without ever leaving Instagram?
How many of you, or maybe it's your wife or daughter, use Instagram or watches YouTube videos?
I'll bet a majority of that is looking at clothes, cosmetics and product related material.
And how long do you, your wife or daughter spend scrolling through Instagram or watching YouTube each day?
I'll bet it's at least a good hour. And that time might only increase heading into the future.
It's why I decided to ask a few of our wonderful Millennial copy editors their thoughts on the matter.
Molly is an Afterpay user. 'It's easy for me,' she told me. 'I don't struggle meeting the payments, so I have no issues using it.'
Julija also has an Afterpay account. However, it seems she's one of those inactive types. 'I have an Afterpay account, but I don't use it because I don't need it,' she said.
Katie was a one-time Afterpay user. 'I have used Afterpay once or twice in the past for online shopping,' she told me. 'Not so much anymore since I'm trying to be a minimalist and quit shopping altogether. But when I did use it I did so because it was convenient, had no interest rates and I knew I could pay it back in time.'
Like Katie, Leah has tried Afterpay. But it wasn't for her. She does use Instagram, though, for a bulk of her purchases. 'I'm more likely to buy something if I have seen on it on Instagram! The majority of my clothing purchases happen because I've followed a link for a website on Instagram.'
Alana doesn't use any buy now, pay later apps. And she likely never will. 'I don't want to buy something I can't pay for outright.'
What I found surprising was that less than half said they used Instagram or YouTube to help purchase items.
Maybe that will change. If it does, I'll let you know.
Of course, it's not just retail that's changing thanks to the newest generation coming up.
It could be banking too…I hope.
Your friend,
Harje Ronngard