Business dilemma for you.
I recently bought a ticket on a major American airline to fly from Little Rock, Arkansas in the US to Auckland.
Travel time: 29 hours 12 minutes (not including travel to and from the airports — 45 minutes on both ends).
Now, I like to travel….and over the years, I've perfected the one bag technique. It's where you only travel with a single carry-on regardless of the destination or length of the trip.
My wife even takes it up a notch and fits all her things in a backpack that can fit under the seat. Incredible…
As I began this particular Little Rock to Auckland trip, I boarded with Group eight. And so by the time I got to the ticket agent, all the overhead space had been taken.
The ticket agent told me that I'd have to check my one and only bag…and I could pick it up in Auckland…in over a day.
Now, I'll admit…and I'm not proud of it…but I threw a fit. I told her there wasn't any way that I was about to travel for 29 hours without my phone charger…or laptop…or toothbrush…or books.
Eventually, I wormed my way on to the plain with my bag and managed to sneak it in the first-class area, which had plenty of room. So it worked out…
But it got me thinking, 'I paid for a ticket, didn't I?'
And as part of that ticket, I get to carry on a personal item, a carry-on roll-aboard, and two check-in bags.
So if I am unable to exercise my purchased amenities, shouldn't I deserve compensation?
You know, if the airline overbooks the flight, they owe those who are bumped.
If you purchase something and don't get it, the airline has to make it right…right?
Apparently not for luggage allocations…
If the airline overbooks the overhead luggage space, passengers don't get anything. They're simply told to deal with it.
Is that right? Should airlines compensate passengers for features they don't receive?
Luggage space? Headphones? Their favourite beverage?
I believe they should.
I believe that so strongly that with my paid service, Small-Cap Speculator, I give a full refund to any customer who doesn't feel like they got what was promised….at any time during the first year of subscribing.
And they still get to keep all the benefit-packed bonuses they received when they signed up.
Imagine if airlines had that kind of guarantee!
You get off your flight and say, 'Hmmm…I wasn't 100% happy with my in-flight service. Give me all my money back.'
You'd be laughed out of the terminal.
In business school, we study companies…and have found that there's a high correlation between those that are quick to make things right with unhappy customers and long-term success.
Starbucks, for example. If you accidentally spill your drink or simply don't like it, any of the baristas behind the counter will happily make you a brand-new one free of charge. That's company policy.
And if the drink takes too long, or you're charged incorrectly, any barista has the authority to issue a complimentary free-drink coupon to make it right….
That policy has correlated with high customer satisfaction, especially in situations where the customer felt wronged. And with high satisfaction has come success. [openx slug=inpost]
So what's the lesson here?
That quality customer service is NOT a given with major businesses. And those with subpar service may struggle in the long-term.
For investors, that's a very important consideration, isn't it? Long-term probability of success?
When you evaluate a business before purchasing a share, it might be a smart idea to see how people review the company. The fundamental financials might look good today, but weak sales may be approaching just around the corner.
And poor customer satisfaction signals a disconnect between the leadership of a business and their customers…a fatal mistake which has toppled more than one billion-dollar company.
Blockbuster and US Airways come to mind. In both situations, their customers clearly gave them feedback on what was important to them…and how the businesses were falling short.
But the message never made it to the leadership — or it fell upon deaf ears — and those businesses have gone the way of the dodo.
In New Zealand, the Herald reported on a list of the worst companies for 2018 (in terms of customer complaints):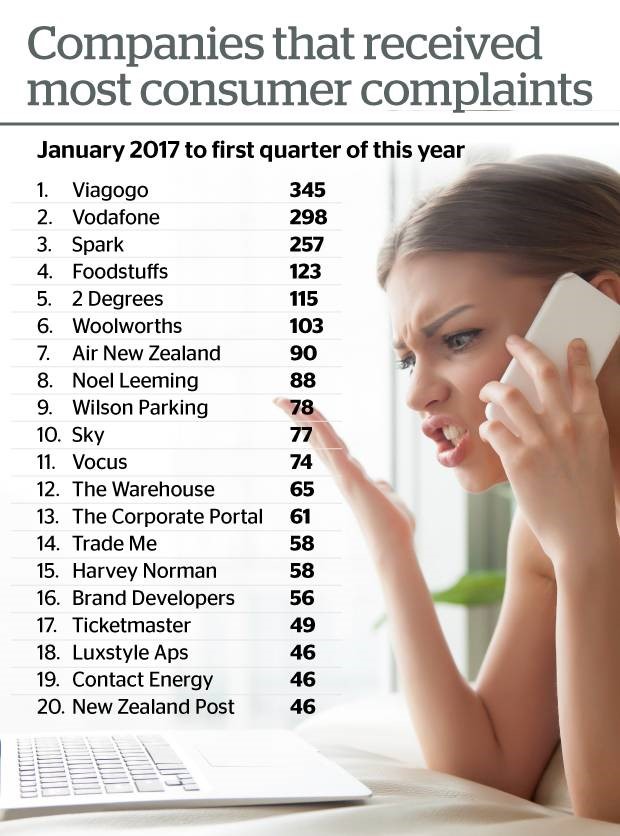 Source: New Zealand Herald
Now, take that list with a grain of salt. Air NZ is up there…and yet, during the same period, it won 'Airline of the Year' by Travel Weekly.
And oddly omitted is Chorus. Regular readers will know how I feel about that company. And based on reader responses to my occasional rants, the dislike runs throughout the country. And yet it doesn't make it on the list.
So…grain of salt…but it might be a good idea to scan through the list and see how it lines up with your portfolio. If you own positions in a bunch of these companies, you may be fighting a losing battle…
Best,
Taylor Kee
Editor, Money Morning New Zealand