The world's richest man and woman are about to lose their crowns.
Alice Walton, daughter of Walmart founder Sam Walton, currently holds the throne of the world's richest woman…with just over US$46 billion to her name.
She's followed by Maria Franca Fissolo and Jacqueline Mars, both of whom own massive candy companies…and are worth $32.3 billion and $28.3 billion respectively.
The richest man in the world is Amazon founder Jeff Bezos…worth a mind-blowing $123 billion.
Followed by Microsoft's Bill Gates at $97 billion…and Warren Buffett at $88 billion.
Now poor old Bezos is about to move to the number two spot, as will Alice Walton.
In the world's most expensive divorce, Jeff Bezos and his wife, MacKenzie Bezos, have announced that they're planning to separate.
And according to the laws of the state of Washington, where they reside, their assets will be split equally unless they make some out-of-court agreement.
In other words, MacKenzie could be sitting on a $61 billion pot of gold in a few months…making her the wealthiest woman alive.
And Jeff?
He'll be knocked down to the sixth or seventh place, behind Bernard Arnault of Moet Hennessy, Amancio Ortega of Zara, and notorious Carlos Slim of Mexico.
Jeff will be roughly equal to that of fellow FAANG superstar, Mark Zuckerberg.
Thus, the new top duo of the rich list will be returning champion Bill Gates and newcomer divorcee MacKenzie Bezos.
What a wild world we live in — that someone can be an average Joe…then make $120 billion dollars over just a few decades…and lose half in a matter of months.
Here today, gone tomorrow.
Now, most of us won't change our situations that dramatically. We might work hard, save up and end up a bit better off than we started.
And one of the best ways to do this is by making your savings work for you through investing.
Many Kiwis already have investments of some sort — through property, KiwiSaver, savings accounts…maybe a few individual stocks.
By far, the investment with the best returns historically is stocks…but few Kiwis have delved into them.
A shame, if you ask me. The NZX has fared well in recent years, better than most stock markets anywhere in the world. In the past five years, here's what we've seen:
In the UK, FTSE 100 up 1%.
In Australia, ASX 200 up 7%.
In Japan, Nikkei 225 up 37%.
In the US, S&P 100 up 40%.
Here in New Zealand, NZX 50 has rocketed up 70%.
[openx slug=inpost]Now, if you're interested in investing yourself, or already have some stocks, but want to learn more…. today I'd like to cover a confusing topic that's somewhat unique to us in New Zealand.
Dual-listing.
It means that a company is on multiple exchanges at once. The most common pair you'll see is the ASX and the NZX.
You can buy shares of this company on either exchange…or both if you choose.
A lot of Kiwi companies have chosen this route. In fact, Henry Chung of the ASX reported that dual-listed companies include nine out of the NZX 10 and over half of the NZX 50.
Now, these companies aren't necessarily traitors (or Benedict Arnolds as we Yanks call them). They're simply growing companies who need more investment than our tiny NZX has to offer. So they widen their net to Aussie investors too.
Or maybe their market is in Australia and they feel it appropriate to have more of a presence there by selling shares on the ASX.
Whatever the reason, dual-listed companies can be purchased on both the NZX and ASX.
For investors, this can be a bit confusing.
Do you automatically get ASX shares when you buy NZX ones?
If not, which ones are better?
Do they move in tandem?
Firstly, no, you don't automatically get shares on the ASX when you buy them here. It'd be nice, sure, but they're more like Coke Zero and Diet Coke — the same product with slightly different recipes and fanbases. You're still getting Coke if you buy either of them, but individually, they're different.
You can buy both, but you won't automatically get one for buying the other.
An exception, which might confuse some, was Xero [ASX:XRO]. When it delisted on the NZX last year, NZX shareholders were automatically given equivalent shares on the ASX. Don't worry, this sort of financial gymnastics doesn't happen very often.
To understand the difference between the two stocks, consider Chorus, which is dual-listed under the ticker symbol CNU for both exchanges.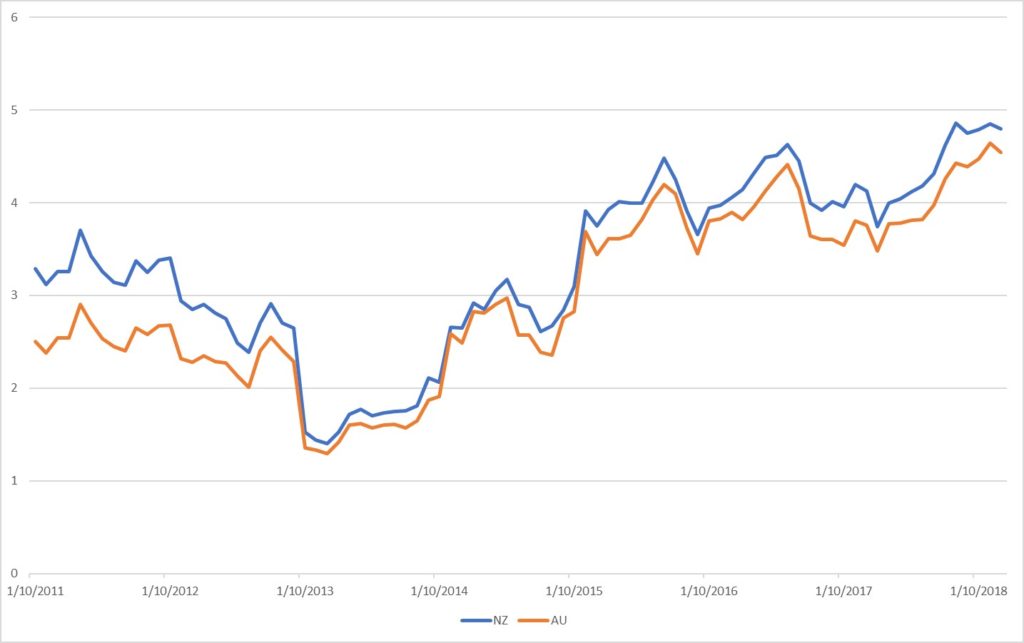 Source: Taylor Kee | Data: Yahoo Finance
As you can see, Chorus' shares have moved together more or less, since they dual-listed back in 2011.
That makes sense, right? When Chorus does good things as a company, it affects the buying and selling of its shares regardless of its location. Whether or not Chorus does good things, that's another discussion…
But if you look closely, you'll see that there are little bumps and valleys where the Kiwi and Aussie investor bases acted differently.
That's the separate nature of dual-listed shares.
And there's really no determining which one is better — the ASX share or the NZX share. It depends on how you want to use it and for how long.
To keep it simple, I'd recommend sticking with the shares from the country where you live. As a Money Morning New Zealand reader, that would most likely mean the NZX.
If this hasn't helped clear dual-listing up for you, feel free to drop me a line at [email protected] and I'll hopefully be able to clarify a bit more.
Cheers,
Taylor Kee
Editor, Money Morning New Zealand