Over the weekend, my wife and I had dinner at a Spanish restaurant in the Britomart neighbourhood of Auckland.
As we checked out the menu's range of tapas, my wife noticed that one option was five times the price of the others.
'Bellota – $58'
We wondered what made bellota so pricy…and the hostess explained:
'In Spain, we pride ourselves on our cured hams…and the cream of the crop is the ham from pure Iberian pigs. These pigs have black hooves and are known for their top-grade cuts. Some Iberian pigs are raised on a special diet of acorns — bellota in Spanish. Ham from these pigs is as good as it gets…black label we call it.'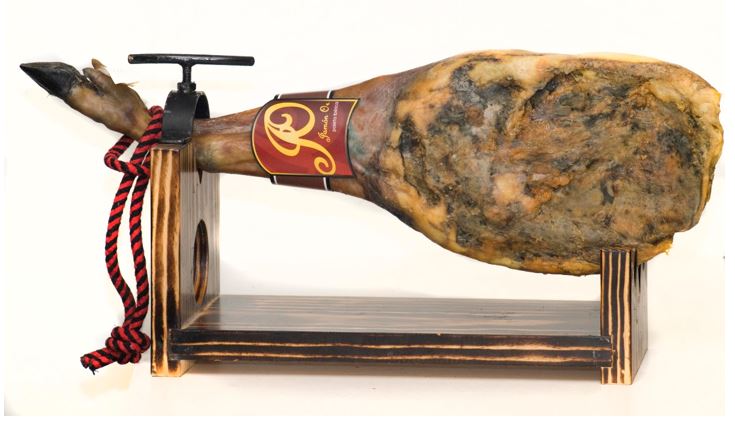 Jamón Ibérico de Bellota | Source: Wikipedia
So, how much does a leg like that cost?
$3,600 according to The Guardian.
That's for about 10kg with the bone in.
A few of these hanging in your pantry and you might want to consider getting a safe instead.
The conversation got me thinking — if pig legs like jamón ibérico can be so valuable, could they be viable stores of wealth?
Could you hypothetically 'invest' in pigs' legs and make a return?
12 alluring alt-investments
Of course, you can. Anything can be investment. In fact, there are quite a few popular objects that fall outside of the normal range of what you might consider an 'investment'. Some of them offer remarkable returns…and the unique benefit that you can hold them in your hand.
If the exciting world of alternative investments is new to you, check out these high-performing assets with their ten-year returns:
High-end watches +86%
The world of high-end watches is a very niche market…but the goods often appreciate over time. The watches are often made by master watchmakers in Switzerland using top-tier metals and leathers. The best part is that it's a functional investment — you can wear it or store it.
Here are a few of the best watches to invest in:
Omega Speedmaster Professional Moonwatch — $4,000+
Tudor Pelagos Chronometer — $4,000+
Rolex Submariner — $8,000+
Stamps +101%
A surprising asset class is that of stamps. Pushed by recent attention from Chinese investors, stamps offer investors a small, but appreciating asset that can hold immense value. The world record price for a stamp is around $10 million for a single British Guiana 1-cent Black on magenta.
Here are a few of the most valuable stamps in the world:
The Penny Black (The first adhesive stamp ever) — €3,000
The First Two Mauritius (Only 26 copies exist) — €1,000,000
Inverted Jenny (Rare printing error) — €750,000
Chinaware +108%
Chinese porcelain offers both utility and appreciative value…on top of being conversation-starting historical works of art. Chinese ceramics are often over a thousand years old and continue to raise in value over time. A tiny 'chicken cup' sold for $56 million in 2014 — demonstrating the wide value spectrum.
Here are the top valued Chinese porcelain wares of all-time:
The Meiyintang 'Chicken Cup' — $56,000,000
The Dingyao Basin — $29,000,000
The Fonthill 'Dragon' Jar — $18,500,000
Fine wine +134%
It will come as no surprise that bottles of wine can serve as great investment vessels. Well-stocked cellars can easily hold as much liquid wealth as a safe full of cash or a vault full of gold bars. Rare labels and vintages can fetch up to $150,000 while most investable bottles sit between $500 and $1,000.
Here are a few of the must-have premier crus wines for your cellar:
Haut-Brion — $500+
Latour — $750+
Mouton Rothschild — $700+
Precious jewellery +150%
As any heist movie will tell you, jewellery can represent massive stores of wealth in a very small space. The most investable range offers legacy value beyond the intrinsic value of the metals and gems. To dabble in jewellery, you'll want to do research on famous producers and their best eras.
According to the Huffington Post, certain pieces tend to appreciate the most over time:
Art Deco period Cartier — $3,000+
'40s Verdura — $5,000+
Mid-century Buglari — $5,000+
Coins +176%
The numismatic class of investments is a bit different from its bullion cousins. With rare coins, the value derives from the uniqueness of the coin rather than the value of the metal (Although many coins have high values in both categories).
Here are some of the more expensive numismatic investments:
1933 Double Eagle — $8,000,000+
1913 Liberty Head Nickel — $3,700,000+
Brasher Doubloon — $7,500,000+
Scotch whisky +325%
Besides being an eye-catching piece for your bar cart, high-end Scotch offers a diverse and intriguing investment class. Some of the most precious drams come from extremely limited productions to long forgotten distilleries. The wide diversity of goods means investors can personalise their holdings to their own personal preference.
Here are a few of the most in-demand bottles you can buy:
Port Ellen 37 — $5,000+
Brora 34 — $2,800+
Convalmore 32 — $2,000+
[openx slug=inpost]
Classic cars +399%
While cars are well-known to be one of the worst investments you can make, the story flips when you move into rare and classic cars. Well-maintained classic cars can fetch millions of dollars and can quickly appreciate over time.
In the investments world, here are some of the most revered classic rides you can buy:
Porsche 993 GT2 — $1,600,000+
Ferrari Daytona — $1,000,000+
Aston Martin V8 Vantage — $500,000+
Mid-century furniture +400%
Nothing mixes utility, beauty and value like iconic furniture. In terms of more liquid classes of furniture investments, mid-century modern furniture reigns supreme. The enduring appeal and well-built design of mid-century pieces can provide appreciating value for your portfolio.
Here are a few icons from this niche furniture market:
Eames' Chair — $6,000+
Le Corbusier Armchair — $1,500+
Charlotte Perriand's LC4 Chaise — $1,700+
Rare books +567%
In recent years, the popularity of rare books — and books in general — has waned to a degree. However, the exclusive and limited nature of this asset class means that a small library can hold hundreds of thousands of dollars in value…for generations. Investors should consider the edition, the publisher, signatures, the condition, the binding and any special typos or errors that make a certain edition special.
Here are a few of the most expensive books ever sold:
Da Vinci's The Codex Leicester — $46,000,000
The Magna Carta — $32,000,000
St Cuthbert Gospel — $22,000,000+
Fossils +1,250%
For our prehistoric fans, fossils can be a captivating store of wealth — one that will certainly turn heads at your next dinner party. Surprisingly, many fossils can be purchased for under $300, but the larger, rarer and most-pristine pieces can fetch millions.
According to Singaporefossils, here are some of the most expensive fossils ever purchased:
Sue the T-Rex — $12,700,000
The Jurassic Trio — $9,000,000
Battling Duo — $4,100,000
Street art +5,000%
One of the newest classes of investment-grade artwork is street art. You may know it better as graffiti. Art critics have lauded modern street artists for producing high-quality meaningful artwork and since these pieces are one-of-a-kind and well-publicized, they can hold high value for collectors.
Here are a few of the most expensive street art pieces ever sold at auction:
Basquiat's Untitled — $169,000,000
Banksy's Girl and Balloon — $2,150,000
Haring's Untitled — $4,450,000
Alternative vessels for your wealth
As investors, we're constantly looking for the best place to store our wealth…while considering our desired mix of risk and return. But a lot of investors, even savvy investors, forget that there are opportunities outside of the financial world that outstrip even some of the highest-moving stocks.
And for folks who prefer real wealth over ones and zeroes on a computer, there are heaps of profitable asset classes that you can actually hold in your hand.
Many of these objects are unique, even one-of-a-kind.
For me, that makes alternative investments like the ones listed above both exciting and fascinating.
But they can also be risky…as they can be far less regulated than regular financial instruments.
If you've ever dabbled in alternative investments, I'd love to hear about it. What did you buy and how has it done for you? Reach me at [email protected]
Best,
Taylor Kee
Editor, Money Morning New Zealand